Arrowverse: 8 Reasons To Be Excited About The New Seasons After DC FanDome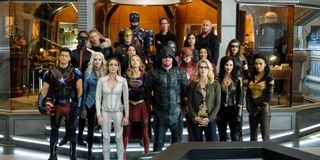 The Arrowverse's slate of shows isn't returning to The CW until 2021, but the DC FanDome event provided a few morsels of information about plot and characters that are enough to tide us over during the wait. The teams from The Flash, Batwoman, Superman & Lois, Legends of Tomorrow, and Black Lightning were all on hand to discuss their respective shows, as well as what's to come.
Supergirl didn't have a panel at all, which is disappointing considering that the show is entering its final season, but there was a slew of new information from across the remaining shows that has us pumped up for their respective new seasons. And so, here are eight reasons to be excited for The Flash, Legends of Tomorrow, Batwoman, Black Lightning, and Superman & Lois.
The Flash Will Face Godspeed And It Might Be A Woman
The Flash Season 6 saw the return of Godspeed. However, after two episodes, there was very little information about who this speedster was or what their agenda might be. During DC FanDome, showrunner Eric Wallace provided some tidbits about the villain, referring to them as "the real guy or girl." The man or woman (!) won't have the same emotional connection to Barry that Reverse-Flash does, at least not that we know of.
However, the team would basically have to figure out what set off Godspeed's anger and why it's being leveled at Barry. I'm excited for this because Godspeed's initial appearances were very mysterious — clones were involved and they were collecting speed. But, my guess is that "Crisis on Infinite Earths" changed things, and this Godspeed is likely not the same one we were introduced to in Season 5. Consider my interest piqued.
Batwoman's Ryan Wilder Will Unite The Kane Family
I'm not sure how this will happen, but it sounds like Javicia Leslie's Ryan Wilder will bring the Kane family (whatever's left of it after Kate's disappearance) together. Batwoman showrunner Caroline Dries teased that not only will she reunite the Kanes, but that Ryan has various connections to each of them. With Mary, Ryan shares her love of helping the community and with Alice... well, we'll have to see about all that considering that Alice's goal was to kill her sister before she up and disappeared.
Of course, it wasn't revealed exactly how Ryan would work to unite them but my guess is that her appearance will cause the Kane family to reflect on all they were fighting over in Batwoman Season 1. Perhaps Ryan will remind them that time is short and family is important. Conversely, it's possible that Ryan will worm her way into their hearts and remind them that they also fight for Gotham City. I'll be interested to know how this all plays out.
Iris Will Be Investigating Another Big Case On The Flash
First off, yes, Iris will be getting out of the mirror very quickly at the start of Season 7, and that's a relief because she's been in there for so long. Once she's out, however, showrunner Eric Wallace teased that she and Team Citizen will be investigating another major case in Central City. My guess is that it will lead to even bigger Black Hole stuff beyond Eva McCulloch's mission. Here's what Wallace had to say about it during the panel:
Consider me intrigued about what's in store for Iris after her Mirrorverse ordeal! She may never catch a break, but it's bound to be entertaining.
Legends of Tomorrow Will Explore Zari And Behrad's Sibling Relationship
Now that Zari 2.0 is sticking around full-time in Legends of Tomorrow Season 6, executive producers Phil Klemmer and Keto Shimizu revealed that the series will delve further into her relationship with brother Behrad. Much of Season 5 was spent on the Zari 1.0 mystery and whether or not anyone would remember her. And, with Behrad being dead for several episodes, Legends of Tomorrow didn't focus much time on the Tarazis' dynamic.
Whereas we got to see a lot of Zari 2.0 being an influencer in Season 5, Season 6 will explore more of what it was like for Behrad to grow up in his sister's shadow. He'll be going on an undercover adventure that will play to his strengths. At the end of it all, Behrad will wind up teaching Zari a thing or two. For me, whatever involves the Tarazi siblings is A-okay in my book, so this sounds amazing.
Superman And Lois Will Struggle To Balance Work And Parenthood
Clark Kent and Lois Lane are not exactly your average couple, but they'll have to figure out ways to balance their jobs while being parents to teenagers just like everybody else. I think what's most interesting about Superman & Lois is the fact that we've never seen the pair being parents in live-action before and I think it'll add a new twist to their story. They may be a super couple, but will they be super parents? It sounds like the struggle is real and that's incredibly relatable. Here's how Elizabeth Tulloch put it (via Syfy):
This is something that the Arrowverse hasn't tackled in quite this way before, so hopefully Superman & Lois will deliver something new and fresh to the shared universe.
Alice Will Actually Be Pissed Off That Kate Is Missing In Batwoman Season 2
A big part of Batwoman's formula in Season 1 was the contentious relationship between Kate Kane and her twin sister Alice. When Kate tried to save Alice, the jaded villain wasn't so quick to believe that she cared. Then, Kate turned on her and Alice got really angry and plotted to hurt her sister, starting with the "return" of Bruce Wayne (a.k.a. Tommy Elliot/Hush).
What's exciting about this development is that Alice's anger isn't from any emotional attachment. Rather, Rachel Skarsten says that Alice will be "peeved" because Kate's disappearance foils her immaculate plans. Damn Kate for leaving Alice hanging like this! All told, Alice's resentment will likely fester (as it always does) and I can't wait to find out how Gotham's best baddie changes course now that her sister is out of the picture.
Lisseth Chavez Joining Legends Of Tomorrow Season 6
Chicago P.D. vet Lisseth Chavez is officially joining Legends of Tomorrow Season 6 as Esperanza "Spooner" Cruz. The series always brings in new characters to shake things up and it sounds like Spooner will be no different. However, one major difference is that Sara will be gone, having been kidnapped by aliens, and I think Spooner will step up into the role of leader while she's away.
What's most interesting about this character addition is that she has a history with aliens and it sounds like joining the Waverider will bring her a step closer to vengeance. Legends of Tomorrow tends to get outlandish, and alien abductions are about as strange as Beebo in my book. That said, Spooner seems like a level-headed character who knows what her mission is, and how she'll get along (or not) with the Legends will be fascinating to watch.
Cress Williams Thinks Black Lightning Should Get Back To His Roots
At the beginning of Black Lightning Season 2, Jefferson Pierce stepped down as principal of Garfield High School because he thought it was in the best interests of his students to do so (and because the school board was questioning his absence). He was offered his job back, but he didn't think it was the right time. However, Cress Williams would love to see Jefferson getting back to his roots in Season 4. In his words (via Syfy):
I would also like to see Jefferson get back to mentoring the students in Black Lightning Season 4. It's been so long and I feel like the show has forgotten about high school altogether. That said, I think that seeing Jefferson at his day job is important because it showcases how impactful he was as a principal and how major of an influence he played in the kids' lives outside of being Black Lightning. I hope Cress Williams has chatted with the writers about it, too!
The Flash, Superman & Lois, Black Lightning and Batwoman are all scheduled to premiere in January 2021. Legends of Tomorrow Season 6 will likely debut at a later point next year. Stay tuned to CinemaBlend for updates and be sure to check out our 2020 fall TV guide for more on what to watch.
Your Daily Blend of Entertainment News