Stephen Amell Is Now Collaborating With The Real Housewives, Because It's 2020 And Anything Goes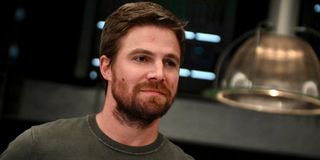 Arrow wrapped its eight-season run in January, but even before Stephen Amell was done wearing Oliver Queen's signature green leather and hood, he was already lining up new jobs for his post-Arrowverse life, such as a leading role in Starz's wrestling drama Heels. What many may not know about Amell is that he also runs his own wine business, a career path that has now led to the Arrow alum collaborating with Bravo's The Real Housewives franchise. It's one sign among many that 2020 has been a very strange year indeed.
Stephen Amell co-founded Nocking Point with his friend Andrew Harding some years back, and the two have built up the company enough to land a sweet deal with Bravo's Real Housewives franchise. It was announced that Amell's Nocking Point Wines and Bravo have partnered together to launch three different wine blends — Real HouseRed, Real HouseWhite, and Real HouseRosé — that are described as the "official wine of The Real Housewives." (I guess before this, the official wine was just "whatever's in the glass.")
This partnership launch comes ahead of the premiere of The Real Housewives of Salt Lake City, and it seems apt considering that the casts of the various Real Housewives series are always pouring and drinking wine (or throwing it, depending on the day). In a Facebook post, Stephen Amell shared his excitement for the partnership with Bravo. Take a look!
The image Stephen Amell included is that of the red blend, and it's already halfway empty, so I'll blindly assume that Amell and his wife have been enjoying their own wine tastings at home. I do wonder if this means Amell will be watching the series premiere of The Real Housewives of Salt Lake City with another wine bottle or two in tow, possibly while drunkenly live-tweeting his thoughts. Either way, Amell is "very pumped" about this milestone for Nocking Point.
The collaboration is certainly an interesting surprise since Stephen Amell is not connected to any reality TV shows. However, it is 2020 and anything goes in 2020, I suppose. While I doubt that this partnership with Bravo's The Real Housewives will land Amell an on-screen cameo in any of the series, I think it's cool that his wine brand is being featured as an exclusive. More wine and Real Housewives drama? Yes, please!
Besides partnering with Bravo, Stephen Amell has been working out and training for Heels in Georgia, where The Real Housewives of Atlanta obviously also films. He had reportedly gained an additional 20 pounds in anticipation for filming, but the production shutdowns caused the Starz series to press pause until filming started back up again in September. In Heels, he'll be joined by Super Bowl champion James Harrison and Vikings alum Alexander Ludwig, with the latter playing his onscreen brother. And who knows? Perhaps Amell will bring his Heels cast members some of that Real Housewives wine to share, even though vino and pro wrestling aren't exactly a keen match.
The Real Housewives of Salt Lake City will premiere on Wednesday, November 11, on Bravo. Heels does not yet have a premiere date scheduled. Stay tuned to CinemaBlend for updates, and be sure to check out our 2020 fall TV premiere schedule for more on what to watch.
Your Daily Blend of Entertainment News