10 Stephen Amell Roles Fans May Have Forgotten About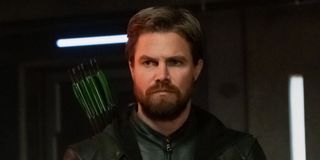 Arrow spoilers ahead! Earlier in 2020, the epic Arrowverse crossover event Crisis on Infinite Earths saw the death of Oliver Queen. This, of course, meant the end of the shared TV universe's core series Arrow, which also meant that fans would soon be eagerly awaiting what star Stephen Amell had next in store for his acting career. While we could talk about his upcoming drama Heels, about two wrestlers and brothers who are vicious rivals in the ring, yet I am a little more interested in what else already lies on his resume.
On that note, I could probably talk about his role as Casey Jones in the 2016's Teenage Mutant Ninja Turtles: Out of the Shadows, but that is something that you were probably already aware of. I would rather go deep into the films and TV shows starring Stephen Amell that may flew under your radar or that you simply failed to recognize him in the first place.
Those who consider themselves the most die-hard fans of Stephen Amell, particularly because of Arrow, may be surprised that we were able to compile 10 projects from the 39-year-old, Canadian actor's past that you more likely did not see. That fanbase may be even more surprised to learn that we could have included more. We shall start with a role that Amell relates to on a deeper level than you would expect.
Spinning Instructor (Queer As Folk)
As Stephen Amell's acting career was barely starting to bloom, he took a job teaching spin lessons in order to support himself. Coincidentally, his first acting credit is a role literally named "Spinning Instructor," which he portrayed in two episodes of the fourth season of Queer as Folk, the Canadian-produced remake of a British series chronicling the lives of group of gay friends.
Peter Henderson (Flashpoint)
If you were expecting this to be related to the Arrowverse event based on DC's "Flashpoint Paradox" storyline, I hate to disappoint, but the title of this CBS drama following a tactical police unit in Toronto happens to be yet another funny coincidence in the Oliver Queen actor's filmography. In his sole appearance on Flashpoint from its second season in 2009, Stephen Amell plays Peter Henderson, a dispatcher tasked with passing viable information to the central SRU unit as they try to protect two brothers from a vicious gang in a hospital.
Teddy Gordon (Closing The Ring)
The title of this 2007 drama, which is one part Titanic and two parts Pearl Harbor with an immodest dose of anything written by Nicholas Sparks, refers to a ring that US military gunner Teddy Gordon (Stephen Amell) intended to give to Ethel Ann (Mischa Barton) before he died in a plane crash in Ireland during World War II. Years later, young Jimmy (Martin McCann) discovers the ring and intends to track down the owner: an older Ethel Ann (Shirley MacLaine) who ended up marrying her lover's friend Jack (Christopher Plummer) in Closing the Ring, directed by late Jurassic Park star Richard Attenborough.
Travis McKenna (Blue Mountain State)
Before starring alongside Alan Ritchson's voice in the Teenage Mutant Ninja Turtles sequel, Stephen Amell shared the screen with him in 2010 for two episodes of Blue Mountain State, a comedy that paints college as nothing more than football worship and extreme partying with no class (seriously, no learning takes place in any sense at this facility). His most notable appearance as Travis McKenna, a starting quarterback who initially gives off strong Tim Tebow vibes, comes from the fourth episode of Season 1 in which he is suspended from the Goats at the team's most desperate time after he is caught soliciting a transgender prostitute.
Brady (The Vampire Diaries)
A year after before The CW made him a household name with Arrow, Stephen Amell appeared on the network's Twilight-esque drama The Vampire Diaries in its second season as a character who is more "Jake" than "Edward" but not quite as worthy of empathy as either of them may be (depending whose team you are on). His stint as werewolf Brady ended after two episodes when his plan to sacrifice Elena Gilbert (Nina Dobrev) to break a fake curse was thwarted by Stefan Salvatore (Paul Wesley), becoming the second werewolf killed by a vampire on the series.
Guy (Screamers: The Hunting)
This 2009 sci-fi thriller is also inspired by a notable work of literature, particularly Philip K. Dick's Cold War-era novelette "Second Variety," yet probably not to the same standard of accuracy or sociological commentary. In Screamers: The Hunting, a straight-to-video follow-up to the 1995 dystopian cult film starring Peter Weller, Stephen Amell plays Guy, who is part of a crew investigating an SOS signal from a desolate planet on which there are murderous robots that have evolved the ability to take human form.
Jason (Hung)
Stephen Amell landed a starring role on the widely acclaimed and raunchy HBO dramedy Hung in its third and final season as Jason, a restaurant busboy who finds himself thrown into the world of the sex workers' industry. He is recruited by life coach Lenore Bernard (Rebecca Creskoff) to compete with her former allies, gigolo Ray Drecker (Thomas Jane) and his pimp Tanya Skagle (Jane Adams), in order to prove she can be the better pimp.
Scott Becker (Private Practice)
Not long after his role on Hung, Stephen Amell played another character whose sexual escapades proved to be a focal point, but in a more sincere manner. On the Grey's Anatomy spin-off Private Practice, he played a paramedic name Scott Becker, whose romance with psychiatrist Violet Turner (Amy Brennaman) ends after he realizes she and her estranged then-husband, Pete Wilder (Tim Daly), should be together for their son.
Kyle (New Girl)
Around the same time he played the charming Scott Becker, Stephen Amell pulled a 180 as model and photographer Kyle on hit Fox sitcom New Girl in its first season. In his two episodes, both of which happen to be holiday themed, he spends most of his casual romance with Cece Parekh (Hannah Simone) just being a general douchebag and tripping on mushrooms, eventually inspiring Cece to ditch him for Schmidt (Max Greenfield), so we can, at least, thank him for that.
Phillip Seaver (The Cutting Edge: Fire & Ice)
In yet another appearance in a straight-to-video sequel to a modest '90s hit, Stephen Amell plays sports commentator Phillip Seaver in The Cutting Edge: Fire & Ice, which originally premiered on ABC Family before it renamed Freeform. In the 2010 fourth installment of this franchise typically about a hockey player and figure skater falling in love, the male romantic lead's (Brendan Fehr) sport of choice this time is speed skating before reluctantly becoming a former hockey player's (Francia Raisa) figure skating partner for a competition which Amell's character is reporting on.
What do you think? Do these spots on Stephen Amell's filmography surprise you or were any of them actually the role that earned him your admiration in the first place? Let us know in the comments and be sure to check back for additional information and updates on the veteran Arrowverse star, as well as even more retrospectives on your favorite celebrities' lesser known career endeavors, here on CinemaBlend.
Jason has been writing since he was able to pick up a washable marker, with which he wrote his debut illustrated children's story, later transitioning to a short-lived comic book series and (very) amateur filmmaking before finally settling on pursuing a career in writing about movies in lieu of making them. Look for his name in just about any article related to Batman.
Your Daily Blend of Entertainment News
Thank you for signing up to CinemaBlend. You will receive a verification email shortly.
There was a problem. Please refresh the page and try again.