No Big Deal, Just Arrow's Stephen Amell Sitting On A Dude While He Beasts His Way Through Planks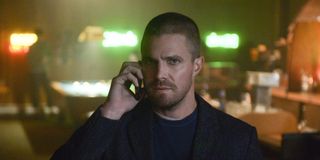 Former Arrow star Stephen Amell didn't waste any time in landing his first big TV role after ending his time on The CW, but starring in Starz's Heels doesn't mean that he'll be able to give up the workouts. While the former Green Arrow is donning a speedo for the premium cable wrestling series, he's fully clothed and flexing for a recent workout session in which he was the weight instead of the lifter. Check out Amell sitting on a dude while he does planks!
I can't say that I disagree with Stephen Amell's Facebook caption that he's "not sure human beings should be able to do this." Amell isn't a small guy, and Super Bowl champ James Harrison had to plank with the former Green Arrow on his back for a solid minute! Although Harrison isn't identified in the video, he responded to a photo of the planking on Twitter, confirming that he did "ask nicely" when he asked Amell to "hop on" his back so he could plank for a minute.
A big question is what kind of interactions Stephen Amell and former Pittsburgh Steeler James Harrison will have on Heels at this point. Harrison was announced by Deadline as joining Amell and Vikings' Alexander Ludwig a series regular for Heels back in March, following his appearance on an episode of CBS' S.W.A.T. in 2019. Harrison will play a wrestler known as Apocalypse who has been in the game for decades and no longer maintains any illusions of glory or fame. That said, if the training video is any indication, Apocalypse will still serve as a formidable threat in the ring!
If James Harrison's Apocalypse faces off against Stephen Amell's character on Heels, I'm not sure that I'd put any money on Amell despite his status as a lead of the series. Amell will play a wrestler by the name of Jack Spade, who is the "heel" (or nemesis of the good guy) in the wrestling wring. Jack is the nemesis of Alexander Ludwig's Ace Spade, who plays the hero in the ring. Although the brothers are playing characters in the ring, those characters can be difficult to leave behind or live up to in real life.
I'm guessing that the brother struggling with leaving their character behind in the ring will be Stephen Amell's Jack, since there wouldn't be a whole lot of drama coming out of Ace struggling to leave heroic impulses behind! Amell landed Heels back before Arrow even finished production, and his enthusiasm for wrestling in real life could be showcased in a way that it wasn't on Arrow.
Heels is slated to run for eight episodes on Starz, and there is no news of whether or not the show will run beyond the first season. Although much of the entertainment industry is still either shut down or limited, the Heels stars are at least able to get into fighting shape for the series.
If you want to see Stephen Amell in action during the wait for Heels, you can find all eight seasons of the show that launched an entire CW superhero universe streaming on Netflix now. For more viewing options, check out our 2020 fall TV premiere schedule!
Resident of One Chicago, Bachelor Nation, and Cleveland. Has opinions about crossovers, Star Wars, and superheroes. Will not time travel.