How Christina Anstead Is Choosing To Find 'Peace' After Split From Ant Anstead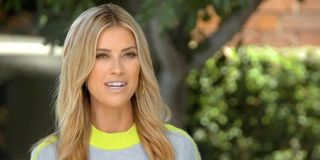 Flip or Flop and Christina on the Coast star Christina Anstead announced her split from husband Ant Anstead in September after less than two years of marriage. Of course, divorce is never easy and Anstead had to contend with some false stories speculating the reason behind the couple's breakup. In the month following the news, Anstead is embracing life and choosing to find "peace" after her split.
Christina Anstead's relationship with Ant Anstead was showcased from time to time on HGTV's Christina on the Coast. Along with her three children – two of which are with her ex-husband and Flip or Flop co-star Tarek El Moussa – the reality star's life seems to be going smoothly. (On the surface, at least.) Anstead recently took to Instagram with a water-filled video post that indicated she has left her worries behind. Here's what she wrote:
I'm sure that Christina Anstead is going through a lot right now and I'm glad that she's choosing to take part in activities that make her feel good and appreciative of life, despite any rough patches in her life at the moment. It sounds like Anstead was stressed about the public's (and the tabloids') speculation surrounding her split with Ant Anstead. Now, however, she's done "playing the game," whatever that may entail. Perhaps it means she isn't reading into speculation noise anymore, and thus won't be inspired to post responses that could start the cycle all over again.
Alongside the caption, the HGTV star included a video of the ocean she referenced. In it, you can hear the gentle lapping of the waves and Christina Anstead gets a close-up of a large group of dolphins swimming. It's a rather beautiful and peaceful place for quiet contemplation. Take a look!
While Christina Anstead is no longer with her second husband, she's still starring alongside her ex-husband Tarek El Moussa in Flip or Flop, which debuted its ninth season on HGTV in August. Anstead says the pair are in a "good spot" and that things have gotten a lot easier now that it's been four years since their split. El Moussa recently became engaged to Selling Sunset's Heather Rae Young, so it seems that some things are still going well, despite Anstead's divorce news.
Christina on the Coast Season 3 is set to premiere in January 2021. Meanwhile, Flip or Flop Season 9 recently debuted and is currently airing on HGTV. For more on what to watch, be sure to check out our 2020 fall TV premiere guide for updated dates and times.
Your Daily Blend of Entertainment News