The Mandalorian: 8 Big Questions We Have About Season 2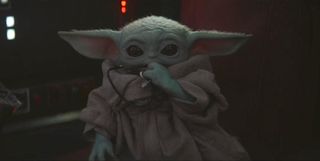 (Image credit: (Disney))
CinemaBlend participates in affiliate programs with various companies. We may earn a commission when you click on or make purchases via links.
Anyone else drifting off thinking about Baby Yoda right now? It's been a handful of months since the finale of Season 1 of The Mandalorian first aired on Disney+ and looking ahead to the upcoming The Mandalorian Season 2, there's a lot on our minds about it. Seeing the adorable expressions on The Child again as he travels the galaxy with daddio Mando doesn't even begin to cover it.
Since The Mandalorian has been on hiatus so far, we've had some time to process a few of the key happenings in the series. There's also been a bit more about what to expect from Season 2 released whether it be through announcements, discussions and casting news. The next season may still be a little ways away, but the television show did wrap filming back in March. So it's time to get excited about its coming return again through these eight big questions we have about The Mandalorian Season 2.
When Will The First Trailer For The Mandalorian Come Out?
As previously disclosed by Disney Executive Chairman Bob Iger in February, The Mandalorian Season 2 is set to premiere in October 2020, just short of a year from when the series premiered next to the official launch of the Disney+ streaming service last November. The show recently went into post-production to edit five months of footage for the series. Looking ahead to a Season 2 trailer, when might we expect it? Probably not right away.
Last year, The Mandalorian Season 1 dealt with a similar shooting schedule. The first trailer dropped during the D23 Expo in August. D23 takes place every other year, so the same circumstances are not in play for the second season of The Mandalorian. One might have imagined the series would show its first footage at San Diego Comic Con, but the convention has officially been cancelled this year. Even with these high-profile events out of play for the show, the summer months is the optimum time (and most likely time) for the first trailer to drop. We'll have to keep our eyes peeled for it.
How Many Episodes Will There Be In Season 2?
The first season of The Mandalorian was eight episodes long, airing weekly between November and the end of December just in time for the Star Wars: Rise of Skywalker to hit theaters. It has not been announced the length of the second season of The Mandalorian and we're curious – will it follow suit with the first season or expand to more episodes? It's common for a television series to start off with a shortened first season before investing in a longer second season. But there are also a lot of shows that stick to short-and-sweet eight-episode seasons as well.
Some factors to consider is that Season 2's shooting schedule appeared to be just a couple weeks longer than Season 1. So while we're not looking at a 20-episode season of The Mandalorian, it could potentially be either a bit longer or of comparable length. It will also be interesting to see if the show continues odd runtimes ranging from 30 to 50 minutes.
Will We Finally Learn Baby Yoda's Name And Origins?
Baby Yoda's presence in The Mandalorian contributed a ton to the popularity and iconic status of the show. Fans of the series are coming out of Season 1 hungry for more adorable Baby Yoda content to memeify and just "aww" at. But a large conflict many of us had was calling The Child "Baby Yoda" even though it's not accurate. Yes, he's a baby version of Yoda's species but the timelines don't match up for him to actually be Yoda. Unless there's some sort of Dagobah resurrection that went down?
Will Season 2 finally give us a name to the face and will it live up to the hype or will we be stuck saying Baby Yoda next season? Also, we just don't know enough about him. Her? There's a lot of questions surrounding where The Child came from, what the scope of its powers are and why the Empire is so hellbent on taking it for themselves. What do they plan to do with the poor thing? And is he good or secretly evil? These are the things that keep us up at night!
Will We See More Of Mando Without His Helmet?
One shocking reveal at the end of Season 1 was the Mandalorian finally taking his helmet off during a dire moment where IG-11 must help him. There's an intriguing aspect to the main character of a television series often being masked with a helmet, but come on... Pedro Pascal is a sight for sore eyes. Why cast him if his face isn't going to show up more. Pascal is obviously great as the character and it's clear why he can't go around helmet off all the time ("this is the way"), but maybe there will be more moments without it in Season 2?
It's a tightrope to walk because once he takes it off too much he's not really the Mandalorian anymore. But what if this season explores Din Djarin's origins through flashbacks? Michael Biehn was cast in the series and rumor has it the Terminator actor will play a bounty hunter from Mando's past. So there are some early indications that Season 2 could be going backwards in time a bit.
Will Boba Fett Show Up In The Mandalorian Season 2?
A popular theory that has followed The Mandalorian from the beginning has been the idea that it will somehow bring back fan-favorite Boba Fett. Prior to The Mandalorian, he was the most popular Star Wars character to wear the armor, though there does lie the glaring problem of Han Solo totally knocking him off a desert skiff in Return of the Jedi. The show does take place after those events, so if Star Wars is going to reveal he survived somehow it's the right timeline to do it (and hey Palpatine did it, right?)
Some fans actually think they may have spotted Boba Fett in the background of a scene in The Mandalorian and there's the question of whose spurs were clinking around at the end of Episode 5 while checking the body of Fennec Shand. And it's also been teased that "several established characters" from the Skywalker Saga will find a place in The Mandalorian. But if Boba Fett does appear in the show how will that work? Will it be in a prominent capacity or more of a guest appearance situation?
Will There Be Connections To The Clone Wars And Star Wars Rebels Animated Shows?
In March it was announced that Rosario Dawson has been reportedly cast in the role of Ahsoka Tano in The Mandalorian Season 2 after showing her interest in the role back in 2017. It's not confirmed yet, but Dawson has addressed the news by saying she was "excited for that to be confirmed at some point." The bit of news is interesting because as many Star Wars fans know, Ahsoka is a key character in the animated Star Wars shows Clone Wars and Star Wars Rebels.
She has never been brought to live action and if she is it could connect the show to these animated series in interesting and expansive ways. The animated series' Bo-Katan Katee Sackhoff recently talked about the possibility and considering the Darksaber is in play, there's a lot of backstory those characters have been involved in concerning it.
What's The Deal With Moff Gideon Having The Darksaber?
A sizable reveal at the end of Season 1 was that the Empire's Moff Gideon is in possession of the Darksaber. The ancient black-bladed weapon has been passed down through the generations by Mandalorians and can only be claimed by defeating the previous owner of it in combat. If it's obtained any other way it's considered illegitimate.
And that's where the big questions lie. Just how did Moff Gideon get the Darksaber? We do know that the Empire leader was part of something called the "Great Purge" of Mandalore where perhaps he was given the chance to take it as his own. The last known Mandalorian with the Darksaber was Bo-Katan, so if Moff has it, one would assume she has died. Darth Maul is an example of a past Sith who has been in possession of the Darksaber – what if Moff is in connection with the Sith as well? This is a BIG big one we need answered.
Which High-Profile Guest Directors Will Be Behind Mandalorian Season 2?
One exciting factor about the first season of The Mandalorian was all the high-profile directors who took the reins behind the scenes. Thor: Ragnarok's Taika Waititi, Bryce Dallas Howard, Dope's Rick Famuyiwa, Mandalorian co-creator Dave Filoni and upcoming Obi-Wan director Deborah Chow were among them. Looking to Season 2, while Taika recently confirmed he will not be involved, Greef Carga actor Carl Weathers said he'd be directing and there have been reports that Sin City's Robert Rodriguez is among the crew as well. Rian Johnson has shown interest. Who came on to helm Season 2?
While we wait for Season 2, you can stream the first season on Disney+ (sign up for a free 7-day trial here). Feel free to leave your Mandalorian Season 2 theories in the comments and stay tuned here on CinemaBlend for the latest Star Wars news. I have spoken.
Your Daily Blend of Entertainment News
YA genre tribute. Horror May Queen. Word webslinger. All her writing should be read in Sarah Connor's Terminator 2 voice over.