2020 Macy's Thanksgiving Day Parade: What's Going On With The Annual Event During The COVID-19 Pandemic?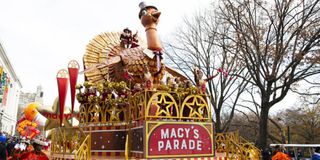 There are three things that are guaranteed in life: death, taxes, and the Macy's Thanksgiving Day Parade. And while 2020 has been one rollercoaster of a year and it would appear that the annual parade of balloons, floats, and musical performances would be on the chopping block like so many other festivals and events this year, the Macy's Thanksgiving Day Parade 2020 is still happening, albeit with a few drastic changes.
As we look forward to the 94th Macy's Thanksgiving Day Parade in a truly bizarre year, there are a few things we must take into consideration. Things like a shortened parade route, a change to the inclusion of marching bands, and the general public not being allowed to the stand along the two-and-a-half-mile route, as well as numerous others, will give the viewers at home a much different experience this Thanksgiving morning. Here are a few quick things to know about the upcoming event.
The Macy's Thanksgiving Day Parade Is Happening In 2020
There is no better way of kicking the holiday season into overdrive than the Macy's Thanksgiving Day Parade, and even though 2020 has been one of the toughest years that anyone has experienced in recent memory, there is still hope because the parade is still set to get underway Thursday, November 26 at 9 a.m. in New York City. Macy's has announced (opens in new tab) the 94th annual parade will be back in a whole new way this year with a reimagined celebration that the iconic retailer hopes will bring some holiday cheer to millions watching from home.
The Parade Will Not Feature Any Spectators
Each year, millions of spectators line the Macy's Thanksgiving Day Parade route and eagerly await their favorite balloons, floats, and the annual debut of Santa Claus as the parade makes its way to Macy's flagship store. In order to be as safe as humanly possible, the parade organizers are not allowing the general public to attend this year's event. In a series of frequently asked questions (opens in new tab) on the Macy's Parade website, officials have noted that in addition to doing without spectators this year, the parade will also be limiting the number of participants by approximately 75% in order to ensure the safety of all involved.
The Macy's Thanksgiving Day Parade Route Will Be Much Shorter In 2020
This year's Macy's Thanksgiving Day Parade will forgo the traditional 25-block march and instead have all of the featured balloons, floats, and performances walk the final stretch of the route in front of the Macy's flagship store on 34th Street. Those watching from home will still get to enjoy all of their favorite elements of the historic parade, just on a much shorter route.
The Iconic Balloons, Floats And Santa Claus Will Be On Display This Year
Just because there are major changes b being made to the Macy's Thanksgiving Day Parade in 2020 doesn't mean that the parade will be without any of its signature elements. In fact, this year's parade will feature (opens in new tab) nearly 20 large-scale balloons including the new addition of The Boss Baby from the hit-movie-turned-Netflix-series and other classics. There will also be multiple balloonicles, dozens of handcrafted floats (including four new entries), and other special features throughout the presentation. And to top it all off, Santa Claus will be bringing the parade to a close as he makes his way to Macy's for the 94th year.
The Macy's Thanksgiving Day Parade Won't Feature Any High School Or College Marching Bands In 2020
The Macy's Thanksgiving Day Parade has traditionally offered high school and college marching bands the opportunity of performing in front of millions of spectators and millions more viewers at home. Since parade officials have decided to not have anyone under the age of 18 years of age participate in the 2020 parade, all previously selected high school and college marching band performances have been pushed back to next year's parade. In their place will be professional marching and musical ensembles, per Macy's. This will certainly come as a disappointment for all of those student musicians and those who enjoy their performances each year, but parade organizers feel this is the safest way of going.
The Macy's Thanksgiving Day Parade Will Be Broadcast From 9 A.M. To 12 Noon On NBC
Since 1946, the Macy's Thanksgiving Day Parade has been broadcast on NBC, and even though there are a number of changes being made to this year's festivities, the broadcast will still come to you from the Peacock network. This news was confirmed by New York City mayor Bill de Blasio in a September 14, 2020 tweet in which he said:
In the mayor's tweet, the Macy's Thanksgiving Day Parade was given a 9 a.m. start-time and will be wrapped up by noon EST. As in previous years, the NBC broadcast of the parade will be presented by TODAY co-hosts Savannah Guthrie, Hoda Kotb, and Al Roker. It should also be noted that some of the NBC broadcast will be prerecorded in order to keep up with the health and safety standards set by organizers.
Celebrity Guests, Musical Performances And Broadway Plans
The 2020 Macy's Thanksgiving Day Parade will also be sticking with the tradition of having celebrity, musical, and Broadway performances, and according to the New York Times, this year's parade will feature some of the biggest shows in New York. Included in this year's parade will be performances by the casts of Hamilton, Mean Girls, Jagged Little Pill, and Ain't Too Proud: The Life and Times of the Temptations. Each of the numbers will be recorded well ahead of time to ensure the safety of all involved.
The same New York Times article also included information about celebrity guests who will make special appearances throughout this year's broadcast of the Macy's Thanksgiving Day Parade. These names include Lauren Alaina, Jimmie Allen and Noah Cyrus, Ally Brooke, Sofia Carson, CNCO, Jimmy Fallon and The Roots, Karol G, Tori Kelly, Patti LaBelle, Ella Mai, Miss America 2020 Camille Schrier, the residents of Sesame Street (both human and puppets), Leslie Odom Jr., Keke Palmer, Dolly Parton, Penatonix, Bebe Rexha, Jordin Sparks, Sebastián Yarta, and Brett Young.
That about catches us up with everything that is happening with the 2020 Macy's Thanksgiving Parade, but make sure to check back as the weeks go on because this rundown will be updated as new information becomes available.
Philip grew up in Louisiana (not New Orleans) before moving to St. Louis after graduating from Louisiana State University-Shreveport. When he's not writing about movies or television, Philip can be found being chased by his three kids, telling his dogs to stop yelling at the mailman, or yelling about professional wrestling to his wife. If the stars properly align, he will talk about For Love Of The Game being the best baseball movie of all time.