Kelly Clarkson Is Now In A Legal Battle With Her Father-In-Law Amidst Divorce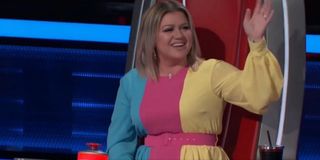 Ahead of The Voice's Season 19, Kelly Clarkson was sued by Starstruck Management Group for allegedly not paying the company, which has managed Clarkson for 13 years, millions of dollars in unpaid commissions. The lawsuit is a bit more complicated than most because Starstruck is actually owned by Clarkson's former father-in-law, Narvel Blackstock. Now, Clarkson is mired in a legal battle with him and the management company and has filed a labor petition in response to the lawsuit.
The original lawsuit filed by Starstruck Management Group alleged that Kelly Clarkson owed at least $5,430,122.54 in estimated commissions for her work. The lawsuit also claims that Clarkson breached her verbal contract, which stipulated that she pay 15% of all commissions earned to the company. In October, Clarkson filed a labor petition (via People) claiming that Starstruck violated California's Labor Code for "procuring, offering, promising, or attempting to procure employment or engagements" without filing for a talent agency license first.
Basically, Kelly Clarkson's petition argues that Starstruck Management Group allegedly failed to obtain a license in accordance with the Talent Agencies Act. The company reportedly did not submit an application for a license, allegedly gave false information and charged her "unconscionable fees and compensation" for their allegedly illegal services under the verbal agreement with Clarkson. Clarkson's petition also accuses her ex-husband, Brandon Blackstock, and his father of acting as unlicensed talent agents on her behalf.
Kelly Clarkson claims that, because of the alleged evasions and oversights made by her management company, the millions she reportedly owes to them is therefore invalid and "unenforceable." Furthermore, Clarkson is not only claiming that she does not owe them any money under these terms but is seeking that Starstruck Management Group repays her the amount they earned by way of her employment — which includes all contracts, commissions, fees, and other profits made from her work.
Starstruck Management Group's attorney Bryan Freedman spoke to People regarding Kelly Clarkson's labor petition, claiming that the American Idol alum was actually repped by a licensed talent agency. He then accused the talk show host of avoiding payment of the commissions allegedly owed to the management company. In his words:
In addition to Kelly Clarkson's legal battle with her management company, she is also in the middle of a divorce. After seven years of marriage, Clarkson officially filed for divorce from Brandon Blackstock in June, citing irreconcilable differences. On The Kelly Clarkson Show, the singer mentioned that she would discuss her personal life here and there but that protecting her children's hearts in the midst of the divorce was most important to her.
Stay tuned to CinemaBlend for updates on Kelly Clarkson's ongoing legal troubles. In the meantime, you can watch Clarkson coach contestants on The Voice Season 19, which airs Monday and Tuesday nights at 8:00 p.m. on NBC.
Your Daily Blend of Entertainment News
Thank you for signing up to CinemaBlend. You will receive a verification email shortly.
There was a problem. Please refresh the page and try again.