Why The Voice's Kelly Clarkson Has Actually 'Enjoyed' Filming The Show With COVID Rules In Place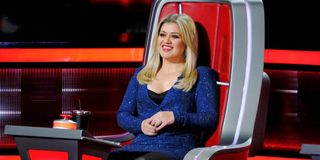 In the age of COVID-19, film and TV productions have had to implement strict safety measures and protocols to protect casts and crews alike. That might sound pretty restrictive, considering the freedom productions had pre-COVID. However, The Voice's Kelly Clarkson reveals that she's "enjoyed" filming the reality competition series with the new COVID-19 rules in place, and she has a reason for why.
The Voice filmed the live episodes of Season 18 remotely due to the pandemic and Kelly Clarkson admits it was "awesome" getting to work from the comfort of her Montana ranch home. Clarkson also sees the silver lining in being back in the studio for Season 19 despite the COVID-19 protocols, which includes The Voice coaches sitting eight feet apart and no audience. Here's what she told People:
Kelly Clarkson added that the new rules on the set of The Voice make things "much more intimate" than the format that has been in place for the last 18 seasons. That's because there isn't anything to distract the coaches from focusing on the performers onstage. I certainly think it's a nice change despite the reasons behind it.
It seems Clarkson enjoys the "different vibe" that Season 19 has got going on. That intimacy also means that the singers don't get to have their friends and family in the studio, though. It sucks, but I think we can all agree that the health and safety of everyone involved with The Voice, including its contestants, is more important than having an audience right now.
Now that The Voice Season 19 is back in production, executive producer Audrey Morrissey says that there are processes in place should the series face another production shutdown like it did last season. Here's hoping that won't be the case and that The Voice continues implementing its safety measures. As for how things are working out for the series, Morrissey says that things are "going really well" so far. That's great to hear!
In addition to filming The Voice, Kelly Clarkson's talk show has also resumed production sans the studio audience. However, The Kelly Clarkson Show hasn't gotten rid of the audience component completely and has instead replaced the in-person audience with a virtual one. It's a creative way to maintain engagement despite the current COVID-19 restrictions.
The Voice Season 19 is scheduled to premiere on Monday, October 19 at 8:00 p.m. ET on NBC. That's great news, considering that it was previously unclear when the show would return to air. For more on what to watch this fall, be sure to check out our 2020 TV guide for premiere dates and times.
Your Daily Blend of Entertainment News