Kelly Clarkson Just Got Hit With A Huge Lawsuit Ahead Of The Voice's Season 19 Premiere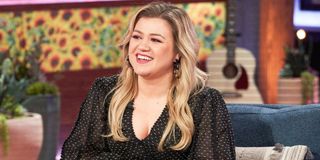 The Voice Season 19 is all set to premiere next month on NBC. Kelly Clarkson will be back as a coach alongside Blake Shelton, John Legend, and returning coach Gwen Stefani. Clarkson has kept herself busy ahead of the series' return, filling in as a judge for the absent Simon Cowell on America's Got Talent and hosting her own talk show. But, now, the American Idol alum has been hit with a huge lawsuit and it is calling for a lot of money.
Kelly Clarkson is being sued by Starstruck Management for millions of dollars in reportedly unpaid commissions she owes for her work on The Voice and The Kelly Clarkson Show. The company, which has managed Clarkson since 2007, claims that an agreement was made to pay Starstruck commissions and that Clarkson reportedly agreed to the deal verbally.
However, she has allegedly only paid the management company $1.9 million of the approximate amount owed for the year 2020. The lawsuit was filed with the Los Angeles Superior Court and also claims that Clarkson is reportedly expected to shell out $1.4 million of the remaining sum immediately.
Per Deadline, the suit alleges that Kelly Clarkson is indebted to Starstruck Management for a reported amount of "at least $5,430,122.54 in estimated commissions" that is to be paid to the company. The lawsuit claims Starstruck has "suffered damages" due to Clarkson's alleged agreement breach. In the complaint, Starstruck states that the lawsuit is to cover what's reportedly owed from Clarkson now and in the future. Here's an excerpt from the complaint:
At the time of this writing, Kelly Clarkson has not made an official comment about the lawsuit. However, the singer is still featured on Starstruck Management's website alongside fellow The Voice coach Blake Shelton. For now, it is unclear how Clarkson will proceed or what's to come for her with regards to the suit moving forward.
The lawsuit against Kelly Clarkson comes a few months after she filed for divorce from her husband of seven years, Brandon Blackstock. In her return to hosting The Kelly Clarkson Show, the singer addressed her divorce and called 2020 a "dumpster fire" of a year.
Stay tuned to CinemaBlend for updates on this story. The Voice Season 19 will premiere on October 19 on NBC. In the meantime, be sure to check out our 2020 fall TV premiere guide for more viewing options.
Your Daily Blend of Entertainment News
Your Daily Blend of Entertainment News
Thank you for signing up to CinemaBlend. You will receive a verification email shortly.
There was a problem. Please refresh the page and try again.