One Chicago: All The Fire, Med, And P.D. Relationship Statuses After The Premiere Time Jumps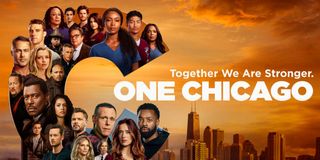 (Image credit: NBC)
Spoilers ahead for the fall 2020 premieres of Chicago Med, Chicago Fire, and Chicago P.D. on NBC.
One Chicago is finally back on NBC after a prolonged hiatus, and the three hit NBC shows didn't pick up where they left off back in April. With the doctors and nurses in Chicago Med Season 6 in the thick of COVID, Foster's replacement joining Firehouse 51 in Chicago Fire Season 9, and Atwater dealing with prolonged harassment from racist cops in Chicago P.D. Season 8, a lot has happened over a time jump. So, now that the One Chicago action is starting up again, let's take a look at all the Med, Fire, and P.D. romances (or potential romances) following the time jump into the new seasons!
Will And Hannah (Chicago Med)
Will and Hannah ended Season 5 on a high note, with Hannah determined to stay clean and Will determined to support her as her love interest, despite Dr. Charles' warning about the dangers of addicts entering romantic relationships early in recovery. The time jump revealed Hannah had overdosed, and Will admitted that Dr. Charles was right and realized that it wouldn't be fair or healthy for either of them to stay together as a couple. Hannah is headed off to California for a fresh start and Will is staying in Chicago, thus ending one romance very early in the new season.
Natalie And Crockett (Chicago Med)
Against all odds considering how Season 5 started for both of them, Natalie and Crockett began growing much closer in the final episodes, helped by a good old-fashioned One Chicago hostage situation. Natalie helped clear his name at the end of Season 5, and Crockett opened up about his daughter. They didn't hook up over the hiatus time jump, but if you ask me, Natalie moving out of her house to protect her son is a development practically designed to allow for a hookup without fans wondering what's up with the oft-forgotten Owen. Sparks are still flying, and it's likely only a matter of time.
April And Ethan (Chicago Med)
April and Ethan were on a wild romantic ride in Season 5, including an engagement, IVF, April kissing Crockett, and a breakup. That said, the end of the season made it clear that there were still strong feelings between them, and it seemed entirely possible that they'd end up back together ahead of Season 6... if not for those pesky production shutdowns. Both are working COVID cases in Season 6, and they're not romantically together. Ethan showed concern that seemed deeper than that of a friend and colleague, and it's pretty understandable if COVID pushed romance out of their minds.
Stella And Severide (Chicago Fire)
All aboard the good ship Stellaride in Season 9, if the premiere is any indication! The two are still very much together and seemingly not having any issues with living together, even with Casey still in the mix. Severide was nothing but encouraging when Stella voiced her concerns about taking the lieutenant's exam, and Stella didn't raise any objection to Severide putting in some extra hours at work. Throw in Stella's epic and creative save of Severide on top of showrunner Derek Haas' comments about their relationship, and the future looks bright for Stella and Severide.
Brett And Casey (Chicago Fire)
The newest major will-they/won't-they dynamic of Chicago Fire is between Casey and Brett, of all characters, who aren't letting the saga of Dawsey (which added a new chapter not even a year ago) stop them from getting closer. They seemingly didn't take any big steps forwards or backwards during the time jump, but Casey was happy to volunteer to stay over at Brett's after she was threatened by an addict with a gun, and Brett didn't object too strenuously. The lack of progress over the time jump doesn't mean they won't turn romantic, especially with Brett now in danger to ignite some feelings.
Gallo And Violet (Chicago Fire)
Admittedly, Violet and Gallo probably didn't become the ship of dreams for many fans during Season 8 as two new characters, but something must have happened over the time jump that Gallo was so quick to start flirting with new paramedic Gianna Mackey. Chicago Fire showrunner Derek Haas shared his hopes for Violet in Season 9 back in the spring, but the future doesn't seem bright for Violet and Gallo after hiatus. Gianna and Gallo seem more likely, assuming Gallo gets over his fear of an overprotective Cruz and Gianna isn't traumatized by the ambulance crash.
Burgess And Ruzek (Chicago P.D.)
Considering how Season 7 ended and the real-life events of hiatus, Chicago P.D.'s premiere focus was understandably more on Atwater's dangerous situation and the drive for reform within CPD than any relationships. Burgess and Ruzek had a tense moment when she had to snap at him to prevent him from escalating a scene with a civilian, and there were no signs that they had restarted a romance since the end of Season 7. Still, that's not necessarily a bad thing, since this obviously wasn't designed as a Burzek episode, and who would want to miss a Burzek romantic reunion over a time jump anyway?
Halstead And Upton (Chicago P.D.)
Halstead and Upton got a little more meaningful screen time together than Burzek, although not by much. Still, Halstead intervening before Upton could put her foot any further in her mouth talking to Atwater about reform showed that their bond is just fine, and she felt comfortable asking him what he thought about the tense moment. She also called him off from escalating after a potential witness called him "bitch," so... Upstead? Chicago P.D. showrunner Rick Eid teased romance between Upton and Halstead, and fans may just have to wait for an Upstead-centric episode to see any developments that evidently didn't happen during the time jump.
Atwater And Rojas (Chicago P.D.)
Despite all signs pointing toward Atwater finally getting some romance in the form of Vanessa Rojas, the departure of Lisseth Chavez over hiatus and therefore Rojas over the time jump means that poor Atwater yet again doesn't have a love interest. Of course, Atwater has larger concerns at the moment thanks to the racist friends of the not-so-dearly departed Doyle who are doing their best to damage him, both physically and professionally, since the end of Season 7. The guy needs a break more than he needs a love interest at the moment, in my book, but I'll still miss the Rowater that never was.
Which of these relationships will develop and/or fall apart in the 2020-2021 TV season? Find out with new episodes of One Chicago on Wednesdays, with Chicago Med at 8 p.m. ET, Chicago Fire at 9 p.m. ET, and Chicago P.D. at 10 p.m. ET, all on NBC. For more viewing options now and in the not-too-distant future, be sure to check out our 2020 fall TV premiere schedule.
Laura turned a lifelong love of television into a valid reason to write and think about TV on a daily basis. She's not a doctor, lawyer, or detective, but watches a lot of them in primetime. Resident of One Chicago, the galaxy far, far away, and Northeast Ohio. Will not time travel, but will sneak references to The X-Files into daily conversation.
Your Daily Blend of Entertainment News
Thank you for signing up to CinemaBlend. You will receive a verification email shortly.
There was a problem. Please refresh the page and try again.