ABC's Big Sky Is Facing A Huge Backlash From Indigenous Communities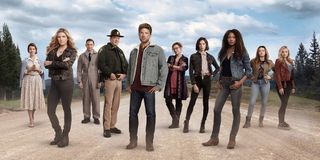 Big Sky recently premiered on ABC, sparking a conversation following a massive cliffhanger that saw one of its leading characters shot. However, the series — which hails from Big Little Lies creator David E. Kelley — is already facing backlash from Indigenous communities for failing to include Indigenous women in its narrative about murdered and missing persons cases.
Rocky Mountain Tribal Leaders Council executive director William F. Snell, Coushatta Tribe of Louisiana chairman David Sickey, and Global Indigenous Council president Tom Rodgers penned a letter to ABC execs expressing their concerns over Big Sky's "cultural insensitivity, and at worst, appropriation." The Indigenous leaders also included The Highway, the 2013 novel the series is based on, for also failing in its lack of representation and focus on Indigenous communities in the area where the story is set. Here's what the Indigenous leaders wrote (via THR):
Despite some forward movement, representation on television still has a long way to go. That lack of diversity is prevalent in ABC's Big Sky, which follows a private detective and an ex-cop as they work to find two women who have gone missing in Montana. The series' cast is primarily white and the leaders of several Indigenous organizations have clearly taken issue with Big Sky neglecting to address the high percentage of Indigenous women who disappear and are killed every year in Montana.
The Indigenous leaders who wrote the letter are also producers on the documentary Somebody's Daughter, which is about the amount of Indigenous and Native women who are murdered or go missing annually. The letter goes on to add how Big Sky and ABC can make amends. Here's what it reads:
As of this writing, no one at ABC has responded publicly to the letter from the Indigenous leaders. Stay tuned to CinemaBlend for updates on this story and more news about Big Sky.
Meanwhile, Big Sky will continue to air every Wednesday at 10:00 p.m. ET on ABC. For more on what to watch, be sure to swing by our fall TV schedule and our 2021 winter and spring guide.
Your Daily Blend of Entertainment News
Thank you for signing up to CinemaBlend. You will receive a verification email shortly.
There was a problem. Please refresh the page and try again.