Julie And The Phantoms' Madison Reyes On Representation And Diversity At Netflix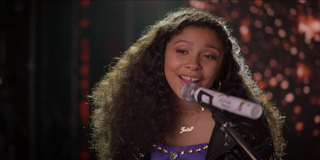 Earlier this year, Netflix added the Representation Matters Collection to its platform, which highlights content that is created by and featuring people of color. This is separate from the Black Lives Matter Collection, and based on the titles currently displayed upon search, it seems geared toward a younger audience overall. The family-friendly musical series Julie and the Phantoms is one of many presented titles in this collection. Julie and the Phantoms star Madison Reyes has spoken about working on a Netflix show and what being a voice for representation means to her.
Although portraying the titular character of Julie and the Phantoms is her first role, you wouldn't know it watching Madison Reyes. She exudes a mesmerizing confidence both on and off screen. The push for representation in the media has been going on for years, and for Reyes, it has made a difference. At 16-years-old, she has grown up seeing it. Here's what she told me:
Based on the Brazilian show Julie e os Fantasmas, Julie and the Phantoms follows a musical prodigy at a performing arts high school who has lost her mother, and subsequently her creative spirit. Julie meets three ghosts that were in a popular '90s band called Sunset Curve, and are just now learning that they're dead. The series expertly tells beautiful stories of loss, love, and friendship without missing a beat by delivering more of what we've come to expect and adore from director Kenny Ortega.
While chasing her musical dreams on screen as Julie, Madison Reyes is doing the same in her personal life. She recognizes that she's seeing success very early in her career, and we chatted about the advice she would give to other young girls wanting to pursue their own dreams. She didn't sugar coat the necessary hard work. Here's what she said:
Madison Reyes has certainly gotten to the good. She gives a magnetic performance in Julie and the Phantoms with her stunning voice, elegant dancing, and delivering raw and real emotion as an actress. This girl is definitely one to watch. We're keeping our fingers crossed to see her back in Season 2 to answer some burning questions.
Season 1 of Julie and the Phantoms is currently streaming on Netflix (opens in new tab). Once your heartstrings have been sufficiently tugged by binge-watching that greatness, try these Netflix options for some good laughs, and check out our winter and spring TV schedule to see when your favorite shows are returning.
Obsessed with Hamilton and most things Disney. Gets too attached to TV show characters. Loves a good thriller, but will only tolerate so much blood.
Your Daily Blend of Entertainment News
Thank you for signing up to CinemaBlend. You will receive a verification email shortly.
There was a problem. Please refresh the page and try again.