Why Fans Have That Major Theory After Taylor Swift's Latest Cryptic-But-Cute Post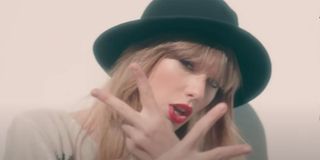 Sleuthy McSleuths have been all over a recent Taylor Swift post from the weekend. Given all the evidence that has accumulated in the time since Taylor Swift posted an adorable but also cryptic image of herself just seemingly hanging around with the literal caption, "not a lot going on at the moment," it seems that something is, in fact, going on, and we've had our tinfoil hats on every since. So, here's exactly what we know about why fans have a major fan theory related to the post in question.
OK, so if you are reading this article, you've probably already seen Ms. Swift's major post highlighting her seemingly literally doing nothing. Just in case, you need to see it to move forward, so here you go.
Great Sweater, Taylor, But We're Gonna Go Ahead And Call Ya A FolkLiar
The caption "not a lot going on at the moment" is more significant than it may seem. Earlier this year, Taylor Swift actually used that caption on another post. That photo was just a selfie on Instagram, but what fans didn't know at the time was that Swift was recording her major 2020 album Folklore, an album that got a surprise drop and was very well-received by the fanbase.
There's a second item worth noting. Even if you never ever caught the Instagram post in question above, Taylor Swift also used the line in her "22" music video. It was seen on a t-shirt in that video, which leads us to the fan theory in question: A lot of people think that with her latest post Taylor Swift is teasing a music video for "Exile." "Exile" just so happens to be the Folklore track she recorded with Bon Iver frontman aka Justin Vernon.
The Number 22 is significant to Folklore Collaborator Bon Iver
Here's where the theory gets a bit more sophisticated. Along with people simply hoping for another Folklore-related music video, apparently, the number 22 is a big deal to Bon Iver. 22, A Million is the name of the third album the band put out back in 2016. All of the songs on that album have odd titles, but one of them is "22 (OVER S??N)" as well. A New York Times profile that came out around the release of the album indicated the number is significant to Justin Vernon, noting:
What is significant to Taylor Swift's collaborator about a number is likely significant to Taylor Swift, too. She's a big "numbers meaning something" type of person as well, and has always been drawn to the number 13. All of this has led the fanbase to speculate Taylor Swift has an "Exile" music video coming. However, there may be a wrinkle to this theory.
A Second Theory About Taylor Swift's Post Involves Her 2012 Album Red
Though it would stand to reason the quote would somehow tie-in to Folklore, there could be a second possibility here as well. Taylor Swift has been in a long feud with Scooter Braun about her back-catalog, which recently sold again. At that point, Taylor Swift actually decided to physically re-record all of her masters. We touch on that more in-depth with our guide to her re-recordings.
Some fans have taken the "22" shirt from the above music video to mean that Taylor Swift will be re-recording her album Red first. Others are still on the Folklore/ Bon Iver train. (The monochrome photo and rustic setting does feel very fitting to Folklore.) It wouldn't really be a Taylor Swift tease if there weren't competing theories. Plus, just to spice things up, if we go all the way back to the original image, there's also some sort of crest and the initials TS shown, which could always be Easter Eggs as well.
So, that's everything going on in one fell swoop right now. Suffice to say, there's definitely something coming and I'm sure we'll get an announcement soon.
Amazing Race & Top Chef superfan with a pinch of Disney fairy dust thrown in. Theme park junkie. If you've created a rom-com I've probably watched it.
Your Daily Blend of Entertainment News
Thank you for signing up to CinemaBlend. You will receive a verification email shortly.
There was a problem. Please refresh the page and try again.