Did Taylor Swift Reveal The Name Of Blake Lively And Ryan Reynold's Third Kid?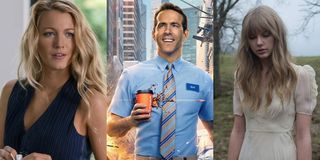 Good morning, Swifties. Taylor Swift has dropped Folklore, a brand new album produced by Aaron Dessner of The National fame and featuring work from Jack Antonoff, Bon Iver and William Bowery. The credits on the album are pretty cool as is the album's tone, but perhaps predictably, a lot of fans are more interested in the subtext of the album, which may or may not have revealed the name of Blake Lively and Ryan Reynold's third kid.
Here's the gist. On Folklore, Taylor Swift incorporates a song named "Betty" in which she mentions James and Inez as characters in the song. Those of you who are fans of her married pals Blake Lively and Ryan Reynolds already should know the couple has three daughters. Two of them are Inez and James, though the couple has declined to reveal the name of their third daughter since her birth in 2019.
According to the theories rolling around on the Internet, Taylor Swift uses three names in "Betty," including the titular Betty, prompting many to believe that is the name of Ryan Reynolds and Blake Lively's third daughter. I mean the evidence is there. She does name drop the two other kids. Collectively a lot of people seem to be latching onto this theory online this morning, noting Taylor Swift's notable relationship to Blake Lively, Ryan Reynolds and their tykes.
On the other hand, we have to consider the context of the song and the fact there are other names that appear on Folklore, as another Taylor Swift enthusiast has already pointed out.
This isn't the only theory about "Betty" that's rolling around. There's a whole separate subtext to the song some are reading into where fans think the lyrics in "Betty" are announcing Taylor Swift's own crush on a girl as a young woman or at least telling a gay love story using Betty and James as characters, as it's not clarified whether or not the James is male or female. At first it seems as if Swift may be referring to her own crush with lyrics such as these:
If you listen to the whole song though, it's more about a crush James has on Betty and not being told through Swift's perspective. The singer made it clear in a message along with the release of Folklore that the songs were being told from the perspective of characters, after all.
What's clear is the song's certainly not about the very young kids Blake Lively and Ryan Reynolds have (their oldest was born in 2014). Thus, the James in question in the song is not specifically Ryan Reynolds or Blake Lively's kid, and may or may not be a boy. This also seemingly indicates it's probable Taylor Swift just thought of James and Inez for the song because of the connection to her friends and not as an Easter egg to incorporate "Betty" and out the third daughter's name.
Yet, given the names are present in the song and that Taylor Swift and Blake Lively are great pals in real life, it would not shock me to learn Betty is girl #3 in the family, either. At the end of the day, no matter what "Betty" is or isn't about, and no matter who the song names, a lot of fans are really digging the track.
So, who knows? Elizabeth is a classic name and Betty's a cute version of that. If Taylor Swift did out the name, Reynolds and Lively could have picked worse.
Your Daily Blend of Entertainment News
Reality TV fan with a pinch of Disney fairy dust thrown in. Theme park junkie. If you've created a rom-com I've probably watched it.