The 10 Best Vikings Episodes (So Far), Ranked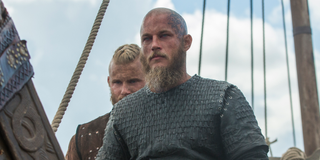 Vikings has been on for six seasons and will conclude with the second half of Season 6 at some undisclosed future date. So far, there have been 79 episodes of the History series, which range from the great to the super-great. Is it possible to actually decide what the installments of the series have been so far? This viewer is going to do their level best to try.
Throughout its 75+ episodes, viewers have gotten enthralled in the life and times of Ragnar Lothbrok, Lagertha, and their legendary family. There have been time jumps and dramatic leaps. As someone who watched the same night as the series premiere aired, I can attest to the excitement this show has employed. Six seasons, seven years, and nearly 80 episodes in, I think these are the best episodes so far.
10. Season 4, Episode 14 ("In the Uncertain Hour Before the Morning")
Otherwise known as the episode that Ragnar works to arrange his death, Vikings uses all of the lead-up to produce the epic feel of a seismic transition being on the horizon. Vikings inches closer to never being the same again in this installment, which is saying something because earlier in the season, the show underwent a massive time-jump that introduced Ragnar and Aslaug's grown sons.
Travis Fimmel's performance in Season 3, Episode 14, is incredible, and so are his scenes with Linus Roache (King Ecbert). Ragnar and King Ecbert are always presented as being two sides of the same coin, ambitious men with cunning minds that far-outweighed the competition. Their dynamic proves to be yet another fascinating one for Ragnar, and it shines especially bright in this gloomy hour.
9. Season 1, Episode 9 ("All Change")
Speaking of chapters, "All Change" serves as the Season 1 finale, and it is as seismic of an episode as you can imagine. It is in this episode that the beginning of the end arrives for Vikings' power couple -- Lagertha and Ragnar -- after he meets the arrogant (in my opinion) Aslaug.
As someone who enjoyed Lagertha and Ragnar's relationship and felt its end came too early, it makes this installment incredibly tough to watch. Well, that and all of the other tragedy that transpires during it. Still, it is a startlingly well-crafted hour by Vikings' creator and one that solidifies the cracking foundation of Ragnar's relationship with his eldest son, Bjorn. Thus, setting the young boy's loyalty in stone to his devoted mother, Lagertha.
8. Season 1, Episode 1 ("Rites of Passage")
A pilot is rarely one of the best offerings of any series. For Vikings, you have to make an exception. "Rites of Passage" is a series premiere that offers an intense first look into the characters that comprise the Viking world in Kattegat. In it, viewers meet Ragnar, his wife Lagertha, and their two young children.
No one who had not glimpsed a look at the legend of Ragnar could have imagined where it would go from here. Ragnar's ambition gets a front-row seat, as does his rivalry with his brother Rollo. This episode proved to be the hook I needed to tune in week-to-week, and it undoubtedly did the same for others. It is a narrative taste of what is to come without giving it all away.
7. Season 2, Episode 8 ("Boneless")
For me, there is Vikings before Ragnar and Lagertha's breakup and Vikings after it. "Boneless" is the first episode after Ragnar's marriage to the regrettable Aslaug that rivals its predecessor installments. The hour is a challenging one for Ragnar, who must grapple with what to do about his son, "Ivar the Boneless." The situation is later mirrored in Season 5.
While Ragnar loves his son, he is uncertain of his future and what he should do about it. Throughout "Boneless," Ragnar struggles with what to do, and the tension could not be higher as Vikings dives into Ragnar's headspace over the decision. It is one of Travis Fimmel's greatest episodes as he conveys the complex portrait of Vikings' tortured lead character, whose life is as complicated at home as it is on the battlefield.
6. Season 2, Episode 10 ("The Lord's Prayer")
Vikings' second season finale provides the pay-off to a mystery that burns for a while as Horik makes his move against Ragnar by testing the loyalties of those around Ragnar. Where do Siggy and Floki's loyalties lie? Floki's love for Ragnar is tough to doubt. In real-time, Siggy's allegiance is the hardest to figure out as Horik's plans take form. In truth, Siggy is one of the most fascinating characters that Vikings has featured throughout its run.
Once the wife of a powerful Earl, Siggy is relegated to a life devoid of the power she once had. Will she seek revenge? "The Lord's Prayer" is an episode anchored in that mystery while calling in the backstory of an enigmatic character who more than delivers in this installment. Vikings makes a strong case for whatever Siggy decides.
5. Season 1, Episode 6 ("Burial of the Dead")
After several episodes of mounting tension, Vikings delivers on the power struggle between Ragnar and Earl Haraldson (Gabriel Byrne). "Burial of the Dead" witnesses Ragnar engage in the battle that truly alters his destiny. The domino effect is brilliantly set up in this episode, along with the foreshadowing that comes with it.
There are some things that Vikings viewers may be able to anticipate occurring in the hour if they are familiar with the legend of Ragnar. However, most of it should be quite gasp-worthy. Ragnar does show more humanity in this hour than many that come after it via Siggy. A lot of it dies with his ambition, though. In many ways, just six episodes into its run, "Burial of the Dead" marks the closing of a massive chapter.
4. Season 4, Episode 10 ("The Last Ship")
Here comes the fourth-greatest episode of Vikings. In it, Ragnar and Rollo's rivalry gets a final battle to draw a line in the sand between the brothers. It is later learned that Ragnar and Rollo's rivalry stretches much further than some viewers may have not been fully aware of. Nevertheless, what happened between them in Paris set the tone for this final battle.
Rollo and Ragnar are older men at this point in the series. With their younger days behind them, they must set their allegiances in stone. Will it be to each other? There will be a victor in "The Last Ship," and what makes for a celebratory moment for one seals the crushing and irrevocable defeat of another. At its core, Vikings is largely about this rivalry and the one to come between Ragnar's sons, with one proving more ruthless than the other.
3. Season 1, Episode 5 ("Raid")
A little over halfway into Season 1, Vikings provides this game-changing episode that acts as more of a thriller than anything else, all while believably raising a surprising question. Is Ragnar about to get killed off the show? As "Raid" begins, it feels like he could be. Following an assault on Ragnar's settlement, he, Lagertha, and their family make an escape for their lives.
It is the first time that Vikings taps viewers on the shoulder to remind them that it is a flesh-and-bone series. A drama that is every bit as volatile as Game of Thrones, even if comparisons are not exactly wanted. Vikings is armed with genuine stakes where anything can and will happen. It is not a one-off stunt either. It is a sign of what is to come.
2. Season 3, Episode 8 ("To the Gates!")
Ragnar's dreams come true when he heads "To the Gates!" of Paris. The lead-up has gotten so tightly constructed that you can practically feel the tension mounting. It is worth noting that the size, scale, and execution of the battle for Paris is also remarkable, easily making it the second-best episode of Vikings so far.
Will Season 6 be able to pull out an episode of its caliber? Vikings fans will have to wait and see. The sheer ambition of this episode, which had gotten alluded to for some time, meant all of the pieces falling into place in a spectacular way. Everything about this episode is dazzling. Between it and the next installment, Vikings has a jaw-dropping two-parter that makes for a movie-size wonder.
1. Season 3, Episode 10 ("The Dead")
The best episode of Vikings (ever... so far) finds Ragnar carrying out another ingenious plan against his adversaries. In the stunning aftermath of Ragnar and his forces' attack on Paris, the future seems pretty limitless and daring. Other shows flirting with the prospect that Vikings does in this episode would ring hollow as a ploy.
Instead, it is all neatly contained in this episode to avoid a ratings grab. "The Dead" tests viewers' trust in how closely Vikings will stick with Ragnar's mythological end. Travis Fimmel did not have a tough time bidding farewell to Vikings, but viewers had a rough time saying goodbye to him. The writing on Vikings had never been stronger at this point, as it played with "what if?" and the answers it came to were riveting.
It is worth mentioning that the season with the most "best episodes" is Season 1. Vikings' freshman outing proved to be a season filled with the finest offerings overall. Overall, I also recall Season 3 with tremendous fondness. That is not to say later seasons were not amazing. Season 6, Episode 6 ("Death and the Serpent") is one such installment meritorious of an honorable mention.
All eyes will soon shift towards the final round of episodes that Vikings has to give as well as the upcoming Netflix spinoff. You can never keep a Viking down! A release date for the second half of Vikings' sixth and final season is currently pending. Fans of the History series will have to wait and see if it joins with 2021's winter/spring schedule.
Your Daily Blend of Entertainment News
Like a contented Hallmark movie character, Britt happily lives in the same city she grew up in. Along with movies and television, she is passionate about competitive figure skating. She has been writing about entertainment for 5 years, and as you may suspect, still finds it as entertaining to do as when she began.