Vikings Delivered A Huge Lagertha Twist In A Totally Unexpected Way And I'm Shaken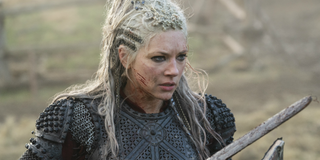 (Image credit: Jonathan Hession / History)
Warning: Spoilers for the January 8, 2020 episode of Vikings Season 6 entitled "Death and the Serpent" are discussed below! Do not go beyond this point if you do not want to know!
If you are still reeling from the latest episode of Vikings, you are not alone. The History series sowed the seeds for "Death and the Serpent" long ago. Despite the forewarning, nothing could have prepared this viewer for the totality of the moment. It was everything that Katheryn Winnick promised it would be. Lagertha had one more big battle, and it turned out to be her last.
The farmer, shield-maiden, wife, mother, grandmother, and former queen faced off with the bandit that Bjorn had set free in the Season 6 premiere. It was a hard-fought battle that Lagertha managed to win in a last-minute show of relentless determination. A one-on-one fight that easily ranks as one of Vikings' greatest.
While Lagertha avenged her grandson, she was mortally wounded. Realizing she was dying, Lagertha set out for Kattegat in hopes of seeing Bjorn one last time. She arrived outside of the Great Hall as a woman sang a song that repeated her name. Then, a crazed Hvitserk tore out of his dwelling convinced that it was Ivar who had come.
Hallucinating, as he has done for most of Vikings Season 6, Hvitserk stabbed Lagertha repeatedly until she died. Thus, making the prophecy of Lagertha's doom complete. Lagertha was killed by a son of Ragnar. Depending on how you look at it, she was actually killed by two of them. Bjorn's fateful decision to free Ivar's supporters ultimately led to his son's and his mother's deaths. Hence, more than one son of Ragnar's involvement in Lagertha's fate.
Hvitserk being Lagertha's definitive killer, did come as a last-minute shocker. Even though Katheryn Winnick had seemingly confirmed before Vikings returned that Lagertha would die in Season 6, I had not expected her death to happen this soon. Vikings practically just started, and the end of the season's first half is quite a bit into the future.
I had hoped that Lagertha would survive to the end of the series. Or at least, until the beginning of Season 6's second half. This is an unexpected blow that changes Vikings forever, and it's the first death to do so since Ragnar's demise back in Season 4. As it did when Ragnar left, Vikings just got emptier without Lagertha in it.
Katheryn Winnick's performance throughout her time on Vikings has been absolutely stellar. Her work on the series has been integral in making Lagertha a fan-favorite. Winnick has always found the nuance in Lagertha. She has also presented the full scope of the expansively complicated character that Vikings' creator, Michael Hirst, has written.
Vikings has lost one of its largest forces, and it will never be the same. The show is winding towards its endgame, but it will now do so without Lagertha's presence or Katheryn Winnick's bravura performance to back it. Vikings has shocked before, and this is no exception. I still feel a bit numb and in disbelief over it. Not that I think there is any way back from the twist.
Lagertha has been a part of Vikings since Episode 1, and it seems unfair to even say "part." She has been a leading presence. After Ragnar's death, viewers still had Lagertha, and when Rollo left center stage, they still had Lagertha. Where does Vikings go from here? It is an unbelievable thing to contemplate.
Vikings still has a lot more left to go before it says goodbye, but this felt like a seismic farewell. Lagertha has been Vikings for so long, and to imagine tuning in without her is tough to even fathom. When the show was without her for some episodes last season, you could feel it.
That said, what a journey. Vikings did leverage Lagertha to every possible conclusion her story could go. Now comes the fallout. Bjorn will finish the series without either of his parents. On that note, considering Bjorn's remarkable bond with his mother, I was a bit surprised Vikings did not incorporate Bjorn somehow sensing her death.
Maybe Vikings will delve into that during the next episode? How will Bjorn move forward from here? Viewers are doubtlessly asking the same question. Bjorn's wife saw what Lagertha did and was clearly in awe. It is clear that Gunnhild intends for her mother-in-law's legacy to live on.
Find out what happens after that shocking Lagertha twist when new episodes of Vikings air Wednesdays at 10 p.m. ET on History. The historical drama's Season 6 return is part of this winter's premieres.
Like a contented Hallmark movie character, Britt happily lives in the same city she grew up in. Along with movies and television, she is passionate about competitive figure skating. She has been writing about entertainment for 5 years, and as you may suspect, still finds it as entertaining to do as when she began.
Your Daily Blend of Entertainment News
Thank you for signing up to CinemaBlend. You will receive a verification email shortly.
There was a problem. Please refresh the page and try again.