9 Shows You Should Stream If You Love Vikings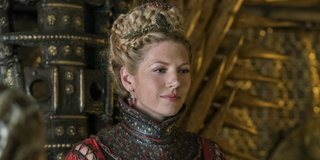 (Image credit: Jonathan Hession / History)
Are you a Vikings fan desperately missing the series in the midst of its long hiatus? Or just a viewer who wants more Vikings-type fare on your television? Well, you're in luck, because there are a surprising number of solid character-driven and action-oriented series with similar elements to Vikings. Television has not been shy about supplying them over the past decade.
Streaming services like Netflix, Amazon Prime, and Hulu (among others) boast a reliable library of Vikings-adjacent series. For reference, all of Vikings' current seasons are streaming on Amazon. If you already watched them and love the action, adventure, turmoil, and triumph of Vikings, these other nine shows should help tide you over while Vikings hiatus continues.
1. The Last Kingdom (Netflix)
Centered on the not-always-likable Uhtred of Bebbanburg (Alexander Dreymon), The Last Kingdom is adapted from Bernard Cornwell's book series, The Saxon Stories. Among the real-life figures that fold into the story is Alfred the Great, who is shown in his early twenties on Vikings. Seeing him portrayed in his older years proves quite insightful.
Every season, The Last Kingdom has become an even better series. With Season 3, the series easily makes its case as not just a terrific genre series, but as a terrific series period. The action is spectacular, the characters are deeply drawn, and the majesty lives on. A fourth season of The Last Kingdom is forthcoming on Netflix.
2. Medici (Netflix)
Medici tells a multi-generational family saga replete with double-crosses, hopes for familial advancement, and more. The first season centers on Richard Madden's Cosimo de' Medici and his rise to power. The final two seasons focus on his grandson, Lorenzo the Magnificent, played by Fear the Walking Dead's Daniel Sharman.
Medici tells an incredible story that is binge-worthy, well-acted, and superbly presented. Between the drama and the backstabbing, Medici is on par with any of its peers, and at times overpowers them at what they do best. The series' third and final season is set to premiere at some point on Netflix.
3. Game of Thrones (HBO GO)
The show that arguably brought the genre back to its zenith, Game of Thrones reignited the genre's pop culture prominence. For those wondering if they should really dive into the show following its controversial final season, there is good news. Not as many people may have disliked the last season as initially thought.
So, do not let all of the divisiveness surrounding it put you off from experiencing the show as a whole. There is a reason the HBO series captured the imaginations of countless fans for nearly a decade. It is one of the best. Game of Thrones successfully combined fantasy with historical-style drama that got fans passionate.
4. Knightfall (Netflix)
This is another History show with lots of action and gritty adventure. Like Vikings, the main character is an anti-hero with qualities that strongly relate to him being an antagonist. For those who enjoy the Wessex side of Vikings, Knightfall should be appealing. After a tumultuous freshman season, the drama came swinging back in Season 2.
It brought on Mark Hamill as a character that was no Luke Skywalker, and he worked wonders on it. Knightfall tells a fictionalized version of the events that led to the downfall of the Knights Templar. For those in need of dire plot twists, Knightfall has them, and some memorable villains.
5. Legend of the Seeker (ABC Go)
I loved this show, and it was cancelled way too soon! The show has an indisputable supply of action, adventure, and prophecies. The series stars Craig Horner as Richard, a guy with a secret destiny. In the epic undertaking of realizing his real role, he is accompanied by Kahlan (Bridget Regan) and Zed (Bruce Spence).
For those who enjoy the fantasy element of period dramas, Legend of the Seeker is for you! This show gets better with every episode, and it actually has a likable trio fronting it. Tabrett Bethell's ultimately endearing Cara joins them later on. All told, an even and wonderful two-season binge.
6. Camelot (Hulu)
Vikings has Lagertha and Camelot has Eva Green's Morgan. Camelot offers a visceral take on the famous legend. Between the battles, romances, and interpersonal intrigues, Vikings fans should be hooked. All of its genre stapling aside, Eva Green is the reason to watch. Morgan is a fully developed character, and Green plays her and her varying inner conflicts to the hilt.
Camelot originally aired on Starz. It ended after a single season. Vikings' Clive Standen (Rollo) played Gawain on the drama, so there is another motivator for you if you were still not sold. Watched as a limited series, it should be fulfilling, if a little open-ended.
7. Merlin (Netflix)
Along the lines of The Witcher (more on that below) and Legend of the Seeker, Merlin has a lot of fantasy elements. It tells the prequel story of Merlin (Colin Morgan) and his friendship with King Arthur (Medici's Bradley James). The series ran for five seasons and over 60 episodes, so it should keep you entertained for a while.
For those who enjoy the mystical side of historical fare with a touch of Arthurian familiarity, Merlin has you covered. In taking a prequel approach to the legend that has been told time and time again, Merlin gives the audience a chance to have a deeper understanding of the story's characters in the long-term. The show gains in intensity as the seasons pass and the stakes get higher and higher in Camelot.
8. Britannia (Amazon Prime Video)
Set in AD 43, Britannia centers on the Roman Empire's invasion of Britain. The Celts find themselves attempting to stave it off. For those who enjoy Kelly Reilly's work as Beth Dutton on Yellowstone, and find themselves in need of a historical epic, Season 1 has both.
One look at the show tells you that Britannia has excellent production value and that is always half the battle in genre pieces. The entire first season is currently available to stream on Amazon Prime Video, which co-produced it. Season 2 is set to premiere in the U.K. on November 7, per Express. Great news for fans!
9. The Witcher (Netflix)
Henry Cavill's much-anticipated Netflix series could be the next Game of Thrones or something like it. The trailer revealed a show worthy of getting your adrenaline pumping as The Witcher nears its premiere. Cavill did his own stunts for the series, which is an adaptation of Andrzej Sapkowski's fantasy novels.
The show is one of the most anticipated of 2019, and it should live up to the hype. Henry Cavill got into incredible shape to play Geralt of Rivia, a monster hunter. His destiny becomes entwined with a powerful sorceress and a young princess with a "dangerous secret." Learn more about it when The Witcher premieres on Netflix, sometime this year.
While all of these shows are good alternatives to Vikings, there is nothing like the real thing. The show will return with an older Lagertha and a significant degree of intrigue. It is going to be a vast and redefining season for the legendary shield-maiden, Bjorn, and his brothers. The sons of Ragnar will be back soon!
As fans await the fate of their favorite characters and what Season 6 will hold for them, the shows above should help hold you over. Remember, Season 6 can only begin once!
A premiere date for Vikings' sixth and final season has not been announced yet, so stay tuned. It will arrive on History, eventually. In the meantime, there are a lot of fall premieres with release dates you can anticipate.
Your Daily Blend of Entertainment News
Like a contented Hallmark movie character, Britt happily lives in the same city she grew up in. Along with movies and television, she is passionate about competitive figure skating. She has been writing about entertainment for 5 years, and as you may suspect, still finds it as entertaining to do as when she began.
Your Daily Blend of Entertainment News
Thank you for signing up to CinemaBlend. You will receive a verification email shortly.
There was a problem. Please refresh the page and try again.