Tyler Perry's Ruthless Stars On Preparing To Play Cult Members With Compressed Filming Schedules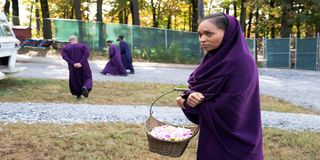 Written, directed and produced by Tyler Perry, Ruthless follows Ruth (Melissa L. Williams) as she becomes entangled in a sex cult led by The Highest (Matt Cadeño). Inside the cult's compound there is Tally (Yvonne Senat), who desperately wants to escape with her daughter, and outside there is Lynn (Nirine S. Brown), who is intrigued by what the cult has to offer. The cast of Ruthless recently shared how they prepared to play the roles of cult members.
If you aren't familiar with Ruthless, let me put you on because you need to watch it. This show is like Hulu's The Handmaid's Tale meets HBO Max's documentary series The Vow - and it is absolutely insane in the best way.While acting is all about becoming someone else and bringing characters to life, it can be more of a challenge to get into character when the focus of the character's life is something the actor has never experienced. In an interview with CinemaBlend, Melissa L. Williams (Ruth) admitted it can be difficult. In her words,
Melissa L. Williams' character Ruth begins the series happy to be part of the group led by The Highest, but soon learns secrets that change her mind. Yvonne Senat's Tally is aware from the beginning that she needs to get out. Senat echoed Williams' approach with how she prepares to film, saying,
Sounds like a lot of research was involved for this show, which makes sense. Although Ruthless is a work of fiction, it does draw from an experience that many people have lived and are living through. The cast is working hard to authentically tell those stories.
Many of the cast members said it's actually very easy to stay in character because of Tyler Perry's shooting schedule. According to Deadline, he completed 22 episodes of The Oval in just ten days. Here's what Ruthless star Matt Cadeño told CinemaBlend:
Filming so many episodes in such a short amount of time sounds draining and energizing at the same time. From speaking with the cast I gathered that it allows for them to keep up their energy and play off one another and try new things when there are less breaks. In the words of Lenny Thomas (who plays Dikhan, The Highest's right hand man):
Newcomer Colin McCalla also chimed in with how he feels filming so quickly is helpful. His character, River, first appears the second half of Season 1 which drops today. Here's what he told CinemaBlend:
Season 1 of Ruthless is now streaming on BET+. Interested in more Black-lead content? Check out these hidden gems.
Your Daily Blend of Entertainment News
Obsessed with Hamilton and most things Disney. Gets too attached to TV show characters. Loves a good thriller, but will only tolerate so much blood.