Alex Trebek Recorded A Hopeful Thanksgiving Message For Jeopardy Fans Before His Death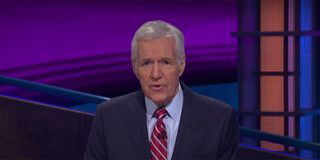 Thanks to Jeopardy recording episodes well in advance, fans are being treated to additional programs hosted by the recently departed Alex Trebek. For those of us who have watched him every weekday for decades, these remaining episodes are particularly meaningful (and have been particularly popular). Yesterday's included a special Thanksgiving message from the longtime Jeopardy anchor, and not surprisingly, it was touching and really well said.
Of course the message has since been passed around social media quite a bit. It features Alex Trebek talking about reasons he's found to be thankful, not only in spite of the pandemic but because of the kindness he's seen displayed during the pandemic. You can watch his short but moving comments below…
In many ways, that quick little speech is actually a good explanation for why Alex Trebek was so good as the host of Jeopardy. He was always so thoughtful about when to interject and for how long. Jeopardy is a game show built on speed and momentum. There are a lot of questions to get through, and contestants can get into a nice rhythm in particular categories. Trebek was always able to editorialize a little bit to offer clarity about why answers weren't counted or why a contestant's line of thinking was a little bit off, but he never ruined the pace with whatever he wanted to say. He got in, said what needed to be said and got out (apart from the occasional zinger).
I guess what I'm trying to say is even though he was the star of the show, he never hosted like people were there to see him. He let the contestants and most especially, the trivia itself shine during each episode's runtime. There aren't a lot of game show hosts (or reality television hosts) who are comfortable enough with themselves to do that. Trebek always was, which is perhaps why a Thanksgiving message like this reads as so authentic.
Alex Trebek passed away earlier this month at the age of 80 following an extended battle with pancreatic cancer. By all accounts, he fought it bravely and with a positive spirit until the end. He continued hosting new programs (which are the ones we're still getting), and he generously made it clear to all involved that he wanted the show to continue after his death. Exactly who will take his place is still an open question. Jeopardy will be running with guest hosts, starting with popular winner Ken Jennings, for awhile. Fans haven't been shy about advocating names they'd like to see, but who else will be on the list is unclear.
Regardless, what's important today is seeing the good in the world. There are always reasons to get down on other people and to get down about what's happening, but there are also always people pitching in and helping if you look hard enough. Mr. Rogers famously told people to look for the helpers. In his own way here, Alex Trebek told people to do the same. It's nice to see it's resonating.
Enthusiastic about Clue, case-of-the-week mysteries, the NBA and cookies at Disney World. Less enthusiastic about the pricing structure of cable, loud noises and Tuesdays.
Your Daily Blend of Entertainment News
Thank you for signing up to CinemaBlend. You will receive a verification email shortly.
There was a problem. Please refresh the page and try again.