Kaley Cuoco's Birthday Gifts This Year Include Wood, Underwear And A Fun Tribute From Johnny Galecki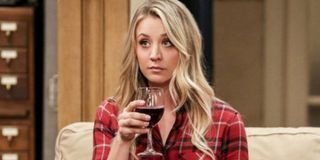 Kaley Cuoco just turned 35 this year and she celebrated in some, shall we say, unique ways. Rather, she celebrated with some unique gifts from her husband Karl Cook and others that were all geared around her love for animals. However, if you take the gifts at face value, she literally was gifted with some underwear and a block of wood. Those made more sense once she shared more about them, though they weren't as straightforward as her fun tribute from her Big Bang Theory co-star Johnny Galecki.
Kaley Cuoco unveiled the wood this week, declaring it was her gift from her husband Karl Cook. It's literally a giant hunk of carved wood that she showed off on her property. Donning a bathrobe and showing off her not-so-humble abode, she also explained the hunk of wood in a post and why it's actually an excellent gift.
Someone needs to tell Karl Cook that wood is a fifth wedding anniversary gift and not a 35th birthday gift, though Kaley Cuoco seems jazzed for the custom object. She's a horse lover and a rider, so it really is fitting and a beautifully carved piece. It's likely even more special because her partner made it himself. The birthday gifts did not end there however!
The second gift seemingly came from Kaley Cuoco's assistant Emma Ross, and it was an inspired choice. Obviously, she got her underwear, but not of the Victoria's Secret Fashion Show variety. Instead, they are undies with her pup Dump Truck (who is already Instagram Famous) on them.
In a video posted to Instagram Stories, Kaley Cuoco seemed particularly delighted by the underwear (though that's no shot at the hunk of wood), telling her pup, 'Now I get to wear you 24/7!' You know, when Cruella De Vil said something similar, the connotation was a bit more threatening, but this is adorable.
Meanwhile, I'm still reeling over the fact Kaley Cuoco turned 35 this year. She's done a lot in her decade-plus career in Hollywood already and her latest The Flight Attendant is getting a lot of notice on HBO Max. But it's still hard to believe this is the same young woman who starred in 8 Simple Rules and then kicked off The Big Bang Theory back in 2007. I guess time flies when you're highly successful.
Speaking of The Big Bang Theory, Kaley Cuoco's co-star Johnny Galecki didn't send a weird gift (that we know of), but he did make sure to wish his former TV partner a happy birthday.
Kaley Cuoco's birthday actually falls on November 30, so she's had a couple of days to enjoy her new gifts already. We wish her the best as she starts the long trek toward 36. There's a lot of bright things in store for her in her TV career and as we all head toward 2021 and leave 2020 behind, there will hopefully be a lot more for all of us to look forward to.
Catch new episodes of The Flight Attendant on HBO Max.
Amazing Race & Top Chef superfan with a pinch of Disney fairy dust thrown in. If you've created a rom-com I've probably watched it.
Your Daily Blend of Entertainment News
Thank you for signing up to CinemaBlend. You will receive a verification email shortly.
There was a problem. Please refresh the page and try again.