5 Marvel Movie Characters You May Have Forgotten Were On Agents Of S.H.I.E.L.D.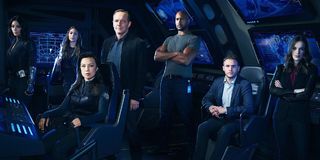 Agents of S.H.I.E.L.D will be remembered by fans for a number of reasons, but one of the things that makes its legacy most notable is that it was the first TV show to be firmly set in the Marvel Cinematic Universe. Although it would gradually move away from referencing the franchise's massive films, as of right now, it is still canon. This led to some cool tie-ins over the course of the series as well as some memorable cameos from established film characters. There are were even a few that you may have forgotten about.
Sure, you probably remember Nick Fury's brief, but important, cameos and Lady Sif's guest appearances, which brought some Asgardian action to the show. Nevertheless, there are a few others that may have fallen through the cracks. While their roles may not have had a major effect on the overall grander scheme play out during the MCU's first three phases, they still impacted S.H.I.E.L.D.'s corner of the sprawling universe. So without further ado, let's take a refresher course and check out some potentially forgotten MCU cameos from the show:
Jasper Sitwell
The S.H.I.E.L.D. agent (and HYDRA mole) had a few guest spots following his roles in Thor and The Avengers. Sitwell's first appearance (Season 1, Episode 7 "The Hub") gave us a hilarious moment. The memorable scene saw Simmons use the prototype tranquilizer weapon, the Night-Night Gun, to knock him out after he discovered her trying to tap into The Hub's mainframe for info. Later (in Season 1, Episode 15 "Yes Men") Sitwell would notify Coulson that Nick Fury was off the grid, and he was present when he and other S.H.I.E.L.D. officials were briefed on elusive terrorist the Clairvoyant in Season 1's sixteenth episode, "End of the Beginning." Following this, he would be called on another mission that would lead into the events of Captain America: The Winter Soldier, where he would be outed and killed by Bucky Barnes.
It's safe to say that Jasper Sitwell isn't particularly missed by fans (though actor Maximiliano Hernández probably is). However, his presence on S.H.I.E.L.D. helped the show further explore the inner workings of the massive organization. In hindsight, it also served as a subtle "calm before the storm" ahead of the fall of S.H.I.E.L.D., which would rock the show to its core.
The Howling Commandos
Many probably remember that Peggy Carter appeared in a flashback during the second season premiere ("Shadows"), but some may have forgotten that she was joined by some of the Howling Commandos. Captain America: The First Avenger alums Dum Dum Dugan and Jim Morita joined Carter in the season premiere's explosive opening sequence. The two soldiers would assist in taking down the final active HYDRA base in 1945, leading to the arrest of several of the organization's operatives.
Ultimately, this key victory would allow the Strategic Scientific Reserve (S.H.I.E.L.D.s precursor) to confiscate weaponry, a Kree body and a Diviner. The third item would be especially important during the present-day war between HYDRA and S.H.I.E.L.D. and would trigger Daisy Johnson and Raina's Inhuman abilities. Jim Morita and Dum Dum Dugan were already war heroes, but they also (indirectly) played a key role in birthing one of the MCU's most powerful superheroes.
Dr. List
List, a former S.H.I.E.L.D. employee, aligned with HYDRA and became Wolfgang von Strucker right-hand man. With this, he headed up experiments for the organization (as shown in The Winter Soldier). He made his first S.H.I.E.L.D. appearance in Season 2, Episode 2's "Aftershocks" before appearing again in Season 2's "The Frenemy of My Enemy" and "The Dirty Half Dozen." List oversaw the selection of a new American HYDRA leader and, fueled by his fascination about metahumans, he also conducted experiments on the captured Deathlok and Lincoln Campbell. After Coulson's team rescued the two, List returned to Sokovia to continue his work with Strucker and would ultimately lose his life when the Avengers stormed the base in Age of Ultron.
Admittedly, List didn't make a massive impression on the show, especially considering he and his fellow HYDRA leaders were duped into believing there was a power struggle. Still, List would serve a role similar to that of Sitwell. His research and efforts to find a new commander further introduced viewers to how HYDRA works. He and his comrades may not have been successful in the long run, but they did fill in a few blanks regarding the way the evil group operates.
Gideon Malick
Gideon Malick is unique because, while many probably remember that he was a key antagonist in Season 3 (debuting in Episode 6, "Among Us Hide…"), some may not realize that he was first introduced in an MCU film. He originally appeared as one of the members of the World Security Council in The Avengers, where he disagreed with Fury summoning Earth's Mightiest Heroes to fight off Loki's invasion. On S.H.I.E.L.D., he was revealed to be one of HYDRA's most feared leaders, with his main goal being to ensure Hive's return to Earth. After this was accomplished, Malick became untrusting of the Inhuman and cooperated with S.H.I.E.L.D. to stop him. However, the man would lose his life to a Hive-controlled Daisy Johnson in Season 3, Episode 17 – "The Team."
Malick's role was vital to the show's efforts to revamp the history of HYDRA in the MCU. The organization's origins were originally grounded only in science, but S.H.I.E.L.D. added an otherworldly aspect to their story by connecting them to the Inhumans. Malick's desire to find Hive and control other Inhumans represented the logical next step after the show explored List and Strucker's interest in metahumans. All in all, Malick's inclusion marked a major step for HYDRA and added some intriguing new elements to the series' mythos.
Matthew Ellis
A few years after getting wrapped up in Tony Stark and Aldrich Killian's war in Iron Man 3, President Ellis returned to the MCU via the small screen. His first appearance in the Season 3 premiere, "Laws of Nature," saw him address the public about the Inhuman outbreak and announce the formation of S.H.I.E.L.D.'s replacement – the Advanced Threat Containment Unit. Soon after in "Bouncing Back," he met with Coulson to discuss strategies to defeat the growing threat of HYDRA. Ultimately, Ellis made the key move to semi-legalize S.H.I.E.L.D. so that they could serve as a black ops unit to battle the terrorist organization behind the scenes. Aside from being instrumental in the battle against HYDRA, Ellis also stepped in to assist the team with an international incident involving agents Bobbi Morse and Lance Hunter in Season 3's "Parting Shot."
Ellis' appearances on the show did more than just create additional continuity between the show and films. His presence provided the struggling S.H.I.E.L.D. with a key ally in the fight against HYDRA, and his actions would prove pivotal to the spy organization once again becoming a legitimate entity. And on a side note, his refusal to step down when threatened with another Cold War added more depth to his character, showing why he was the POTUS the MCU needed. Needless to say, Agents of S.H.I.E.L.D. and the cinematic universe as whole owe him a debt of gratitude.
So did you remember all of these MCU cameos from Agents of S.H.I.E.L.D.? Are there any that you think we forgot? Let us know in the comments! And keep it here at CinemaBlend for more news from the world of TV and movies.
Covering superheroes, sci-fi, comedy, and almost anything else in film and TV. I eat more pizza than the Teenage Mutant Ninja Turtles.
Your Daily Blend of Entertainment News
Thank you for signing up to CinemaBlend. You will receive a verification email shortly.
There was a problem. Please refresh the page and try again.