Who Miley Cyrus Is, According To Miley Cyrus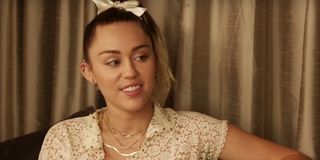 Miley Cyrus is stripping back her provocative, zany image these days. However, in a recent interview, the "Malibu" singer showed she still has her bohemian sensibilities. Cyrus explained how she remains, in her words, "weird for many reasons." The former Hannah Montana star opened up, saying,
Perhaps Miley Cyrus laid it on a little thick in this interview with Ross King on ITV's Lorraine. But she's 24, a reasonable age to think about who she is, what she believes, and what she doesn't. And if there is one thing Cyrus doesn't believe in, it's giving labels.
In fact, in a second recent interview, Miley Cyrus expounded on her views about labels and how much she dislikes them. She explained she tries not to label anything. For example, she avoids labeling the gender and sexuality of other people, and she says labeling art or putting an artist in a box prohibits creativity.
In a broader context, Miley Cyrus seems to avoid labeling herself when it comes to thinking about the person she was in the past or the person she might become in the future; instead, the sometimes-coach of The Voice subscribes to being the person she wants to be in the present moment. Watch her talk about it here:
Miley Cyrus has also spoken about her feelings toward labels of gender and sexuality. For instance, in one interview, she said she's "a gender-neutral, sexually fluid person." Cyrus also said she spends a lot of time thinking about being a girl. She asked her boyfriend, Liam Hemsworth, if he thinks about being a man. She was surprised when he said he never thinks about it. Cyrus suggested she thinks about it so much because she does not feel like a girl or a boy. (Maybe that is because she is "a soul spirit.")
Of course, feeling like one does not identify with all of the cultural norms for gender or sexuality does not make one "weird," and Miley Cyrus undoubtedly knows that. She seems to be growing a lot these days, so it will be interesting to hear what she thinks about this subject as time passes.
Your Daily Blend of Entertainment News