The Voice's Ryan Gallagher Is In A Dispute With NBC Over Why He Left The Show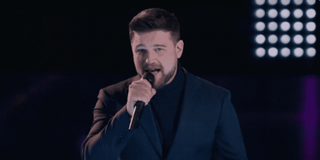 Ryan Gallagher's run on The Voice Season 19 was cut short. Producers severed ties with Gallagher, and he was removed from the show ahead of the 4-Way Knockout results on November 30, with the network alleging that he broke the competition series' strict COVID-19 protocols. However, Gallagher refuted those claims and is now in the middle of a dispute with the folks at NBC regarding why he left the show.
Things have taken quite a turn in the week since Ryan Gallagher was cut from competing in Season 19 of The Voice. In a bid to protect the safety of The Voice's cast and crew, Gallagher was dismissed after allegedly breaking COVID-19 policies, though NBC execs didn't offer very many details about what Gallagher specifically did. Following those claims, the singer's personal manager Michael Catalano refuted the policy-breaking statements in support of his client. Here's what he said in a statement to People:
Michael Catalano went on to add that Ryan Gallagher's mother was diagnosed with COVID and spent three weeks in the hospital's intensive care unit. With that in mind, Catalano claims that Gallagher would never think to endanger anyone or break COVID-related protocols, seeing as how he's seen the virus' harmful effects first-hand.
Two weeks before he was ousted, Ryan Gallagher flew to Michigan to be with his family. However, it's unclear whether that particular trip played a role in the singer's dismissal, or if there was some other cause entirely. Here's how representatives from NBC and MGM responded to the claims regarding Ryan Gallagher breaking protocols implemented by The Voice:
Michael Catalano also alleged that there is more to the story that The Voice viewers are still not aware of, and that Ryan Gallagher will be responding to these claims with NBC's producers. In an Instagram post, the singer alluded to the allegations and called the last week "weird/stressful." He also hinted that fans should be on "standby" for further information. Take a look.
Last week, The Voice Season 19 kicked off its live episodes and is moving forward with its remaining competitors (and without Ryan Gallagher, obviously). Stay tuned to CinemaBlend for updates on the outcome of Gallagher's dispute with NBC and how it pans out.
For more on what to watch in the coming months, be sure to check out our 2021 winter and spring TV premiere schedule.
Your Daily Blend of Entertainment News
Your Daily Blend of Entertainment News
Thank you for signing up to CinemaBlend. You will receive a verification email shortly.
There was a problem. Please refresh the page and try again.