Why Kelly Clarkson Rocked Out An Eyepatch On The Voice This Week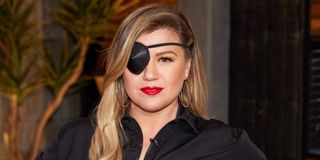 The Voice Season 19 has finally moved into the Battle Round this week. However, if you tuned into the competition show you may have noticed Kelly Clarkson sporting an eyepatch while she coached her team. A preview clip from the episode saw Clarkson explaining why she was wearing the eye accessory to begin with, and it definitely wasn't for fashion reasons.
On Monday night's episode of The Voice, Kelly Clarkson wore an eyepatch during the show. The singer posted a clip to Twitter that immediately addressed the big patch over her eye. Clarkson told the audience that they'll notice something different about her. As it turns out, Clarkson actually had to wear the eyepatch for medical reasons. Here's how she explained it:
During the episode, Kelly Clarkson began joking about the eyepatch, saying that she would be a great supervillain and telling Leon Bridges that she's a "pirate today, you're welcome." At one point, the singer moves to start drinking from a straw and misses her mouth completely. She laughs and says that she has no depth perception with the eyepatch on, and that she will probably end up sticking the straw up her nose because of it. Suffice it to say that Clarkson's probably got a ton of jokes about the eyepatch up her sleeve and it did make for some fun moments on The Voice. Watch Captain Kelly in the clip below!
All that said, this isn't the first time Kelly Clarkson has publicly worn the eyepatch. In fact, Clarkson's eye became infected a couple of months ago and she first wore the accessory while filming The Kelly Clarkson Show in September. At the time, Common was a guest on her talk show and the American Idol alum joked that he was being interviewed by a pirate. For the record, Common thought she looked pretty cool wearing it.
The Voice is pre-recorded and that's why we're only now seeing her wear the eyepatch on the show. Speaking on California Live, Kelly Clarkson revealed that she filmed several episodes of The Kelly Clarkson Show while wearing the eyepatch and that fans wouldn't see those episodes consecutively. During the interview, she also expanded upon the eye infection and the details of how it actually happened. In her words:
The good news is that Kelly Clarkson's eye is better now, though she joked back in September that the eyepatch could be her new look. I'm not sure that would be very comfortable in the long run, but the pirate look was admittedly sort of fun while it lasted.
New episodes of The Voice Season 19 air Monday and Tuesday nights at 8:00 p.m. ET on NBC. For more on what to watch, be sure to check out our 2020 fall TV premiere guide.
Your Daily Blend of Entertainment News