Why The Voice's Ryan Gallagher Had To Leave Season 19 Competition Early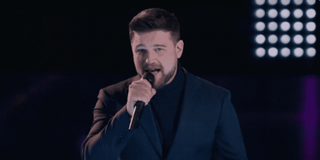 When The Voice kicked off its run of live episodes on Monday night, contestant Ryan Gallagher was noticeably missing. Fans were pretty surprised, considering he earned a standing ovation for his performance during the 4-Way Knockout last week. Though it was explained that Gallagher was out for the rest of the season, the details surrounding his abrupt exit remained hazy during that night's telecast. As it turns out, there is a pretty understandable reason for why Gallagher departed Season 19 of The Voice.
Before Monday night's live show of The Voice kicked into full gear, Carson Daly first made the surprising announcement that Ryan Gallagher had to leave the competition. The way that it was phrased there made it sound like Gallagher had left of his own accord, but it appears that wasn't the case at all. Gallagher recorded a video and posted it to his Instagram stories, reassuring viewers that his departure wasn't for personal reasons. Here's how he worded it:
The good news there is that Ryan Gallagher did not leave The Voice early due to any personal reasons or direct health concerns. Caring for his mother, who'd been hospitalized for COVID-19, was also not the reason behind Gallagher's departure. Based on the singer's Instagram story, it sounds like he's gearing up to tell his side of the story at some point.
That said, viewers didn't have to wait for that explanation to learn that Ryan Gallagher was actually removed from the competition by producers. According to ET, Gallagher broke The Voice's very strict COVID-19 policies, causing the producers to cut him from the show out of caution, and to keep everyone working on the show protected. While neither NBC execs or Gallagher were forthcoming with the details of what exactly went down, the threat of spreading COVID to others on the set is not something to be taken lightly.
Several TV shows have had to pause production since restarting due to one or more people testing positive, so it's completely understandable that Ryan Gallagher was booted from The Voice for breaking the previously established COVID-19 restrictions. The NBC series has implemented several new protocols, including safety glass, distance between the coaches and their teams, and no live audience, among other measures that TV viewers can't see from home. It's unclear whether Gallagher will return to The Voice in some capacity in the future, but for now, don't expect to see him.
Ryan Gallagher's departure isn't the only shake-up happening with The Voice. After Gwen Stefani's return for Season 19, the singer will be leaving the competition series once more after the finale. Stefani rejoined the show to take up Nick Jonas' place, and it appears they'll be swapping back again for Season 20, with Jonas returning as a coach alongside Blake Shelton, John Legend, and Kelly Clarkson.
The Voice Season 19 airs Monday and Tuesday nights at 8:00 p.m. ET on NBC. For more on what to watch in the coming months, be sure to check out our fall TV guide and our 2021 winter and spring premiere schedule.
Your Daily Blend of Entertainment News