Selena's Christian Serratos: Where You've Seen Her Before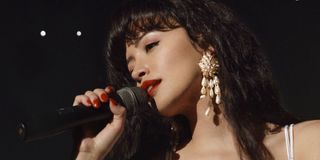 Christian Serratos stars as Selena in the latest Netflix Original series. The name Christian Serratos may not make bells go off in your head just yet but her career is on the rise, and the release of Selena and the upcoming part two will boost her career even more.
For some, Selena is your first exposure to Serratos, but the actress has been appearing in series and movies for nearly two decades. She may have even appeared in some of your favorite shows and films. Christian Serratos has appeared in major series like American Horror Story, The Walking Dead, and the Twilight movies. Let's look at the major projects that Serratos has been involved in prior to Selena.
The Walking Dead (2010-Present)
The Walking Dead is a series about the zombie apocalypse and those who are trying to survive it. Christian Serratos plays Rosita Espinosa. She's introduced in the fourth season, and is still one of the survivors. Rosita starts the series as Abraham Ford's (Michael Cudlitz) girlfriend and one of his companions.
Rosita is tough, resourceful, and one of the ever-enduring characters on The Walking Dead. The series is a great paranormal drama that makes you see the darkness that can exist within humanity, while also showing that hope can still exist at the end of the world. The Walking Dead will be ending soon, so it's the perfect time to catch up. The series is available to stream on Netflix.
Stream it here.
The Twilight Saga (2008-2012)
The Twilight Saga is the story of Bella (Kristen Stewart) and Edward (Robert Pattinson), a human and a vampire who fall in love. Christian Serratos plays Angela, one of Bella's human friends and a very kind girl.
Angela eventually becomes one of Bella's best friends and one of the few humans that she'll miss when she becomes a vampire. Twilight is Serratos's first major film credit. To me, as someone who read the books and saw the films, I think Serratos does a good job, in the few scenes that we get with Angela, of bringing the book character to life. Amazon Prime Video has all five Twilight movies available to stream.
Stream The Twilight movies here: 1, 2, 3, 4, 5
Ned's Declassified School Survival Guide (2004-2007)
Ned's Declassified School Survival Guide was a Nickelodeon series that aired from 2004 to 2007. It followed Ned Bigby (Devon Werkheiser) and his best friends Moze (Lindsey Shaw) and Cookie (Daniel Curtis Lee) as they shared tips and tricks to make it through middle school and junior high school.
Christian Serratos played Suzie Crabgrass throughout the series. She starts the series as Moze's sports rival and Ned's crush. She eventually becomes his girlfriend and Moze's friend. Suzie Crabgrass is one of the main recurring characters during Ned's Declassified School Survival Guide. This series was one of Serratos's first screen acting roles. Ned's Declassified School Survival Guide is available to stream on CBS: All Access.
Stream it here.
The Secret Life Of The American Teenager (Raven)
The Secret Life of the American Teenager starts with Amy Juergens (Shailene Woodley) becoming a teen mom after hooking up with Ricky (Daren Kagasoff). The series then follows Amy, Ricky, their families, and a few other students as they deal with life and relationships. Christian Serratos appeared in the fourth and fifth seasons of the series.
She had a recurring role as Raven. Raven is another one of the meddlers and troublemakers in The Secret Life of the American Teenager. She's mainly involved in Jack (Greg Finley), Grace (Megan Park), and Ben (Ken Baumann)'s storylines. If you enjoy moral-driven teen dramas, then this Freeform series may be a hit with you. The Secret Life of the American Teenager is available to stream on Freeform.
Stream it here.
Cow Belles (2006)
Cow Belles is a Disney Channel Original Movie starring real-life sister duo Alyson "Aly" Michalka and Amanda "AJ" Michalka. They play spoiled sisters whose father owns a thriving dairy farm. To teach the girls some responsibility, he makes them work in his dairy factory
Christian Serratos has a small part as Heather Perez, Courtney's (Amanda Michalka) close friend and often partner in spending and scheming. It's one of Serratos's first movie roles, so might be a good movie to check out if you want to see her acting and career transition. In 2019, Aly and AJ revealed that they want to develop a Cow Belles sequel, so Serratos could maybe reprise her role as Heather in the future. Cow Belles is available to stream on Disney+.
Stream it here.
American Horror Story (2011-Present)
American Horror Story: Murder House is the first season of American Horror Story. It's about the Harmon family and the ghosts that torment them in their new home. Christian Serratos appeared in the pilot episode. She's one of a trio of girls who confront Violet (Taissa Farmiga) in her new school.
They hound Violet about smoking in the school. A seemingly small conflict escalates to Violet being threatened with violence from one of the girls, as the other two girls watch in horror. This is another very small part for Serratos. She only appears in this episode, but horror fans may enjoy watching American Horror Story, despite Serratos's very brief appearance.
Stream it on Hulu here.
Pop Star (2013)
Pop Star is probably a film that you've never heard of, because no it's not Popstar: Never Stop Never Stopping. This is an indie dramedy about a singer who has her voice stolen by a reality star and her producer. She sings for the producer and agrees to let him use her voice as a highlight for the reality star turned singer, but Roxie soon learns that her voice will be passed off as the reality star's voice.
Serratos is the lead in this film, as Roxie Santos, and it's one of her first lead roles. The performance sequences likely helped prepared her for her future role as Selena. It's a good film to watch if you want to see some of Serratos's early works.
Hannah Montana (2006-2011)
Hannah Montana is a series about a girl named Miley (Miley Cyrus) who moonlights as a pop star named Hannah Montana. Christian Serratos only appeared in one scene in Hannah Montana Season 1, Episode 24, "The Idol Side of Me." She appears to ask Amber (Shanica Knowles) to come to her party, but Amber denies her request because she wants to practice singing for a competition.
This appearance isn't a major note in Serratos's acting career, but if you're a huge Hannah Montana fan, you may recognize her from this episode. The episode may be worth checking out if you're already a Hannah Montana or Miley Cyrus fan. The entire Hannah Montana series is available to stream on Disney. Stream it here.
Catch Christian Serratos's transformation into Selena on Netflix's Selena.
Stream Selena The Series here.
Your Daily Blend of Entertainment News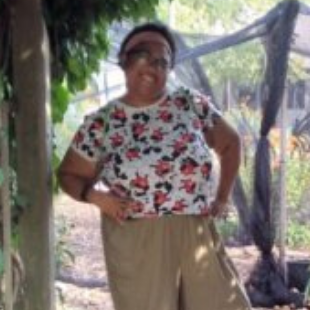 Spent most of my life in various parts of Illinois, including attending college in Evanston. I have been a life long lover of pop culture, especially television, turned that passion into writing about all things entertainment related. When I'm not writing about pop culture, I can be found channeling Gordon Ramsay by kicking people out the kitchen.