10 Disney Channel Original Movies That Will Remind You Of Your Childhood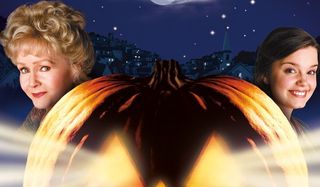 Disney Channel original movies have been bringing magic to audiences for decades now. Therefore, pulling together a curated list of Disney Channel original movies that will remind you of your childhood really is a tall task.
Depending on your age, there are absolutely different titles that may remind you of sleepovers and coveting the coolest clothes. Not everyone on the Internet is the same age, but for movies that remind you of your childhood, we kept this to the early era of Disney original movies, when Disney switched the formatting from "Premiere Movies" to "Original Movies" and kicked off a format that still continues on the channel today.
Yes, that means some fun titles, from Lemonade Mouth – a movie I knew was a hot commodity because it was checked out from the library for weeks when I worked there -- to Susie Q -- a movie with a drowning scene that has stuck with since childhood—have been left off the list.
Instead we stuck with the Disney Channel millennial golden years, years when Zenon's scrunchies were all the rage and The Color of Friendship was busy winning Emmy Awards. Years when actors like Raven-Symone, Ryan Merriman, Kimberly J. Brown, Shia LaBeouf, and Christy Carlson Romano were teen idols.
In the interest of space and not needing TV backstories, we also did not include Disney Channel movies that were follow-ups to TV shows, including the Kim Possible Movie: So The Drama, The Even Stevens Movie or Jett Jackson: The Movie, although all are worth checking out. Without further ado, here are the best classic Disney Channel original movies. Don't use them to date my age, please.
Zenon: Girl Of The 21st Century
When Zenon: Girl Of The 21st Century came out in 1999, it was a revelation to tweens everywhere. The audience may not have gotten into spandex (well at least not until leggings were popularized a few years later), but if you play "Supernova Girl" aka the "Zoom, Zoom, Zoom" song, I think there are plenty of adult women who could still belt out the lyrics.
Also see: Johnny Tsunami starring Kirsten Storms, or any of the Zenon zequels.
Smart House
Ryan Merriman had a lot of movies on the Disney Channel, and honestly I'm not sure this one would be everyone's favorite. However, I can't get enough. Smart House, also a 1999 release, randomly has Katey Sagal as the other lead character, a computer named Pat who goes a bit… haywire. Sagal was doing work on Recess and for The Wonderful World of Disney at the time, so that's probably how she was convinced. Either way, it's a great original.
Also see: Ryan Merriman's other Disney classics, The 13th Year and The Luck of the Irish.
Brink
Prior to Brink, Erik von Detten was known for playing Sid in the Toy Story franchise, but he exploded on the Disney Channel original movie scene with the 1998 hit Brink. Fans later saw him on the big screen in The Princess Diaries, but he quit acting in 2010 and now works in sales. If you want to catch him acting, and skateboarding in this case, you need to return to Brink.
Also see: Might as well watch Toy Story with Toy Story 4 coming up. In addition, other Disney classics you can catch Erik von Detten in include Escape to Witch Mountain, So Weird, and a voice role in Recess.
Halloweentown
Although I'd hear arguments for other movies, Halloweentown may be the quintessential Disney Channel original movie. First airing in 1998, Halloweentown spawned three additional sequels starring Kimberly J. Brown and of course the late, great Debbie Reynolds. The movies have great repeat value and still air on the Disney Channel, with last Halloween marking the 20th year since the original flick's release. There's certainly plenty of nostalgia associated with this TV movie.
Also see: Quints, starring Kimberly J. Brown, the Halloweentown sequels, including Halloweentown II and Halloweentown High.
Motorcrossed
Unlike a lot of other Disney Channel original movies that made this list, Motorcrossed didn't star any heavy-hitting Disney names from this period (although Riley Smith has gone on to have a good TV career). However, it's message of a girl never giving up and pushing into what was traditionally a boy's sport was really impactful at the time and has stuck with a lot of people over the years.
Also see: Double Teamed, which is another super sporty, female-geared Disney Channel movie that came out in 2002, a year after Motorcrossed. Fun fact this one also features "twin" girls who in real life aren't even related!
The Color of Friendship
Speaking of impactful Disney movies, when The Color of Friendship hit the Disney Channel back in 2000, the movie became notable for earning great reviews for a Disney Channel original movie. It went on to win an NAACP, an Emmy Award for Outstanding Young Children's Program, and the Humanitas Prize, among other honors. The story it told was of a white South African girl who came to live with an African American family as an exchange student during the era of apartheid.
Also see: Disney didn't do a ton of these historical, social issue-focused Disney original movies, but 9/11 memorably comes up in the 2004 film Tiger Cruise starring Hayden Panettiere.
Stepsister From Planet Weird
There are plenty of weird Disney Channel original movies to choose from, but my personal favorite was always the 2000 flick Stepsister From Planet Weird. The movie literally follows a pair of new stepsisters, one a normal teenage girl and who who happens to be an alien. The alien, Ariel, and her father are refugees from Planet Zircalon who escaped looking for freedom. The main plot, though, is the two stepsisters not getting along. This release is definitely memorable thanks to its over-the-top plot.
Also see: There are plenty of other strange Disney original movies, but another about aliens is Can of Worms. Additional weird movies for the channel include Phantom of the Megaplex and The Thirteenth Year. Yes, the latter is about a merman.
The Cheetah Girls
Out in 2003, The Cheetah Girls was popular enough it spawned two sequels. It also made Raven-Symone even more of a household name. That year was a big one for the actress, as it was also the year That's So Raven debuted, but Cheetah Girls still offers musical fun today.
See also: The Cheetah Girls 2 followed in 2006 and The Cheetah Girls: One World came out in 2008, although the cast changed over time.
Johnny Tsunami
Yes, the Disney Channel has another sports movie movie starring a character named Johnny Kapahaala. The 1999 flick is another that got a sequel, but surprisingly the sequel didn't come until eight years later when actor Brandon Baker was already in his twenties. While the second movie is actually about surfing, the first is about Johnny moving to Vermont where he finds himself straddling the world of skiing and the world of snowboarding.
See also: Honestly, outside of Disney Channel original movies, Disney has a ton of fun winter sports movies. If you haven't in a while, catch Cool Runnings or The Mighty Ducks.
High School Musical
Possibly the epitome of all Disney Channel movies, 2006's High School Musical launched the careers of a slew of well thought of actors who are still around today, including Zac Efron, Vanessa Hudgens, Lucas Grabeel, Ashley Tisdale and Corbin Bleu. It's also, quite possibly, the movie most people think of when the phrase "Disney Channel original movies" comes to mind. It was so popular during its time it spawned two sequels -- the second being the most popular Disney Channel original movie in the ratings -- and is definitely a movie many people think of when looking back on their childhood.
See also: the full trilogy of High School Musical movies is a good place to start. Don't forget about other high school-set flicks. Or switch to Camp Rock, which was a big title for Demi Lovato and the Jonas Brothers. Maybe even throw on Cadet Kelly for a little bit of in school rivalry, as well.
These classics have lived on over the years, and who knows, perhaps when Disney+ becomes a thing, they could be more readily available. For now, there are plenty of other Disney Channel original movies beyond the ones mentioned here, and depending on your age, there may be some you value more than these. So we gotta ask: What do you think is the best Disney Channel movie of all time?
Your Daily Blend of Entertainment News
Reality TV fan with a pinch of Disney fairy dust thrown in. Theme park junkie. If you've created a rom-com I've probably watched it.
Your Daily Blend of Entertainment News
Thank you for signing up to CinemaBlend. You will receive a verification email shortly.
There was a problem. Please refresh the page and try again.