Ellen Finally Addresses The Rumor That She Doesn't Allow Eye Contact On Set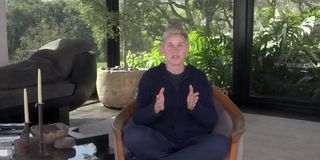 It has been a tumultuous few months for The Ellen DeGeneres Show. After current and former employees alleged that the show's producers created a toxic workplace environment – which included claims of sexual misconduct and more – an investigation was launched at Warner Bros. TV, and three of the talk show's producers were ultimately fired. DeGeneres reportedly broke the news to her staff in a video conference call, where she also addressed the rumor that she doesn't allow eye contact on set.
The rumors that Ellen DeGeneres did not allow eye contact began circulating in earnest in July when Neil Breen, the former producer of Australia's Today show, spoke about his experience with the talk show host in 2013. Breen claimed that he was told to not talk, not approach, and not to look at DeGeneres whatsoever. More recently, a former camera assistant for the show alleged that she and others were never "allowed in the same room" as the host, and that lower-tier employees were told to leave rooms as soon as DeGeneres entered them.
According to PageSix, the talk show host brought up the rumor during her conference call with staff, and called the no-eye-contact rule "insane." Here's what Ellen DeGeneres reportedly said:
In the very same video conference call, Ellen DeGeneres was reportedly emotional while addressing her staff about the recent problems. She apologized for what was going on and for hurting anybody's "feelings in any way." What's more, DeGeneres talked about being an introvert, but that she wanted to interact more with her staff when the talk show eventually goes back into production.
Meanwhile, executive producers Ed Glavin and Kevin Leman, along with co-executive producer Jonathan Norman, were all fired recently and will obviously not be a part of the show next season. However, executive producers Andy Lassner, Mary Connelly, and Derek Westervelt will reportedly remain with the show. It's worth noting that Lassner and Connelly had addressed the accusations of a toxic workplace culture alongside Glavin; only the latter was ousted from the show.
In a previous apology statement, Ellen DeGeneres took responsibility for the workplace environment due to the show bearing her name. The talk show host admitted to being disappointed that this had happened, promising her staff that she would commit to change and to ensuring that the incidents don't happen again. As for now, The Ellen DeGeneres Show is not being cancelled, with WarnerMedia boss Jason Kilar throwing the company's full support behind the host.
Stay tuned to CinemaBlend for updates on The Ellen DeGeneres Show. In the meantime, be sure to check out our 2020 fall TV premiere schedule for more viewing options.
Your Daily Blend of Entertainment News
Thank you for signing up to CinemaBlend. You will receive a verification email shortly.
There was a problem. Please refresh the page and try again.