Dwayne Johnson Played Santa And Delivered A Heartwarming Christmas Surprise On John Krasinski's YouTube Show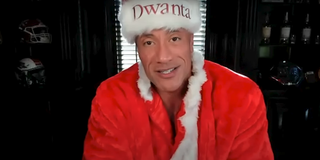 In May, John Krasinski decided to create a pseudo-news show called Some Good News to ease the barrage of negative-leaning updates in the early months of the pandemic. After eight episodes and some short clips, Krasinski said goodbye to the YouTube series (in the form of it being sold off to ViacomCBS). However, Krasinski popped back in for a special holiday episode, and this time around, he was joined by Dwayne Johnson as Santa Claus — or "Dwanta Claus" as Johnson preferred to be called — to deliver a thoughtful and heartwarming gift to a fan.
Ahead of Christmas weekend, John Krasinski booted up his computer and turned on his camera for another round of Some Good News. After several minutes of The Office alum recounting the most recent, well, good news happening throughout the U.S. – which includes a $10,000 pay-it-forward chain at a Minnesota Dairy Queen – Krasinski hopped on a video call with widower and father Jay Abel, who was trying to sell his comics memorabilia on eBay to buy Christmas gifts for his kids.
Prior to his appearance on Some Good News, Jay Abel had tweeted to Dwayne Johnson about his situation and what he had up for sale on eBay, and then asked for a retweet from the wrestler-turned-actor so that more people would see his efforts. As it turns out, Abel had lost his wife three years prior, making the past couple of Christmases difficult, and then the pandemic has made it difficult for him to keep his job. Johnson, moved by Abel's story and the lengths he was attempting to go to buy presents for his kids, went a whole step further during the holiday special episode of Some Good News. Here's what he said:
Watching as Jake Abel's face is transformed by various levels of emotional shock is pretty heartwarming. And if he thought that was pretty amazing, Dwayne Johnson had quite a few more things in store for Abel. In addition to saying he would buy whatever was on the kids' list, Johnson then promised that Abel would be flown down to visit the set of Black Adam as soon as it was safe to do so. Talk about an awesome present!
The icing on top of that already great cake came when Dwayne Johnson also vowed to take his personal Black Adam script and bind it in leather after production had wrapped, and said he would then deliver it to Jake Abel so that he could add it to his comics memorabilia. Abel, to be expected, was absolutely floored by this good news. You can watch the sweet and heartwarming exchange below! (Jay Abel's story starts around the 17-minute mark.)
I hope that watching this clip lifted your spirits in the same way it did mine, and we should all soak up as much of the good vibes as possible. Though John Krasinski returned for Some Good News' holiday special, the show is still technically off the air. However, Krasinski negotiated a deal with ViacomCBS to bring the YouTube series to the company's many platforms, including streaming. The primary change will be that Krasinksi will no longer serve as host, which is a shame.
While waiting for Some Good News to begin airing across CBS' platforms, be sure to check out our 2021 winter and spring TV premiere schedule for more options on what to watch.
Your Daily Blend of Entertainment News