7 Major Movies Premiering On Christmas Day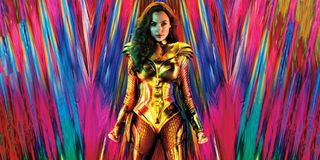 Christmas Day is historically one of the biggest movie days of the year, and even though we are in the middle of one of the worst public health crises in modern history, December 25 is going to continue with that trend, albeit with some changes. With highly-anticipated and long-awaited superhero blockbusters like Wonder Woman 1984, animated gems like Pixar's Soul, and several other notable films, there's going to be quite a lot to take in this holiday season.
Speaking of those movies and changes to their distribution, some may be exactly wondering what is coming out this Christmas and how will we be able to catch these movies. If you find yourself in that camp, fear not, as we have put together a list of everything coming to theaters, streaming services, and a combination of the two, so that you and your family can decide what you're going to watch and how you can go about watching it. Let's get started, because there's a lot to unpack.
Wonder Woman 1984 (Theaters, HBO Max)
There is no upcoming movie that has generated as much buzz as Patty Jenkins' Wonder Woman 1984, starring Gal Gadot, Chris Pine, Kristen Wiig, and Pedro Pascal. The followup to 2017's Wonder Woman was originally supposed to come out in time for Christmas 2019, only to be moved up and then delayed, and delayed...and delayed once more. But, the latest in the adventures of the iconic DC Comics character is finally coming out on Christmas Day 2020.
In case you didn't know or maybe have forgotten, Wonder Woman 1984 will be opening simultaneously in theaters and on Warner Bros. streaming service, HBO Max. This means you will have multiple ways to watch Wonder Woman take on media mogul Maxwell Lord and Barbara Ann Minerva, a.k.a. Cheetah, on everything from the biggest screen in town to your iPhone, while hiding from your family on Christmas afternoon.
Soul (Disney+)
Speaking of movies that have been jumped from release date to release date because of the events of this year, Pixar's latest offering, Soul, will be forgoing a traditional release and instead premiere on the Disney+ streaming platform on Christmas Day. The movie follows Jamie Foxx's Joe Gardner, a jazz pianist and school teacher whose soul sets off on a remarkable journey to reconnect with his body after a serious accident. Time is of the essence for Joe's soul, as he doesn't have long to escape the Great Beyond before his body is lost forever.
Directed by Peter Docter (Up, Inside Out), the upcoming Pixar production features a star-studded supporting cast made up of Tina Fey, Questlove, Phylicia Rashad, Daveed Diggs, Angela Basset, and a ton others. Yes, even longtime Pixar voice actor John Ratzenbrergerr. Soul will be the first Pixar feature-length film to skip the theaters, which is something even Onward, the studio's most recent film which moved to Disney+ less than a month after its initial theatrical release, didn't do.
News Of The World (Theaters)
Tom Hanks and director Paul Greengrass will be following up their Academy Award-nominated 2013 drama Captain Phillips with the release of News of the World on Christmas Day. The western drama centering on a widowed Civil War veteran who (Hanks) embarks on a perilous journey across the American landscape to return a young girl (Helena Zengel) to her family, years after being captured by the Kiowa people, will open in theaters on December 25. The two are forced to overcome the dangers of the frontier, and their pasts, if they are to endure the epic crossing. The movie will be released internationally through Netflix, but from there, it remains to be seen when it will drop on the streaming service domestically.
One Night In Miami (Theaters, Amazon In January 2021)
Academy Award, Primetime Emmy, and Golden Globe-winning actress Regina King will make her feature-length directorial debut with the upcoming period drama One Night in Miami. The film centers around a fictionalized meeting of Malcolm X (Kingsley Ben-Adir), Muhammed Ali (Eli Goree), Jim Brown (Aldis Hodge), and Sam Cooke (Leslie Odom Jr.) in a Miami hotel room in the mid-1960s. Based on the stage play of the same name by Kemp Powers (who also co-created Pixar's Soul), the movie follows the four Black icons in a hypothetical night out following Ali's February 1964 title win over Sonny Liston.
Unlike the rest of the movies on this list that are appearing in both theaters and on streaming services, One Night in Miami won't be available on Amazon Prime Video until January 15, 2021. If you don't feel like waiting any longer than absolutely necessary, then heading to your local movie house is going to be the only way to enjoy this promising movie for a few weeks.
We Can Be Heroes (Netflix)
We Can Be Heroes, a followup to Robert Rodriguez's 2005 The Adventures of Sharkboy and Lavagirl is coming out this Christmas. This time, however, the children of the unique heroes, and others like them, will be the center of the action after their parents were kidnapped by aliens. In order to save their parents (and the world, for that matter) the offspring of the superheroes have to learn to work together and make a unified front against an extraterrestrial threat.
In addition to Taylor Dooley reprising her role of Lavagirl (Taylor Lautner does not return this time around), We Can Be Heroes also features performances from Priyanka Chopra, Pedro Pascal, Christian Slater, Sung Kang, Christopher McDonald, and others. And what's even better than the cast is the fact you will be able to watch We Can Be Heroes on Netflix, where it is streaming exclusively.
Promising Young Woman (Theaters)
Also being released on Christmas Day is Emerald Fennell's (The Crown's Camilla Parker Bowles) directorial debut Promising Young Woman, which stars Carey Mulligan as Cassandra "Cassie" Thomas, a once-promising woman who is given the chance to fix the wrongs in her life years after things went off the rails. With a supporting cast consisting of Bo Burnham, Alison Brie, Clancy Brown, Laverne Cox, Alfred Molina, and too many other names to list, Promising Young Woman looks like a dark comedy that can't be missed.
If you do plan on seeing Promising Young Woman over the holidays, please note it is only being released in theaters at this time and there is no word on when it will be available streaming.
Pinocchio (Theaters)
Those who grew up loving every version of Pinocchio, from the original 19th Century Italian book to the the various Disney adaptations (with another one on the way), will soon have yet another version with the Christmas Day release of Matteo Garrone's retelling of the classic tale. The film has already been released in Italy, but the English-dubbed version of Pinocchio starring Roberto Benigni as Geppetto and Federico Ielapi as his wooden boy won't be in theaters in North America until December 25, at which time you will be able to see the production's amazing prosthetic and practical effects which were used to bring the movie to life.
These are just the movies that are coming out on Christmas Day this year. There are multiple other great films coming out in the days preceding and following the big holiday, so make sure to check out CinemaBlend's 2020 Movie Release guide for all of the latest on everything coming out before the end of the year.
Philip grew up in Louisiana (not New Orleans) before moving to St. Louis after graduating from Louisiana State University-Shreveport. When he's not writing about movies or television, Philip can be found being chased by his three kids, telling his dogs to stop yelling at the mailman, or yelling about professional wrestling to his wife. If the stars properly align, he will talk about For Love Of The Game being the best baseball movie of all time.
Your Daily Blend of Entertainment News
Thank you for signing up to CinemaBlend. You will receive a verification email shortly.
There was a problem. Please refresh the page and try again.