10 Best Disney+ TV Shows Of 2020 Include The Mandalorian (Of Course) And More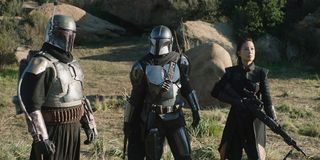 While it's been clear for a while that streaming was the future for Disney, 2020 made that clearer when many other methods of viewing TV and movies became essentially impossible. While the recent deluge of new content announcements have fans absolutely salivating at what the future holds for original series on Disney's streaming service Disney+, the fact is that the last year has been pretty impressive in itself, with a wide variety of series covering a lot of different fan interests. Whatever your particular passion, there was something to love on Disney+ in 2020, from Star Wars to Walt Disney animation, and props in between.
Ranking the best of Disney+ would be a tall order, especially considering just how different so many of these shows are. Thus, without picking favorites, here are 10 of the best series that arrived on Disney+ in 2020.
The Mandalorian Season 2
We'll start off with the obvious one, shall we? The Mandalorian was the series that launched Disney+. Following its incredible success, it quickly was given a second season. Without question, the second season delivered. If you're a Star Wars fan who loved the previous work of Dave Filoni, then there was plenty to enjoy. If, however, you're an old-school fan who grew up with the original trilogy, then the new season brought back Boba Fett... and more. There was something for everyone. Based on where the new season ended, the next one will likely take things in a new direction, which is quite exciting, as well.
Diary Of A Future President
Even the most powerful person in the world has to start somewhere. The year 2020 got us off to a great start in original series with Diary of a Future President. The series focused on a young girl just trying to get through middle school, a theme far from unusual in comedies from the Disney Channel. However, the hook here was that this little girl, played by Tess Romero, would eventually grow up to be the President of the United States. Gina Rodriguez appeared in the series as the adult version of that young girl, and she also acted as producer. Considering that (almost exactly) one year later a woman of color will take the highest political office ever attained in this country, it wasn't just a fun series, it was potentially prophetic.
Magic Of Disney's Animal Kingdom
When the Walt Disney Company originally purchased 20th Century Fox, one of the assets the company gained was Nat Geo. One of the first endeavors by Nat Geo under the Disney banner was to combine the former's history with storytelling of the natural world with Disney's theme park dedicated to the same. Magic of Disney's Animal Kingdom is an excellent look backstage at the most unique Disney theme park in the world. You get to see the animals in new and interesting ways, as well as the ways in which those animals are cared for. For the theme park junkies (hi) you even get to see some of the unique design choices made that allow these various animals to live "together."
Prop Culture
If animals or theme parks aren't your jam, but you're hanging out on CinemaBlend, I'm going to guess you probably like... movies? There are a handful of recent series that act as anthologies looking back on popular movies that were successful or popular or meaningful in some other way. Prop Culture is a show like this, but it finds its way into each of the films it discusses through its props. Equal parts film retrospective and travelogue, host Dan Lanigan goes on a quest for props associated with films as diverse as Tron and The Muppet Movie. Seeing these pieces of film history are pretty awesome if you're a fan, and seeing them reunited with the actors and filmmakers that used them can even get emotional. And all the movies covered in the series can then be watched on Disney+.
Muppets Now
The Muppets as a property have largely struggled since they were acquired by Disney, but that hasn't dampened the spirit of the people who love them. They were likely quite excited to see the release of Muppets Now, the first Muppet-focused series on Disney Plus. While the Muppets of the 1970s hosted a variety show, the Muppets of today have taken their antics online! The show is presented as a collection of ready for YouTube viral videos. It's an excellent way to bring the Muppets into modern era, and it gives the characters a variety of things to do, so if Miss Piggy makeovers aren't for you, perhaps the Swedish Chef cooking competition is more your speed.
The Right Stuff
Tom Wolfe's book The Right Stuff about the early days of the U.S. space program has been adapted before and its content has been examined in multiple other series and films in different ways. While I'm not sure the Disney+ version of the story is going to completely change the way anybody viewed this topic, it's a slick and exciting retelling of one of the most thrilling and revolutionary periods in American history. And it even got a companion documentary so that fans can get the real story while also still getting the dramatic version, too.
Marvel 616
We'll have to wait until 2021 to actually get all those Marvel Cinematic Universe television shows that fans have been waiting for, but we did get one Marvel show in 2020 that MCU fans should check out, if you haven't already. While the MCU is still the most popular film franchise in the world, a lot of its fans aren't actually that familiar with the House of Ideas and how many of these characters came to be. If you don't have several years free to read decades worth of comic book back issues, then perhaps you have time for Marvel 616, a series that looks back at the history of Marvel, how many of its popular characters came to be, and even the unique and hilarious ways they've been adapted over the years.
Disney Gallery: The Mandalorian
It's clear that Disney Plus knew it had something special with The Mandalorian because, in order to keep fans satiated while they waited for the new season, we got an entirely new series in the meantime. It's a multi-part, behind-the-scenes look at the making of the first season. Honestly, this was an incredible look at the show. It had in-depth conversations with the stars and the various directors of the different episodes. An entire episode looked at Industrial Light & Magic's Stagecraft production platform and The Volume, the digital display technology that was used to create many of the films "sets." The only thing more futuristic than the technology used to create The Mandalorian was the end result of that technology.
Earth to Ned
While The Muppets are now fully owned by The Walt Disney Company, the Jim Henson Company is still out there breaking new ground in puppetry, and doing so, in this case, with the help of Disney. Earth to Ned saw the titular alien, Ned, hosting his own late night talk show. A who's who of celebrity guests joined Ned, largely against their will. Earth to Ned showcases impressive puppetry, incredible humor, and honestly, it might be the best late-night talk show on television, and you don't even need to stay up. A second season will be launching on New Year's Day, so Earth to Ned has the potential to be one of the best shows of next year as well.
The Wonderful World Of Mickey Mouse
It all started with a mouse, but for this Disney+ list, we'll end it with the mouse. The Wonderful World of Mickey Mouse is the recently launched series of animated Mickey Mouse shorts. continuing the style seen most recently, but at a more traditional length for an animated short. These are just as wild and hilarious as the others we've seen recently, but there's more of it, and there's nothing wrong with that. Walt's original design for Mickey Mouse was that he was equal parts Errol Flynn and Charlie Chaplin, and this modern generation of shorts has let Mickey's comedic side shine in ways we haven't seen since that beginning.
With all of the new announcements Disney has made recently, 2021 and beyond are likely to be even more exciting when it comes to new series. However, one hopes that among all the Marvel and Star Wars goodness, there will be room for some of the more unique shows like many of these that might appeal to a smaller, but no less passionate, audience.
This poll is no longer available.
CinemaBlend's resident theme park junkie and amateur Disney historian. Armchair Imagineer. Epcot Stan. Future Club 33 Member.
Your Daily Blend of Entertainment News
Thank you for signing up to CinemaBlend. You will receive a verification email shortly.
There was a problem. Please refresh the page and try again.