Connie Chung Talks Being 'Invisible' At NBC News, Issues With Host Bryant Gumbel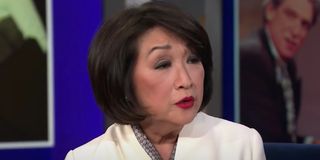 When it comes to the world of journalism, there are many names that likely come to mind. There's Walter Kronkite, Howard Cosell, Diane Sawyer and, of course, standing right alongside them is Connie Chung. The trailblazing journalist has had a storied career, though it wasn't without its share of challenges. During her career, Chung had tenures at a number of news networks like NBC, where she would occasionally co-host The Today Show with Bryant Gumbel. Now, Chung is opening up about how she sometimes felt "invisible" while working for the network.
Connie Chung first arrived at NBC in 1983 and became the anchor of NBC News at Sunrise, the lead-in program for The Today Show. Chung would only host Today if then-host Jane Pauley was in need of a substitute. And when she wasn't working with Bryant Gumbel and hosting her own program in the early hours of the morning, Chung was also hosting the Saturday edition of NBC Nightly News. She even filled in for Nightly News host Tom Brokaw on weeknights.
While discussing her experiences with the network to Los Angeles Magazine, Chung was asked if Gumbel suffered from "bigshot-it is" and agreed with the sentiment. Chung also says he would rarely acknowledge on a personal level but did point out that Gumbel's personality has changed over the years:
Chung's working relationship with Gumbel is far from the only challenge she faced while working in the world of broadcast news. During her tenure at CBS, Chung experienced friction with colleague Dan Rather regarding her coverage of the 1995 Oklahoma City bombing.
Over the years, she's also been candid about dealing with sexual harassment in the workplace, though husband Maury Povich says she found a unique way to handle it. Chung's personal life even became a topic of discussion when she and Povich were trying to have baby. Chung recalled to the trade that many hosts made jokes on the matter but that there were some, like Jay Leno, who opted not to do so, as they knew she was uncomfortable with them.
Connie Chung has been through a lot, and It's unfortunate to hear that working at NBC with Bryant Gumbel wasn't the most positive experience for her. However, it's at least good to hear that things have somewhat smoothed out between the two.
Keep it here at CinemaBlend for more news from the world of TV and movies.
Covering superheroes, sci-fi, comedy, and almost anything else in film and TV. I eat more pizza than the Teenage Mutant Ninja Turtles.
Your Daily Blend of Entertainment News
Thank you for signing up to CinemaBlend. You will receive a verification email shortly.
There was a problem. Please refresh the page and try again.