Moon Knight: 5 Reasons To Be Excited For The Marvel TV Show (If You Aren't Already)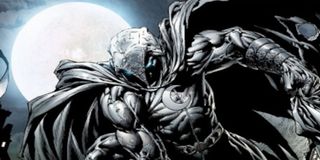 When news broke that Marvel Studios was going to make a Moon Knight TV show for Disney+, about 10 people tweeted and messaged me. That's because Moon Knight is my favorite comic book character of all time. Well, actually, my second favorite comic book character. My first favorite comic book character is The Maxx. But anyway, when news also broke that Oscar Isaac would officially be the Fist of Khonshu, well, I honestly had to sit down. I couldn't have hoped for a better Marc Spector, even if I tried.
For those who don't know, Moon Knight is a vigilante (like Batman! More on that later), who was once a mercenary. He was left for dead at an archeological dig, but his body was brought to a statue of the moon god, Khnoshu. He was then brought back to life, but had to vow to take on the spirit of the moon god and become its avatar. He's been carving crescent moons into people's foreheads ever since. I know Moon Knight fans are already super pumped for his upcoming show, but for those who aren't, well, let me entice you.
Oscar Isaac Is Legit Entering The MCU
Okay, like wow. Maybe you love Oscar Isaac as Poe Dameron in Star Wars. Maybe you're looking forward to seeing him as Duke Leto Atreides in the upcoming Dune. Personally, I fell in love with his acting when I first saw him in Ex Machina. But the fact of the matter is this: Oscar Isaac is an amazing, top-tier actor, and the MCU is lucky to have him.
As mentioned earlier, I think he's going to be the perfect Moon Knight. Marc Spector is a complex character in that he's actually multiple characters (More on that in a few), and Oscar Isaac has shown that he can play pretty much any character he wants with aplomb. He can easily do action movies like Star Wars, but could also just as easily play a folk singer like he did in Inside Llewyn Davis or the owner of a small heating company that's having its trucks hijacked like in A Most Violent Year. And no matter the role, he always brings gravitas and charm to every performance. Even when he's playing a blue-faced Apocalypse in an X-Men movie, you're just like, well, this movie sucks, but at least he's good in it. Oscar Isaac is just talent personified, and there's nobody else I'd want to play a character with split personalities. Nobody else in the world.
Marvel/Disney Will Possibly Address A Heady Topic Like Mental Illness
You know, before watching WandaVision, I honestly thought that Marvel/Disney was going to play it safe with Moon Knight, which kind of made me a little upset. One of the most fascinating things about his character is that he has Dissociative Identity Disorder (DID), meaning he has different personalities inside his own head. Sometimes, Marc Spector might believe he's the taxi driver, Jake Lockley. And other times, he might think he's the millionaire, Steve Grant. And other times, like in the Reincarnations comic book arc, he might not even be sure what reality is any longer, and he might even think he's starring in a movie about Moon Knight!
You see, in the old comics, these different personalities were intentional. He pretended to be a taxi driver so he could be closer to the street, and he used the millionaire lifestyle so people wouldn't know that he was once a mercenary. That's the angle I thought Marvel/Disney was going to take with the TV show. But now that I've seen what they've done with WandaVision, I'm thinking we might actually get the more complex, interesting version of Marc Spector struggling to keep ahold of reality. That's the show that I want to see!
Marvel Will Finally Have Its Own Version Of Batman
That said, I won't deny it. Without the DID, Moon Knight kind of is like a bootleg version of Batman. But that's okay! Because there are enough differences between the two characters that even a bootleg Batman can still be really cool, especially in the MCU. For instance, Batman hides in the shadows so people can't see him, while Moon Knight wears white because he WANTS people to see him. How badass is that? Moon Knight also kills people, and the people he doesn't kill, he often leaves a crescent moon-shaped scar in their foreheads. Who does that?!
Moon Knight, that's who. And it would be really cool to have a bloody-fisted brawler in the MCU who every so often dons a white business suit as if he was Tom freaking Wolfe. God, I love Moon Knight! And that's Mr. Knight to you!
Moon Knight Could Potentially Link Up Nicely With Blade
And get this. You know how WandaVision is going to eventually lead into Doctor Strange In The Multiverse of Madness? Well, since we don't have any dates yet, what if Moon Knight eventually leads into the new Blade movie starring Mahershala Ali.
There's actually precedence for this in the comics. Midnight Sons is kind of like a dark version of the Avengers where characters like Dr. Strange, Ghost Rider, Morbius, and yes, even Blade, come together and kick some ass. Well, in the Damnation story arc, you guessed it, your boy Moon Knight also joined the party. So, what if the new Moon Knight show is also a lead-up to not only the new Blade, but also a Midnight Sons story-line? See? I told you that you should get excited for Moon Knight!
It Might Also Potentially Lead To A West Coast Avengers Spin-Off
Lastly, Moon Knight is really cool because he likes to work alone. There's no pairing with characters who are practically gods like Batman does with the Justice League. No, no. Most other characters think Moon Knight is too much of a loose cannon and that he can't be trusted. In other words, most other characters don't even want to be near him. They think he's dangerous!
But there is a group that has taken him, and that's the West Coast Avengers. Led by Hawkeye, the West Coast Avengers also had the original Ant-Man (Hank Pym), Vision, and Jim Rhodes (dressed as Iron Man). And guess who decided to show up? Yup, the man of the hour, Moon Knight! This might be a reach, but maybe the next version of the Avengers we might be getting is a West Coast variation, and Moon Knight is one of the additions. Hey, you never know. It could happen!
So, those are just five reasons why you should get excited for the new Moon Knight TV show if you weren't already. But what do you think? Are you excited for Moon Knight? Sound off in the polls or in the comments section down below.
This poll is no longer available.
Your Daily Blend of Entertainment News
Rich is a Jersey boy, through and through. He graduated from Rutgers University (Go, R.U.!), and thinks the Garden State is the best state in the country. That said, he'll take Chicago Deep Dish pizza over a New York slice any day of the week. Don't hate. When he's not watching his two kids, he's usually working on a novel, watching vintage movies, or reading some obscure book.