Battlestar Galactica's Katee Sackhoff Has The Best Response After Fans Keep Asking Her To 'Send Nudes'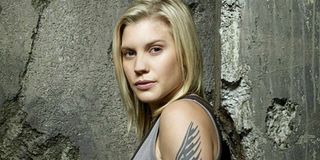 Since the dawn of the internet, people have been emboldened to make comments they would probably never make in real life. In recent years, people have also been given unprecedented access to celebrities. Combine those two ideas and you'll get a perfect storm of unwanted messages targeted at celebrities, including things like "send nudes." However, Battlestar Galactica and The Mandalorian star Katee Sackhoff recently had a picture-perfect response to those trolling her online.
Taking to Instagram, Katee Sackhoff spoke about her social media often being peppered by fans making some over-the-top comments, including the dreaded "send nudes" stuff a lot of celebrities have had to deal with in some shape or form. She took the trolling in stride though, and decided she would try to appeal to the internet in her very own way.
In the history of celebrities going nude or partially nude on the Internet, I'm not sure I've encountered a bathroom photo where the celebrity in question decided to use an adorable pug to cover their naughty bits. Although to note, now that Katee Sackhoff has fulfilled all of her fans' nude photo requests, y'all can stop asking now. No really. Just stop.
When celebrities join social media its often to connect with fans who can be witty, fun and add some additional support to an actor, actress or other famous person's brand. However, the dark side of the internet is that when people are anonymous online, they will often feel OK with typing things they might not do or say elsewhere. A fair amount of celebrities have felt a desire to leave or have actually left social media (looking at you, Prince Harry and Meghan Markle) thanks to the trolling they receive on the regular.
The Battlestar Galactica alum (who also has scores of fans thanks to gigs on Longmire, Another Life and of course The Mandalorian), has seemed to make lemonade out of the lemons however, jokingly referring to herself as a "thirst trap." She is someone with a body to be admired, as she's made an effort to be physically fit and even did the famous "shirt" challenge earlier in 2020.
On Battlestar Galactica, Kara Thrace was always a seemingly fit character, but Katee Sackhoff has revealed that it was only after her time on the series that she really made an effort with her body and with staying in shape. She revealed she was a smoker and not really working out on BSG, despite the boxing scenes present throughout the science fiction series. She didn't sweat it at the time, as Starbuck was a character who was young and also smoked, but years later her fitness journey looks very different.
These days, she's looking pretty awesome. And if a shower photo doesn't convince you, I'm not sure what would.
Reality TV fan with a pinch of Disney fairy dust thrown in. Theme park junkie. If you've created a rom-com I've probably watched it.
Your Daily Blend of Entertainment News
Thank you for signing up to CinemaBlend. You will receive a verification email shortly.
There was a problem. Please refresh the page and try again.