Did WandaVision Just Reveal Something Huge About Monica Rambeau?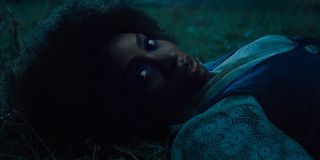 Everything we've seen in WandaVision thus far is enveloped in mystery, from how Vision is alive to the general nature of Westview, but one particular headscratcher that has captured our attention is the presence of Monica Rambeau. We've known from the beginning that the character would be on the show, as Teyonah Parris was announced in the role at the same time that the Disney+ series was made official at San Diego Comic-Con 2019, but what has been all levels of weird is the role that she has had in the story thus far.
While fans know who Monica Rambeau is, having been introduced to her as a child in the 1990s-set Captain Marvel, WandaVision has been messing with her a bit – beginning with her introducing herself as Geraldine in the second episode, "Don't Touch That Dial", working behind the scenes of the neighborhood talent show. Given our extra background knowledge, we've obviously been expecting the other shoe to drop eventually… but what we didn't fully expect was for it to drop so quickly. The third chapter of the Marvel Cinematic Universe series has dropped on Disney+, and it has surprisingly delivered a much clearer perspective on what's going on with Monica. Not everything has been made entirely clear, mind you, but there is one thing that we seem to know for certain now: she's operating as a S.W.O.R.D. agent.
The Origins Of Maria Rambeau In The Marvel Cinematic Universe
Let's start by taking a step back. For those of you who didn't see Captain Marvel or don't entirely remember every detail from it, Monica Rambeau grew up as the only daughter of Maria Rambeau, who was an Air Force pilot and best friends with Carol Danvers. Monica didn't see Carol for many years of her childhood, as Carol was presumed dead following a mysterious incident, but everything changed when she came back and the kid discovered not only that her mother's friend was alive, but that she had become part-alien and a superhero. Big secrets were revealed, including one about Carol's former mentor both being an alien, and working for the intelligence agency known as S.H.I.E.L.D.
Given what's revealed in WandaVision, it seems this part of Monica's life was quite formative, as she evidently grew up to be a part of S.H.I.E.L.D's aforementioned sister agency from the comics.
How WandaVision Connects Monica Rambeau To S.W.O.R.D.
The revelation being discussed here unfolds in the very end of WandaVision's third episode, which finds Geraldine/Monica at Wanda and Vision's house following a bunch of pregnancy wackiness that concludes with the birth of the twins Billy and Tommy. Wanda finds herself reflecting on the fact that she herself is a twin – but then Geraldine let's slip that she already knew that. As though reciting details of a fading dream, Geraldine recalls that Wanda's brother was named Pietro, and that he was killed by Ultron (as seen in Avengers: Age Of Ultron). It's information that Wanda is shocked to hear come from a relative stranger.
Meanwhile, Vision is on the front lawn talking with Herb and Agnes, who are having their own discussion about Geraldine. Their behavior gets cagey as they reveal the fact that Geraldine doesn't actually have a home in the neighborhood, appearing both sinister and paranoid.
Inside, Geraldine does her best to cover up her accidental info dump, but it's clearly too late. Nothing is helped when Wanda recognizes the symbol on the necklace around her neighbor's neck (see the screenshot above), which happens to be the logo for S.W.O.R.D. that appears in multiple locations throughout the first few WandaVision episodes. Having seen enough to make a judgement, Scarlet Witch uses her powers to exile Geraldine from Westview – sending her out of what appears to be some kind of bubble into the fully colorized world.
So what does this mean? It's not said explicitly, but the suggestion is very clear: Monica Rambeau is a S.W.O.R.D. agent who was sent into Westview to try and help Wanda deal with whatever issue she is battling. We've known from the very end of the first episode that the agency is monitoring what's going on, and in the second there was that outreach call sent through the radio, but now things have been taken a step further with "undercover" agents seemingly being a part of the mix as well and physically entering the affected space. Clearly the effort doesn't end well, but it may be WandaVision's gateway into telling us more about what's going on outside the "situation," as Monica will surely have to report to a superior what she witnessed while in Westview and what's going on (of course, whether or not we'll actually get to see that as a scene on the show is unknown at this point).
There Are Still Plenty Of Questions About Monica Rambeau In WandaVision
Clearly this episode of WandaVision was revelatory about Monica Rambeau's role, but clearly there is still a lot to unpack. For example, we really still don't know a lot about adult Monica from a simple biography standpoint, as her real name hasn't even been mentioned on the show yet. We're excited for at least one upcoming episode to delve into what she has been going through in the last couple of decades and how she ended up being a part of S.W.O.R.D. (depending on how things play out, we may not actually get that information until Captain Marvel 2, but we're definitely looking forward to getting more background regardless).
The bigger and more WandaVision-specific question that is still dangling in the wind is in regard to exactly what happened to Monica Rambeau while she was in Westview. Her behavior is consistently odd when interacting with Wanda and Vision in the series' first two episodes, and while one could chalk that up to undercover work, it more feels like the strange television-like bubble messes with her brain and prevents her from accessing her real memories (a problem that the titular protagonists deal with too). Is it possible that the reason she wore the necklace to begin with is because it could be used to remind her of her real identity?
Without any firm answers regarding what's going on in the big picture, we can only speculate for now – but it all just makes us more excited for new episodes to drop so we can further obsess over the various details. Monica Rambeau's role in WandaVision is turning out to be one of the more fascinating on the show, and we can't wait to see what bombshells are dropped next.
Assistant Managing Editor
NJ native who calls LA home and lives in a Dreamatorium. A decade-plus CinemaBlend veteran who is endlessly enthusiastic about the career he's dreamt of since seventh grade.