The Walking Dead Extended Season 10: 8 Quick Things We Know About The 6 New Episodes Coming Up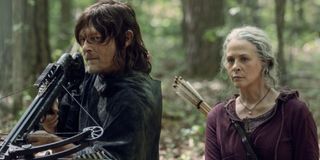 When the announcement came that The Walking Dead would not only hold off its finale back in April 2020 but that it would premiere way later in October, fans were understandably a bit disappointed. However, back when Comic-Con was hosting all of their panels remotely, it was announced that Season 10 would actually be expanded by six extra episodes, that would begin to air in 2021.
But what are the key facts behind these new episodes in The Walking Dead Season 10? Who is going to be making an appearance in them? Where are they going to be traveling to? These are all the questions fans have, and luckily, we've found some of the best info that's confirmed right now.
The Walking Dead Season 10 Will Resume In February, With New Episodes Coming Early On AMC+
Back in November, AMC announced that these episodes would be taking place and that they would come early in 2021. Now, we have an official release date of February 28, at 9 p.m. EST, the standard time for all The Walking Dead episodes to air, after taking time to film during the COVID-19 pandemic.
However, if fans subscribe to AMC+, AMC's streaming service, then they will get the chance to see the episodes early every Thursday, beginning with the first one on February 25.
Maggie Will Have A Feature Role Again – And Be Facing Off Against Negan
Lauren Cohan had quietly left the show back in Season 9 after Rick's "death," but has now returned to The Walking Dead, reappearing alongside a masked friend of hers to save Father Gabriel from certain doom.
Angela Kang, the showrunner for the series, recently revealed during the Walking Dead Comic-Con From Home stream that Maggie's adventures will be explored in the upcoming episodes, as well as the adventures that she has been on since she has disappeared. For someone who had been missing from the show for so long, it'll be nice to hear what she's been up to, and if she had any connection to other communities out there.
We Will Learn More About The Commonwealth – And A Possible New Threat
For anyone who hasn't read the comics, the Commonwealth is one of the very last – if not the last – threat that is in The Walking Dead world, which is quite fitting considering we are going to be heading into the final season soon.
During the same stream from Comic-Con, Kang said that fans would check back in with the group at the train tracks, referring to Eugene's quest to meet Stephanie and how they were under attack in the finale. Since this is the beginning of the end, fans can only wonder who the next big baddie might be on the show, and what could possibly happen next after the Whisperer War. Hopefully, these new episodes will show a whole new world for viewers to see.
Negan's Former Wife, Lucille, Will Officially Be Making An Appearance
A couple of months back, it was announced that Lucille would officially be coming to The Walking Dead. No, not the bat again. Pretty sure that is going to stick around for as long as Negan is there. But an actual version of Lucille, the woman, will be arriving, portrayed by Hilarie Burton Morgan, per AMC.
Fun fact, Hilarie Burton Morgan is actually Jeffrey Dean Morgan's real-life wife, so it'll be like a twisted family reunion. While it's been confirmed that Negan's wife is dead in the series, I'm sure this flashback will prove to show some good backstory for the former Savior leader.
New Characters Named Elijah and Mays Will Appear
AMC announced that, along with Lucille, there will be two other new characters coming to The Walking Dead. This begins with Elijah, the eerily masked man that made an appearance with Maggie near the end of the previous episodes, wielding some sick weapons. While there's no comic counterpart, the role will be played by Okea Eme-Akwari, who is more known for his role in Cobra Kai, Netflix's spin-off TV show from Karate Kid.
Along with Elijah's role being introduced in these episodes, a new character, named Mays, will be arriving as well, played by Robert Patrick, who has taken part in big blockbuster films like Terminator 2: Judgment Day, Perry Mason, and more. His role is a bit more masked up, but as the show begins to air again I'm sure fans will begin to learn more about him.
The Episodes Will Be Character-Driven On Specific Stories
These new episodes in The Walking Dead will sort of be in-betweeners, telling the tales of specific characters rather than focusing on the story as a whole. From the Comic-Con stream, Kang, along with the cast, confirmed that most of these episodes will be focusing around multiple different characters, showing off the stories that have been going on with them since the Whisperer War. Here's what she said:
These deep dives will tell plenty of stories that haven't been discussed in depth yet, so the featured episodes seem like they'll give plenty of new character development for viewers to explore.
It Will Serve As More Of A Bridge To Season 11 Rather Than Being Random Episodes
As confirmed by Kang on The Walking Dead Comic-Con stream, these episodes aren't going to be a huge part of the story, but rather serve an important link to the rest of the show for whenever Season 11 premieres. The main purpose is really to fill in some gaps along the way that viewers might have picked up on in the past. She said:
The Official Descriptions For The Episodes Have Been Released
Per AMC, the descriptions for the new episodes of The Walking Dead have already been released, showing off the multiple different stories that they plan to tell throughout the six weeks that these episodes are airing.
There are episodes that are focused around Maggie ("Home Sweet Home"), Daryl and Carol ("Find Me," "Diverged"), Gabriel and Aaron ("One More"), Eugene ("Splinter"), and the group. There is even one that focuses on Negan's past a bit and shows how far he has come and what he plans to be in the future. So they are surely keeping their promise on these episodes being solely character-driven. But judging by the descriptions, they'll surely still be just as entertaining as any normal episode, and keep fans fulfilled until Season 11 premieres.
What are you excited about in these upcoming episodes? Hopefully, the Commonwealth doesn't give them too much trouble… or maybe they will? Fans will just have to wait and see. Check out some more shows just like The Walking Dead that will be coming to TV screens in 2021.
Big nerd and lover of Game of Thrones/A Song of Ice and Fire. Will forever hate season eight. Superhero and horror geek. And please don't debate me on The Last of Us 2, it was amazing!
Your Daily Blend of Entertainment News
Thank you for signing up to CinemaBlend. You will receive a verification email shortly.
There was a problem. Please refresh the page and try again.