American Horror Story Season 10 And More Horror TV Shows Coming In 2021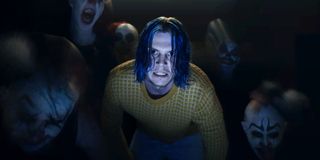 If you are like me, the preferred method to distract yourself from the horrors of 2020 has been to seek out even more horror, TV shows and movies included. That being said, I bet you were looking forward to American Horror Story Season 10 more than ever this year and was devastated to learn it was delayed.
Well, Ryan Murphy and Brad Falchuk's long-running collection of disturbing psychosexual oddities was not the only series of the scary variety alone to suffer that same Covid-19 related fate to have its latest (or even) first season postponed for the next year. In fact, if you look on the bright side, this means that 2021 it looking to have the most plentiful selection of horror TV shows in history!
In addition to Season 10 of American Horror Story, what other horror TV shows should you keep your eyes peeled for in 2021? I have collected 13 more returning classics and soon-to-be favorites that will keep gorehounds up into the wee hours of the night (and not just because they will not be able to sleep). Strap in for the ultimate binge of horror TV shows that you have to look forward to, starting with an aforementioned modern classic.
American Horror Story, Season 10 - FX (TBA)
Last season, in 2019, we got an epic '80s slasher throwback, but fans have no idea what to expect for the latest installment of this seasonal horror anthology (including its 2021 FX premiere date), save a few subtle hints dropped by co-creator Ryan Murphy. What we do know about American Horror Story Season 10, which just went into production in October 2020, is that cast favorites Sarah Paulson and Evan Peters are set to return along with the exciting addition of Macaulay Culkin (yes, that Macaulay Culkin).
Chucky, Season 1 - Syfy (TBA)
Speaking of '80s slasher throwbacks, the 1988 satirical horror classic Child's Play got a modernized remake in 2019, much to chagrin of several fans and the franchise's original creator, Don Mancini. Luckily, Mancini will be resurrecting the property again himself in the upcoming series Chucky on Syfy sometime in 2021, with Brad Dourif returning to voice the original sadistic, freckle-faced kid's toy.
The Last Of Us, Season 1 - HBO (TBA)
Despite its stirring and boldly devastating narrative, the rarity of decent video game movie has fans dreading the idea of a feature-length, live-action adaptation of The Last of Us. Fortunately, that curse is less applicable to TV shows, which is why this upcoming HBO series based on the acclaimed PlayStation exclusive set during the aftermath of the zombie apocalypse has promise, especially with original game writer Neil Druckman and Chernobyl creator Craig Mazin running things.
Black Summer, Season 2 - Netflix (TBA)
Speaking of the zombie apocalypse, this Netflix original serves as a loosely connected and more earnest spin-off of Syfy's darkly humorous Z Nation series, tracing the origins of a grisly dystopia overrun with flesh-eating reanimated corpses. Months after its 2019 release, Black Summer was renewed for Season 2 - which resumed production in September 2020, ensuring a currently unspecified release for 2021.
The Walking Dead, Seasons 10-11 - AMC (Spring, Fall 2021)
Of course, there would not be so many zombie TV shows these days without the overwhelming success of AMC's adaptation of Robert Kirkman's popular comic book, which wrapped up its tenth season in October… or so we thought. In addition to the traditional fall premiere of The Walking Dead's eleventh season in 2021, Season 10 will get a six-episode extension in spring of that year, because there is always enough room for stories in a series with two spin-offs of its own under its belt.
Stranger Things, Season 4 - Netflix (TBA)
On the other hand, reports have suggested that Netflix's ultra-popular tribute to '80s sci-fi nostalgia may be closing the portal to the Upside Down permanently soon. Regardless, fans are itching to see the outcome of the Season 3 cliffhanger of Stranger Things and finally will sometime in 2021 with the release of Season 4, which just went back into production in September.
Locke & Key, Season 2 - Netflix (TBA)
Also kicking off production in September 2020 was Season 2 of this fellow Netflix original about a group of ordinary youths plagued by extraordinary circumstances. Thus, Locke & Key, inspired by the IDW comic book series of the same name, should be expected to return in 2021, but the question of when is just another mystery to be answered with this series.
The Sandman, Season 1 - Netflix (TBA)
Also premiering on Netflix (eventually) in 2021 is the long, long-awaited adaptation of Neil Gaiman's acclaimed interpretation of DC's Sandman character. After several failed attempts at a movie and a recent Audible-exclusive radio play-style adaptation, the strange story of the The Sandman will finally enter the live-action medium as a series soon.
Slasher, Season 4 - Shudder (TBA)
Netflix was the birthplace for the first three seasons of this bloody anthology series. However, the new story in Season 4 of Slasher (subtitled Flesh & Blood and featuring iconic filmmaker David Cronenberg in the cast) will debut exclusively on all-horror streaming platform Shudder, which sounds like a more appropriate home, by comparison.
Creepshow, Season 2 - Shudder (Fall 2021)
Shudder is also home to this fellow anthology series (offering two stories per episode) inspired by George A. Romero and Stephen King's 1982 feature-length collection of comically creepy tales from 1982. Season 2 of Creepshow was renewed in October 2019, but production delays postponed its release until next fall, but an animated special released around Halloween 2020 helped ease the weight of anticipation.
Just Beyond, Season 1 - Disney+ (TBA)
The most unexpected streaming platform to join in on the TV horror anthology trend is Disney+, but do not expect it to go too far off brand. In 2021, it will debut Just Beyond, inspired by a graphic novel series of the same name from Goosebumps author R.L. Stine.
Gremlins: Secrets Of The Mogwai, Season 1 - HBO Max (TBA)
Families may not have too many reservations either about letting their children watch this animated series spin-off of one of the most beloved horror comedies of early 1980s. Gremlins: Secrets of the Mogwai has yet to be given a specific date for its exclusive HBO Max release in 2021, but I think that some time around Christmas would be the most fitting.
Castlevania, Season 4 - Netflix (TBA)
As for animated series that are best left for after the children are put to bed, this bloody ode to victorian horror based on a popular video game takes the cake. Castlevania will be back on Netflix for more vampire slaying action in its fourth season in 2021.
What We Do In The Shadows, Season 3 - FX (TBA)
Speaking of vampires, it would actually be kind of a bummer to see these lovably ridiculous bloodsuckers in this Office-style horror satire get slayed. FX's What We Do in the Shadows is just as the funny as the film, co-directed and co-starring Taika Waititi, that inspired it and, eventually in 2021, Season 3 will see the light of day.
What do you think? Are you delighted for the amount of horror TV shows in 2021, or is the overwhelming amount of choices what really scares you? Let us know in the comments and be sure to check back for additional information and updates on the scariest series on television, as well as even more insight into what to expect on TV in the coming year, here on CinemaBlend.