The Real Reason The Bachelor Brought New Women In For Matt James During Season 25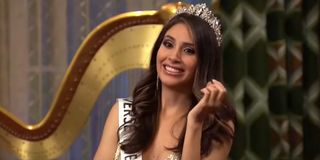 We are four episodes into Matt James leading Season 25 of The Bachelor, and let me tell you, the amount of drama on this season has not disappointed so far. Many of the ladies who are currently vying for Matt's heart have been in a state since night one (Thanks for nothing, Victoria!), and last night's episode saw five additional lovelies brought in to try and dazzle our leading man. As you might imagine, the women from Matt's original group (OG from here on out) were none too pleased at that development. But, now we're hearing why The Bachelor brought new women in during Matt's season.
Matt had already begun his season with more than his share of women to choose from, even by The Bachelor standards. The number of potential fiancées generally tops out at about 25, but Matt was presented with 32 impressive options as he started the season. By last night, he'd finally gotten that number down to a (somewhat) manageable 18, but during an early episode cocktail party, Matt's convo with Victoria is interrupted by Chris Harrison, who takes a stunned Matt outside to meet his five new women.
So, why did The Bachelor pull this brand new move and bring in additional ladies several weeks into filming? Here's what ABC's Rob Mills told Variety:
OK, Rob Mills. I mean, I understand the thought process he's trying to reveal here, but I don't fully buy it. I can believe that they had tons of women who desperately wanted to either meet Matt once he was announced (quite early) as the Bachelor, or who simply applied so they could have some resort quarantine relief from the pandemic. But, I cannot totally believe that there was zero interest from the producers in bringing the new ladies on several weeks in "just to shake things up," because they 100% knew that's exactly what would happen.
Many of Matt's OG women were, to put it mildly, super duper pissed, when they saw that more women were being thrown into the group, and while a decent number of the OGs kept calm about it (or at least appeared calm) there were just enough others who pitched very vocal fits that our mature queen Katie felt it best to try and shut that shit down by talking to Matt about the bullying which was going on at the end of last night's episode.
A dedicated group of OGs have taken it upon themselves to make the new women (four of whom got roses and were allowed to stick around) feel very unwelcome, even though we all know it's not their fault they were shoved into show at a relatively late stage of the game. Rumors even flew (I'm looking at you, Anna!) that new addition Brittany is a, well-known in Chicago, sex worker, which she denied several times.
Season 25 of The Bachelor is our second franchise season in a row which had to be filmed in a bubble because of our ongoing health crisis, and I understand the need to make sure there was both plenty to do at the resort in Pennsylvania where they filmed, and plenty of drama to go around. So, I'm sure they did take the opportunity to vet way more ladies than usual so that they could keep some on hold for later in filming. And, you can bet that it's had the desired effect of giving fans some newness while also amping up the potential for backstabbing, miscommunication, tearful conversations and, you know, love.
We can all see how the new arrivals fare as The Bachelor continues, every Monday on ABC, at 8 p.m. EST. For more to watch in the coming weeks, check out our guide to early 2021 TV!
Bachelor Nation, Gilmore Girl; will Vulcan nerve pinch pretty much anyone if prompted with cheese...Yes, even Jamie Fraser.
Your Daily Blend of Entertainment News
Thank you for signing up to CinemaBlend. You will receive a verification email shortly.
There was a problem. Please refresh the page and try again.