Stand By Me: Why Stephen King's The Body Should Be The Next Story To Be Adapted For A TV Show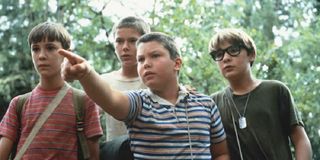 In an era where horror films seem to come out quicker than good horror, there are few that really stay within the minds of fans. However, some adaptions in the past have defined what the horror genre is, and they come from one author who always seems to put others to shame – Stephen King. He is the author of such books as IT, Carrie, The Shining, Cujo, Pet Sematary, and so many more. Stephen King is truly a master of horror – I mean, the dude lived in a haunted house in Maine. You can't get scarier than that.
However, there is one adaption of Stephen King's that hasn't been done in some time, and that is the novella he published back in 1982, The Body. It was adapted into the hit coming-of-age movie, Stand By Me, in 1986, but since then this King piece has gone widely un-adapted and unnoticed. These are the reasons why now is the best time to adapt this piece of work into a limited series of some sort.
It's A Great Coming-Of-Age Story With Horror Elements
While Stephen King is known to be the king of horror, considering he has come out with some of the best stories out there, The Body is different in the way that it has horror elements but it's not necessarily horror-focused. The real joy of The Body is the journey it takes to get to those horror elements.
The story revolves around a group of young boys, just barely in the beginning years of their teens, who try to find a body in the woods because it "excites them" and they see it sort of as a rite of passage. If they find it, they can take the fame for discovering the missing person. But, over their journey, they start to truly discover the difference between what is real and not, and what they have made into bigger deals within their own mind, rather than what reality has given them. They start to grow-up and see the world for what it really is.
It's almost like the movie paints a picture of the beauty of childhood innocence, and that's something I think every audience deserves to see.
It Tackles The Message Of Death Very Well
I feel like with many horror movies these days, death isn't really talked about. It just sort of happens, and it's sometimes gruesome, horrible, bloody, and really blown over the top (occasionally blown to pieces), but The Body tackles that differently, which is why this series is so needed for TV.
Think about it. Death isn't about how scary it is or how bloody it can be here. It's just that – death vs life. When the boys come across certain instances on their journey that they think would normally scare them, it's not as bad as they originally thought, because what they're facing is just the reality that we all die. There are no jump-scares, no scary goblins under the bed, no nothing. With the horror genre so saturated with stuff like that, it would be nice to have a series where it's just plain death – a breath of fresh air, if you will.
The Characters Are Relatable
I always think back on movies like IT or TV shows like Stranger Things when I think of these characters because they're really just kids who are trying to get by in life. We all remember what it was like starting out in our early teenage years, still learning how the world works, and trying to learn how to simply ride a bike sometimes instead of jumping to driving a car.
The characters within The Body remind us of simpler times in our lives, when the only issue that we had was trying to not get our face punched in by the local town bully. They make you think back to the simplicity of childhood, and make us want to return to the "good old days." Even the main character, Gordie, feels like half of my friends, always writing and telling stories to divert them from the issues at hand.
Even so, I always feel that shows like this are an amazing chance to give young actors a chance to shine. For example, Finn Wolfhard and Sophia Lillis. While Wolfhard was already in Stranger Things at the time, being in IT only brought him up to new heights and gave him more roles. Sophia Lillis (who played Beverly Marsh), received a starring role in I Am Not Okay With This afterward. The next generation of Hollywood could be discovered with a series like this.
There Are Some Seriously Funny (And Cringy) Moments That We Can All Laugh At
I think in the world in which we are living now, everyone deserves a few laughs and giggles at kids being oblivious, and The Body most certainly has those hysterical moments that almost make your side hurt from how much you're laughing. There are many instances where you think 'God, why would you do that?', but it makes it all the more fun.
For example, there's one scene in the novella where the boys need to get across a lake, and don't really check the water before they head in. But, low and behold, the lake is full of leeches. And, not just one or two - there are several. BLECH.
It may be gross and terrible for them, but let me tell you, I was crying laughing the first time I saw it, which is why everyone needs to see these moments.
It Shows How One Moment In Time Can Bond Friends Forever
I always like to think of The Body as a symbol of what can happen to friends when a specific event happens to them, and the purity of bonds can be formed from that. There's something so wonderful about the innocence of childhood friendships, but one situation can suddenly bond them for life and make them friends forever.
I mean, think about any problem that you've had in your life, where as soon as you have that one friend by your side, the world seems to open up a bit and the issue is lifted ever so slightly off of your shoulders. That's what The Body speaks so well about. It shows that through the power of friendship, anything can be accomplished and that no matter what, no matter how far you may drift apart during your lives, you will always be there for each other.
With how often people have been pushed away from each other nowadays due to current events, a message like that is needed. A miniseries or limited series that talked about this would speak volumes. I'm convinced that many long-distance, long-time friends would be exchanging phone calls not long after.
Stephen King rules over horror and scary stories, there is no doubt there, but there's also no denying that he can make a great coming-of-age story too. If you're ever bored and in need of a quick read, pick up The Body. I'm almost positive you'll want a new version of the story on screen, just like me, by the end of it.
Big nerd and lover of Game of Thrones/A Song of Ice and Fire. Will forever hate season eight. Superhero and horror geek. And please don't debate me on The Last of Us 2, it was amazing!
Your Daily Blend of Entertainment News
Thank you for signing up to CinemaBlend. You will receive a verification email shortly.
There was a problem. Please refresh the page and try again.