Real Housewives' Brandi Glanville Sent Proposition To Armie Hammer That Grossed Fans Out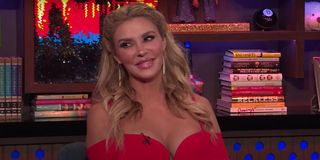 A Real Housewives star may have just put her foot in her mouth – again. Brandi Glanville, former member of The Real Housewives of Beverly Hills, sent a risqué proposition to actor Armie Hammer on Twitter. The message grossed out fans and incited a swift backlash for the reality star.
The now-deleted thirst tweet (via Page Six) from Brandi Glanville to Armie Hammer was her reaction to recent accusations of Hammer's supposed fantasies involving sexual cannibalism (which he's denied). Glanville wrote,
Many fans on Twitter are outraged that Brandi Glanville inserted herself into a scandal that deals with alleged abuse and torture from Armie Hammer. But, anyone who follows the Real Housewives knows, it wouldn't be the first (and probably won't be the last) time that Glanville managed to accidentally cause a stir. A torrent of reactions ensued on Twitter, varying from one fan calling it a "bad joke" to another telling the personality star to "read the room."
The sensitive nature of the accusations has also triggered reaction tweets from fans which say that Brandi Glanville is complicit with abuse. Here are some of the reactions from Twitter:
Seeing as how you're probably wondering, that Twitter user did go on to explain what hybristophilia is, noting that it means a person is sexually attracted to and aroused by others who have been known to commit crimes. While some of Glanville's fans likely think this description for her is a bit too much, that doesn't mean that others were any happier with her proposition:
Armie Hammer was accused by ex-girlfriend Courtney Vucekovich, whom the actor dated for five months last year, of emotional abuse and insinuating bodily harm. Specifically, Vucekovich told Page Six that Hammer wanted "to break my rib and barbecue and eat it." But, Hammer's lawyer soon released a statement denying Vucekovich's allegations completely.
The allegation comes from just one of several women connected with Armie Hammer in the past few months who have indicated supposed violent behavior on his part. An anonymous account on Instagram showed screenshots of Hammer purportedly telling one woman he wanted "cut off one of your toes and keep it with me in my pocket so I always had a piece of you in my possession."
As for the ex-Housewives star, as mentioned earlier, she did delete the tweet to Armie Hammer, but in true Brandi Glanville fashion, she is not very sorry. On February 8, she tweeted:
Brandi Glanville was known to stir the pot while on The Real Housewives of Beverly Hills. Though she hasn't been an official cast member since 2005, she has made frequent guest appearances throughout the years. In the last season, Glanville claimed to have "hooked up" with Denise Richards, who joined the far-reaching franchise in 2018. Though Richards denied having an affair with Glanville, many have speculated that the rumors are a significant reason for Richards not returning for Season 11.
Like they say, fool me once, shame on you. Fool me twice; shame on me. When it comes to Brandi Glanville, the fans may have been fooled around with one too many times. And, with the heat rising as allegations and rumors fly, Glanville might be better off getting out of the kitchen.
Movies and TV News Writer
Freelance writer. Favs: film history, reality TV, astronomy, French fries.
Your Daily Blend of Entertainment News
Thank you for signing up to CinemaBlend. You will receive a verification email shortly.
There was a problem. Please refresh the page and try again.