6 Massive WandaVision Questions We're Left With After Episode 6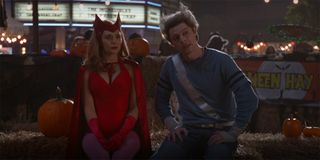 The sixth episode of WandaVision has arrived, and with it have the 1990s. The Marvel Cinematic Universe continues to journey through the decades week after week on the Disney+ original, and this time around fans were treated to both a funny riff on Malcolm In The Middle and a TV staple: Halloween. Right off the bat it opens its doors to awesomeness, with major characters getting to wear their super comic-accurate costumes for the first time – but that's only looking at the show skin deep. While the aesthetic is dress-up fun, the larger story in the series has taken some major steps forward and presented some important new mysteries.
Specifically and fittingly, there are six massive questions that we now find ourselves asking – and ultimately they could be the clue to figuring out just exactly what the hell is going on in Westview and what is causing Scarlet Witch to act all nutter butters. Both inside and outside the hex, there is a lot going on that has us scratching our heads, and we'll start with the biggest one still lingering from Episode 5…
Why Does Pietro Have A Different Face?
You could practically hear gasps around the world last week when Scarlet Witch opened her front door to reveal Evan Peters' Quicksilver from the X-Men universe… but those of us who were hoping to get an explanation as to what is going on with him in Episode 6 have been left a touch disappointed. While the rebellious Pietro does have a key part to play in the latest WandaVision story – playing the cool uncle/supportive brother during a night of trick or treating – what isn't offered is any kind of explanation as to why it seems that the multiverse is performing a bit of convergence. Interestingly, Wanda herself doesn't seem to have a firm grasp on exactly what is going on, and she is clearly suspicious of her "brother," as evidenced by her testing him about their time together as children. Will Episode 7 totally clarify things? We're not exactly betting on it, but we're hoping.
Who Is Monica Rambeau's Aerospace Engineer Contact?
Here we have another mystery lingering from Episode 5 a.k.a. "On A Very Special Episode," but this one is far more subtle. Last week there was a brief moment where Monica Rambeau mentioned that she was reaching out to a contact of hers who is an aerospace engineer, and this week we got to see Monica and Jimmy Woo hop in a car so they can go meet with them… but what has remained perfectly mysterious is the identity of said aerospace engineer. It's not terrifically easy to guess who it might be, as Monica's history at S.W.O.R.D. means she probably has a lot of contacts, and there are a ton of notable scientists in the Marvel Cinematic Universe – but what certainly can't be denied is that the show seems to be setting up a big surprise. It would be weird for the show to tease the character this much if he or she wasn't somebody special, so we're already bracing ourselves for the reveal next week.
What Is Acting Director Hayward Hiding?
S.W.O.R.D. Acting Director Tyler Hayward most definitely seemed like a friendly guy when he was first introduced in WandaVision Episode 4, "We Interrupt This Program," but the more he's shown up on the series the more we've learned to not trust him. He took a big turn into the antagonist camp when he attempted to fire missiles at Wanda last week, and our opinion of him didn't exactly improve with Episode 6 and his attempt to remove Monica Rambeau, Jimmy Woo, and Darcy Lewis from the operation. Thanks to Monica and Jimmy's fight skills and Darcy's computer know-how, the trio is able to continue their work beyond Hayward's purview, but while doing so they also seem to discover that the man currently running S.W.O.R.D. isn't being totally forthright when it comes to information about the Westview situation. We have our suspicions – mostly involving what S.W.O.R.D. was doing with Vision's body prior to Wanda abducting the android – but for now Hayward just seems excessively shady instead of downright evil.
What's Going To Happen To Darcy?
As evidenced by Monica Rambeau's blood work revealed in the new episode of WandaVision, it doesn't seem that it is tremendously healthy for humans to pass in and out of Scarlet Witch's hex multiple times. And while we suspect that reveal is meant to eventually set up Monica's transformation into the comic book hero known as Photon, it's a fact that also has us very concerned for the fate of Darcy Lewis. At the end of the episode, Wanda expands the town limits of Westview in an attempt to save Vision, but while doing so she absorbs a lot of new things into her special reality, and that includes the fan-favorite Thor character. When Monica went through in the "1960s," it messed with her brain and transformed her clothes, so what will happen when we next see Darcy? Based on the progression, the next time we see her will be era appropriate to the 2000s, and it will be exciting to see how she is changed.
Can Vision Only Survive Inside Westview?
While Vision has seemed very much alive during his time as a titular character on WandaVision, fans aren't quick to forget the fact that he is in actuality very, very dead. As witnessed at the end of Avengers: Infinity War, Thanos reached into his skull and pulled out the special ingot keeping the android alive, and left him as a grey husk. We're a bit fuzzy on the details when it comes to things that happened in the wake of that, but one thing is starting to seem clear after Episode 6 is that the hero may need Westview to survive. It was previously established that the boundaries of the hex have the ability to permanently change the nature of things, but Vision's attempt to break through in this latest chapter has us questioning exactly how it works. He starts disintegrating as he attempts to venture outside of the town, which makes us wonder if he has a sad fate locked in for the end of the show in a few weeks.
What's With All The Glitches And Frozen People?
There is no doubt at this stage of the game that Scarlet Witch's powers are what's creating the reality shift that is Westview, but one of the most fascinating aspects of Episode 6 is the further suggestion that there is another force at work. Part of this stems from Wanda's confusion about her brother and his strange appearance, but even more puzzling in the latest chapter is the way the operation seems to be glitching – with various residents, including Agnes, mysteriously freezing as though put on pause. It could just be that Vision is witnessing what happens to his neighbors when they aren't "on camera," but at this point it feels wrong to dismiss the idea that there is something else at play we don't quite understand just yet.
WandaVision creator Jac Schaeffer has promised that the answers to all of these questions and more are definitely coming – the trick is just that fans have to keep watching for them as the series barrels towards its terrifically exciting conclusion. There are now only three episodes left, so we can expect things will start wrapping up soon, but exactly where things are headed hasn't been made clear yet… and we kind of like it that way. The next chapter will be arriving next Friday, February 19, and while we hope that there will be at least one or two resolutions provided to things that went down in Episode 6, truly we're really only expecting the mysteries to deepen and for the speculation to intensify.
Your Daily Blend of Entertainment News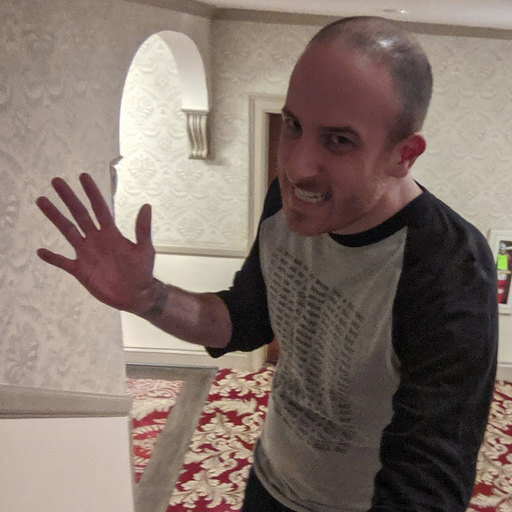 Assistant Managing Editor
NJ native who calls LA home and lives in a Dreamatorium. A decade-plus CinemaBlend veteran who is endlessly enthusiastic about the career he's dreamt of since seventh grade.