5 Marvel Movies Or Shows Randall Park's Jimmy Woo Could Play A Part In After WandaVision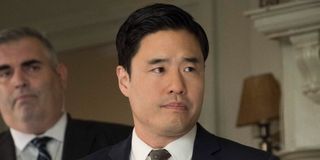 The Marvel Cinematic Universe has officially made the jump to TV with Disney+'s WandaVision, and it's certainly giving viewers plenty to enjoy. When it comes to characters, the show not only marks the return of powerful Avengers Wanda Maximoff and Vision, but it also brings back a few fan-favorite supporting players. One of these characters is Jimmy Woo -- Randall Park's straight-laced, yet friendly, FBI agent who was introduced in Ant-Man and the Wasp. Woo has only appeared in a couple of episodes so far, but he already seems to be making a splash in his return. With this, some may already be wondering where his character may show up next in the MCU.
It's sometimes hard to say when or how a character may resurface in the MCU, as some may have even been surprised that Randall Park's Woo found his way into WandaVision. Still, the show is better for having him, and there are a few upcoming Marvel Studios projects that could use his presence as well. So let's take a look at some MCU movies and TV shows in which Park's character can play a part in:
Ant-Man and the Wasp: Quantumania
The Ant-Man and the Wasp franchise gifted us with Randall Park's Jimmy Woo in the first place, and it would make sense that he would return for the third installment in the series, Quantumania. In the film, Woo oversaw Scott Lang's house arrest and went to great lengths to make sure the superhero fugitive didn't violate any rules. Lang did ultimately manage to evade Woo and his allies but, in the end, the two seemed to remain friendly. I mean Woo had to have had help with mastering that card trick, right?
While plot details on Ant-Man and the Wasp: Quantumania are currently scarce, the idea of Jimmy Woo appearing isn't impossible. It's more than evident that the Quantum Realm is going to play a role somehow and, if the film follows in its predecessors' footsteps, any resulting chaos will spread into the city of San Francisco -- which is under Jimmy Woo's jurisdiction. And who knows, if Woo does return, maybe he can use the knowledge he picks up in WandaVision to lend an assist.
She-Hulk
As evidenced by WandaVision, Jimmy Woo's job with the FBI can place him in some pretty interesting places, and Disney+'s upcoming She-Hulk series could be another. The show is set to focus on Bruce Banner's cousin, Jennifer Walters, who (in the comics) gained Banner's powers after receiving a blood transfusion from him. In addition to being green and well over 6 foot 7, Walters is also an attorney, who specializes in superhero-related cases. And this is where Woo can come in.
Jimmy Woo's involvement in law enforcement could allow him to pop in at any time. Jennifer Walters could handle a high-profile case that involves the FBI. For instance, if Wanda Maximoff is eventually prosecuted for taking over the town of Westview, New Jersey (if she is acting alone), Woo could be brought in as a witness given his connection to the case. And watching him take the stand could add a lot of humor to the legal comedy. Honestly, this kind of show is a perfect fit for someone of Randall Park's talents.
What If…?
Marvel Studios' What If…? May be the perfect opportunity to do something truly unique with Jimmy Woo. The animated anthology series will feature stories that consider what would happen if major events in the cinematic universe had occurred differently. As a result, the storytelling possibilities are essentially infinite. Marvel is also making it an effort to bring back plenty of MCU actors for the series, and Randall Park is one of the many unconfirmed actors who would be a great fit.
Given the unpredictability of the stories, Woo could fit in almost anywhere. He could appear in a supporting role but could just as easily get his own starring episode. Imagine what would happen if Jimmy Woo became a superhero or somehow became the head of S.H.I.E.L.D. or S.W.O.R.D. All in all, adding Randall Park would not only give What If…? another big name, it would also provide the show with a firm character to work with.
Secret Invasion
Secret Invasion is another one of the many Marvel TV series headed to Disney+ in the near future. Inspired by the comic book storyline of the same name, the show will star Nick Fury and Skrull Talos, as it's discovered that Skrulls have infiltrated all aspects of life. And as it so happens, Jimmy Woo actually played a role in the comics' story arc.
In the original story, Woo worked for the Atlas Foundation, the society behind his Agents of Atlas and, during the ordeal, he firmly worked to hinder Skrull activity on the West Coast. The Atlas Foundation has yet to be introduced into the MCU, but that doesn't mean Woo couldn't still play a role. Marvel Studios typically doesn't do direct adaptations of storylines, as it sometimes alters plot points to fit the MCU. So there's absolutely a chance Jimmy Woo can be an aid in the fight against the Skrull invasion.
Spider-Man 3
At this point, Spider-Man 3's story is a relative mystery, and the various rumors surrounding it only pose more questions. Still, based on the ending of Far From Home, one might assume that law enforcement will play a role. Peter Parker has been framed for murder and public destruction, and the FBI (among other major organizations) may be keeping tabs on him.
Jimmy Woo has already assisted in superhero-related situations (i.e. Scott Lang's house arrest and Wanda and Vision's "sitcom"). So who's to say Woo couldn't be brought in to help investigate the claims against Peter Parker should the need arise? This is, of course, conjecture at this point and the movie and filming has commenced at this point. But anything is possible in the MCU. Plus, who wouldn't want to see Woo wow Peter Parker with his close-up magic?
If there's one thing we've learned from the Marvel Cinematic Universe, it's that the franchise can find a place to reuse almost any character, even after they've been absent for a while. Through his role as Jimmy Woo, Randall Park has emerged as a true fan favorite, and the MCU would definitely benefit from having more of him.
But are there any other upcoming MCU movies or shows you think Randall Park's Jimmy Woo can appear in? Let us know in the comments! And if you want to see more of him, check out new episodes of WandaVision, which drop on Disney+ on Fridays.
Covering superheroes, sci-fi, comedy, and almost anything else in film and TV. I eat more pizza than the Teenage Mutant Ninja Turtles.