Wandavision's Creator On Marvel Fans Being Patient: 'We're Going To Get To The Answers'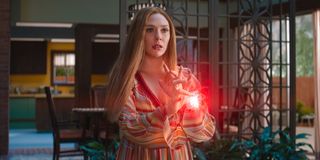 The Marvel Cinematic Universe is now teasing us in a way unlike ever before. Sure, it was agonizing waiting for Avengers: Endgame to arrive in the wake of Avengers: Infinity War, but even that was totally different than diving into the week-to-week strangeness of WandaVision. The show has built a dense mystery through its first four episodes, and when the end credits roll it's hard not to immediately want to imbibe the next. In that way the Disney+ series requires a bit of extra patience from fans – but according to Jac Schaeffer, those of you watching need not worry about your emotional investment paying off. According to WandaVision's creator, 'we're going to get the answers.'
I had a delightful time earlier this week talking with Jac Schaeffer about the unfolding series, and, as seen in the video above, one aspect I inquired about was the process of pacing the story. In particular I was curious about last week's episode, "We Interrupt This Broadcast," which addressed a significant number of questions from the first three episodes while maintaining the larger mystery – taking the audience outside the borders of Westview, New Jersey and into the S.W.O.R.D. operation investigating it.
Jac Schaeffer noted that including a story like that one was part of her original WandaVision pitch, and segued into an explanation of how her personal experience watching shows asking big questions fed into the creation of the Marvel series:
There probably isn't an avid TV watcher alive who can't relate to this. At one time or another we have all found ourselves intrigued by a new show that seems to be building to something fantastic, spending hours and hours online speculating and discussing theories… but then you eventually realize that there is no satisfying conclusion coming. You come to discover that there was no real plan in place, and everything falls apart as things come to an end.
But, according to Jac Schaeffer, that won't be the takeaway from WandaVision. Empathizing with audiences who have felt they flushed hours of their life away on a disappointing show, the series creator and the writing team made special efforts to ensure satisfaction:
Doing this required building a particular architecture for the Marvel series. As seen in the first three episodes of WandaVision, the idea at the start was to set up what immediately registers as a traditional 20th century sitcom with plots that tie up in a bow at the end – but at the same time fracture it in a stand-out way:
From all of that has grown an intriguing mystery that thus far amounts to "what the hell is going on with Scarlet Witch?" As of right now, waiting for Episode 5, we don't have a totally firm grasp on it, but Jac Schaeffer has provided an assurance of elucidation.
Going an extra step further, she also noted that the fact that this is a story set in the crazy superhero world of the Marvel Cinematic Universe won't be ignored, and that there are big things to come for fans. Said Schaeffer,
There are only five episodes of WandaVision left in its run on Disney+ (opens in new tab), but each new clue delivered makes us more excited for the next. The secrets hold for now, but it's exciting to know that Jac Schaeffer has our backs in the experience.
NJ native who calls LA home; lives in a Dreamatorium. A decade-plus CinemaBlend veteran; endlessly enthusiastic about the career he's dreamt of since seventh grade.
Your Daily Blend of Entertainment News
Thank you for signing up to CinemaBlend. You will receive a verification email shortly.
There was a problem. Please refresh the page and try again.