Fear The Walking Dead: 7 Quick Things We Know About Season 6's Second Half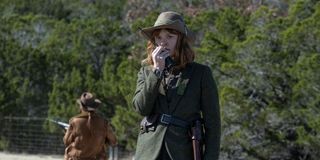 Since 2020, we've unfortunately seen production delays for many of our most anticipated movies and TV shows, due to the COVID-19 pandemic. Fear The Walking Dead was one of those unfortunate circumstances where production had to be halted for a time to allow for COVID-19 restrictions. The first half of Season 6 ended in November, and fans have been anxiously awaiting the return of the drama within the apocalyptic world.
However, the long wait will soon be over, as the back-half of Fear The Walking Dead Season 6 will be returning to our TV screens quite soon. With plenty of info to go off of and several storylines continuing, this is what we know about what to expect when the new episodes drop.
Fear The Walking Dead Will Be Returning In April
While it does feel like ages away, Fear The Walking Dead will be returning back to our TV screens on April 11, 2021, at the standard time of 9:00 p.m. on Sundays, and will run until June of 2021.
This isn't the first time that there has been this big of a gap between the episodes of a Walking Dead show, as the original The Walking Dead had to push off the premiere of the season 10 finale until October 2020 – and even then after that, they're adding on an additional six episodes, so it's clear that The Walking Dead team on both shows are trying to make up for the big space in-between episodes.
There Will Be Three New Characters Added
According to Hypable, Fear The Walking Dead will be adding three new characters in the second half of Season 6. These new characters will be played by John Glover (known for The Good Wife), Nick Stahl (known for Terminator 3: Rise of the Machines) and Keith Carradine (Dexter, Fargo).
Who exactly these actors will be playing, however, remains unknown, but they will surely be adding that same amount of drama viewers can expect from Fear The Walking Dead.
Fear The Walking Dead Season 6's Second Half Will Have Nine Episodes
While most seasons have been split up into eight and eight, Fear The Walking Dead will be taking a different turn this time around besides their format change back when the season premiered. Per AMC, Fear The Walking Dead will be releasing nine episodes once the second half premieres, bringing the total for the season at 16 episodes like normal.
At least COVID-19 didn't take that away from us.
Morgan Doesn't Seem To Be Changing Anytime Soon
According to the official synopsis that has been released by AMC for the upcoming second half of Fear The Walking Dead Season 6, Morgon does not seem to be changing his ways anytime soon. Per the synopsis:
From this, we can clearly see that Morgan is not backing down anytime soon, and neither is Virginia, so it seems that we could expect plenty of bloodshed in this second half. However, even so, the odds are still pretty stacked against Morgan, as Virginia controls a whole army of rangers, vehicles, and oil fields that power those vehicles. It would be quite surprising to see Morgan somehow pull this one off.
But hey, this was once good-guy Morgan who didn't kill anything and looked forward to a brighter future, and now here he is as someone completely different. Anything can happen.
The Second Half Will Be Full Of Heartbreaks
According to the chief content officer of The Walking Dead franchise, Scott M. Gimple tweeted out not that long ago, saying that the second half of the season will be filled with "shocks, scares, heartbreaks, and revelations."
This doesn't sound that much different from what the show experiences on a daily basis, however, considering each The Walking Dead show has always seemed to have the same amount of heartbreaks and revelations as it does seasons prior. I'd say just keep that box of tissues nearby as fans of these shows always do because no matter what, at some point, we are going to need them.
Since Season 7 has already been ordered for the show and is slated to premiere in 2021, there's surely going to be some deaths and some drama that pushes the story forward. Fans can only wait and see what type of heartbreaks are going to occur. Let's just all collectively hope that it's not Morgan.
That Cryptic Symbol Will Be Answered
Throughout Season 6, there has been this strange cryptic symbol, with the words 'The End is the Beginning,' that has kept popping up, spray-painted by these new strangers of the show that we don't know that much about. However, it seems that those questions might get answers really soon.
When talking to Comicbook.com, Fear The Walking Dead showrunner Andrew Chambliss said that this group that hasn't made much of an appearance yet is going to come out – and soon.
With how much civil war has been happening between both Morgan and Virginia's group, it's not shocking that a new foe is going to emerge and make life a little more difficult for the survivors.
Watch The Fear The Walking Dead Season 6 Trailer
If you want to tune in and see the sneak peeks that have come out recently to show off the second half of the show, check out the trailer here.
Personally, I'm excited for these new villains – I think all the survivors need a nice wake-up call to unite again once more. What are you excited about in the next episodes of Fear The Walking Dead?
Big nerd and lover of Game of Thrones/A Song of Ice and Fire. Will forever hate season eight. Superhero and horror geek. And please don't debate me on The Last of Us 2, it was amazing!
Your Daily Blend of Entertainment News
Thank you for signing up to CinemaBlend. You will receive a verification email shortly.
There was a problem. Please refresh the page and try again.