The Funniest Moments In Tyler Perry's Madea's Farewell Play, According To The Manns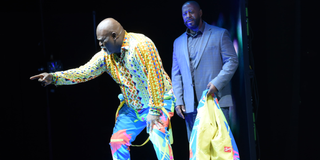 He's a master of many things, but one I will always praise Tyler Perry for is his ability to write and deliver a joke to a specific audience. Now, one does not have to be Black, have a large dysfunctional extended family, have been raised in the Black church, or particularly enjoy 80s and 90s R&B, but if you fall into one or all of those categories it's sure to heighten the experience of Tyler Perry's Madea's Farewell Play. Two of the stage play's stars, Tamela and David Mann, have shared the funniest moments from the show.
David and Tamela Mann, married since 1988, blessed us with the characters of Mr. Brown and Cora in 2002's Madea's Family Reunion and have been building upon them ever since. The entire cast delivers jokes line after line (I am not exaggerating when I say I didn't stop laughing the entire length of the production), so I was curious if the Manns were able to choose a favorite joke or part of the show. Here's what they told CinemaBlend:
Tyler Perry's Madea's Farewell Play is so much more than a stage play, as it incorporates mini gospel and R&B concerts. The whole cast gets in on these musical numbers and the vocal talent is on another level. Mr. Brown's part of the concert is particularly spicy - fans will love it.
I found the entirety of Madea's Farewell Play to be hilarious, so it was not surprising that Tamela and David Mann were unable to choose a favorite joke. They did, however, share one of the scenes that entertains them the most:
So the cast was changing up some of the jokes and reactions in each performance of the show. What a great way of keeping things fresh for the audience! It's easy to tell in the recording of the stage play how genuine all of the reactions were and getting to see the cast surprised and in hysterics throughout the show is an extra treat. Madea's Farewell Play is now streaming exclusively on BET+.
As Tamela Mann said, hopefully this is not the forever farewell for Madea. I would prefer Tyler Perry take a break from this character for a while and give himself time to work on other projects and then bring her back in a big and exciting way. What about you? Do you think we've seen the last of Madea, and how would you like her to return?
Your Daily Blend of Entertainment News
Obsessed with Hamilton and most things Disney. Gets too attached to TV show characters. Loves a good thriller, but will only tolerate so much blood.