Did The Falcon And The Winter Soldier Already Reveal A Dark Moment For Wyatt Russell's U.S. Agent?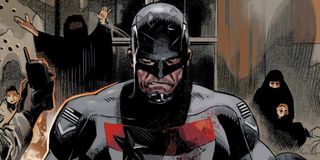 CinemaBlend participates in affiliate programs with various companies. We may earn a commission when you click on or make purchases via links.
In just a few short weeks, Marvel Studios' The Falcon and the Winter Soldier will finally grace our TV screens. With it will come the continuing adventures of prospective Captain America Sam Wilson and ex-assassin Bucky Barnes. The two will cross paths with familiar faces, but they'll also meet a newcomer -- John Walker a.k.a the U.S. Agent. So far, the character has been shrouded in mystery, with fans only receiving hints as to what lies ahead for his character. However, some believe he could take a villainous turn, and could it be that the Disney+ series has already revealed a dark moment for Wyatt Russell's character?
Marketing for The Falcon and the Winter Soldier has mostly used just one shot of John Walker, which can be seen above. The scene sees the character running onto a football field in the midst of a celebration in his honor. But the most recent TV spot -- which is enough to give you chills -- quickly shows what appears to be a low point for the "new Captain America." You can check out the dark image for yourself down below:
John Walker can be seen kneeling with his hand over his face, as if something has gone horribly wrong. It's a striking shot, and one that has me questioning what could have happened. Well, I might have an idea and, if it's true, it could factor into his arc in a major way:
What Did John Walker Do To Put Himself In This Situation?
The U.S. Agent has had a complex past in the comics, as he's been both a villain and an antihero during different points in his history. Though as mentioned, Marvel Studios has opted to remain quiet about how the character will develop in The Falcon and the Winter Soldier. However, this recent photo makes one believe there's a chance he'll at least do something he'll regret. My honest assumption, based on the image, is that John Walker is on the ground because he just killed someone, by mistake. Or at the very least, he could have seriously injured an opponent. It's a bit hard to make out but, if you look at it closely, it almost seems as though there's even blood on the shield.
So whatever case, how could something like this happen? Well, since it appears that John Walker is going to be dubbed the new Captain America, it's very possible fans are going to get to see some of his assignments as the new Cap. And it's quite possible that his incident could be the result of a mission gone wrong. As many comic book fans probably know, John Walker takes his job very seriously in the comics, and he doesn't always hold back when it comes to a fight. Leaked videos from the Falcon and Winter Soldier set have even hinted at Walker having a somewhat more brutal fighting style than Steve Rogers. So it wouldn't be crazy to think Walker went a little too far in dishing out his own brand of justice.
This is all conjecture at this point, of course, but we can all agree that something serious happened if John Walker is on his knees and holding his head. And this could mark a major turning point in his development.
What Could This Mean For John Walker's Arc In The Falcon And The Winter Soldier?
Whatever kind of experience John Walker had is sure to rattle him in some way, especially when you consider that he'll be early into his run as tenure as the "new Cap." John Walker's mental state has been touched upon within the comics, so this incident could serve as a true entry point into his psyche. Being the Sentinel of Liberty has to be stressful enough, but the added weight of having made a serious mistake is enough to drive anyone (even a superhero) to their breaking point. Needless to say, this could very well serve as a shift for Walker, as it could now cause him to doubt his abilities as the new Cap.
And of course, there's also the matter of Sam Wilson and Bucky Barnes and how they could figure into any of this. So far, The Falcon and the Winter Soldier footage has shown either Sam or Bucky coming into direct contact with John Walker. However, it's likely that they will cross paths with him at some point. It's anyone's guess as to how Walker's actions as Captain America will directly affect Sam or Bucky, but a major incident could hurt his credibility and eventually shift him out of the position. While Marvel Studios has remained coy as to whether or not Sam Wilson will end up with the shield, it seems more and more likely it will be the case. So maybe the tragic shot we see in the trailer is the first step in Walker losing his title?
Admittedly, there are still a number of unknowns when it comes to John Walker's story in The Falcon and the Winter Soldier. I believe it can go one of two ways. He could end up giving up the mantle of Captain America and even become something of a vigilante. Or he could just go down the typical villain route and ultimately become a threat that Sam and Bucky have to deal with. There are a number of possibilities at this point, and there's still plenty of room for speculation ahead of the show's premiere.
What we can say is that it'll be nice to have the U.S. Agent in the Marvel Cinematic Universe. He's one of the most complex characters Marvel has to offer, and Marvel Studios could do some entertaining things with him. His presence really shakes things up when it comes to who might take over the mantle of Captain America for good, so we'll see how he performs in the role and how long he keeps it.
Be sure to check out The Falcon and the Winter Soldier when it hits Disney+, which you can sign up for using this link, on March 19th.
Your Daily Blend of Entertainment News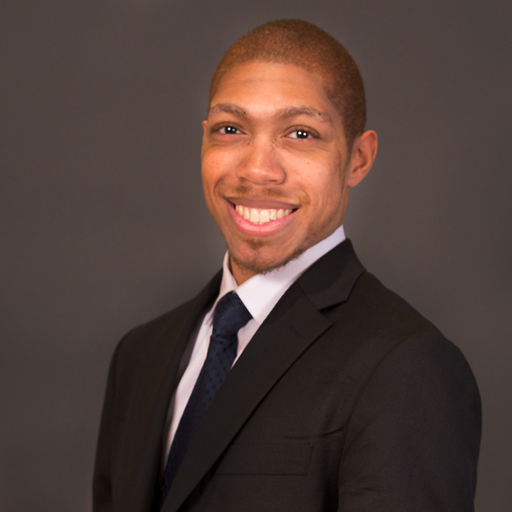 Covering superheroes, sci-fi, comedy, and almost anything else in film and TV. I eat more pizza than the Teenage Mutant Ninja Turtles.