How To Watch The South Park Vaccination Special Streaming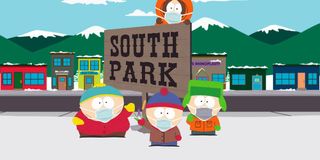 CinemaBlend participates in affiliate programs with various companies. We may earn a commission when you click on or make purchases via links.
In September 2020, when the world was still only a few months into the ongoing COVID-19 pandemic and the multiple crises that popped up in its wake, Trey Parker and Matt Stone unleashed a one-hour South Park special titled "The Pandemic Special." The popular special, with its unique blend of biting social commentary and side-splitting humor, will soon get a followup in March 2021 that will not only serve as a continuation of public health crisis but also our current political climate, both of which you'll be able to see when you watch the "South ParQ Vaccination Special" streaming.
Below we will break down the different ways you can watch the upcoming "South ParQ Vaccination Special" both on regular TV and streaming, as well as where you can watch the popular "Pandemic Special" so that you don't miss a moment of South Park whether it be on Comedy Central or HBO Max.
When The South ParQ Vaccination Special Will Air On TV
The "South ParQ Vaccination Special," follows the residents of South Park as they are clamoring for the COVID-19 vaccine only to be met by a militant group (presumably where the "Q" comes into play) that wishes to prevent Stan, Kyle, Cartman, and Kenny from getting a much-needed dose for their teacher.
South Park fans will be able to watch all this unfold when the "South ParQ Vaccination Special" hits the airwaves Wednesday, March 10 at 8 p.m. ET on Comedy Central and a simulcast on MTV2. This airing will be followed up by two encore presentations at 9 p.m. ET and then again at 10 p.m. ET.
But if you can't watch it live or don't have cable, there are other options…
Where To Watch The South ParQ Vaccination Special Streaming
Those without cable or satellite packages won't miss out on the South Park action as the "South Park Vaccination Special" will be available to stream on South Park Studios, CC.com, and the Comedy Central App immediately following the west coast airing. The special will also be available to stream on HBO Max starting Thursday, March 12.
If you're not an HBO Max subscriber, you can sign up here (opens in new tab).
How To Watch The South Park Quarantine Special
Those who have yet to catch the "South Park Quarantine Special" won't be out of luck before its sequel debuts March 10. In fact, there are multiple ways to get all caught up.
Anyone with an HBO Max account can watch the September 2020 special CinemaBlend called one of the best things of the year right now or any time before the new 60-minute episode. The special is also available on the Comedy Central website. Comedy Central will also air the "South Park Pandemic Special" Wednesday, March 10 at 7 p.m. ET, with the new episode debuting immediately following.
Watch the "South Park Quarantine Special" on HBO Max here. (opens in new tab)
This should all be more than enough to get you back on down to South Park and have yourself a time. Just make sure those friendly faces are covered when they should "Howdy neighbor."
Philip grew up in Louisiana (not New Orleans) before moving to St. Louis after graduating from Louisiana State University-Shreveport. When he's not writing about movies or television, Philip can be found being chased by his three kids, telling his dogs to stop yelling at the mailman, or yelling about professional wrestling to his wife. If the stars properly align, he will talk about For Love Of The Game being the best baseball movie of all time.
Your Daily Blend of Entertainment News
Thank you for signing up to CinemaBlend. You will receive a verification email shortly.
There was a problem. Please refresh the page and try again.