Why Every Guy (Minus Zied) On 90 Day Fiance Season 8 Is Just The Worst Right Now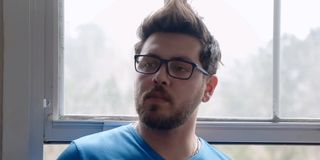 Warning! The following contains spoilers for the 90 Day Fiancé episode "Forgive But Never Forget." Read at your own risk!
Season 8 of 90 Day Fiancé has been a rough one to watch, especially for those who enjoy watching couples have a smooth ride to and through their engagement. The show's male stars have been especially hard to watch for the past few episodes, as they have undoubtedly angered plenty of fans with their negative attitudes and questionable decisions over the course of the season so far. Note that Zied Hakimi is excluded, of course, because how can anyone hate Zied?
This day of reckoning has arrived, and while Zied gets an overall pass, the rest of the men in 90 Day Fiancé are really just the worst right now. Here's a recap of the reasons why any fan should be frustrated with each of them, even if the blame doesn't necessarily fall entirely on their laps.
Jovi Dufren
Jovi Dufren vowed to cut back on his drinking after Yara Zaya confronted him, and to his credit, Yara said that he did! Unfortunately, he pretty much nullified all of that on the night of his bachelor party, during which he was out at the strip club with his buddies until late in the night, despite promising to only be gone for a couple of hours. The episode ended with Jovi being led to the VIP room, lamenting that he probably won't get to sleep much before having to pack for their flight to Vegas. You know, for that whole wedding thing. I think it goes without saying that Yara will be furious, but will she be furious enough to halt the wedding entirely?
Mike Youngquist
Mike Youngquist really needs to get over the Kyiv incident with Natalie Mordovtseva, or maybe just end the relationship altogether. His grand gesture of returning her engagement ring and asking her to be "his fiancé again" was bad enough, but he really went above and beyond when he made it explicitly clear he was still unwilling to move forward and forget the past. Starting a marriage by threatening to hold one bad incident over a loved one's head for as long as they live is not indicative of everlasting love, and I'm guessing it could eventually lead to Natalie leaving the country (albeit temporarily).
Tarik Myers
Ahead of their wedding, Tarik Myers agreed to let Hazel Cagalitan pursue a girlfriend outside of their relationship, but the more 90 Day Fiancé drills down on this storyline; it seems clear Tarik is actually just looking for a second girlfriend for himself. He's been in contact with their ex Minty after Hazel explicitly forbid him from speaking to her, and the preview for Episode 814 revealed Tarik getting caught talking to an entirely separate woman, which at this point doesn't really surprise me. What does surprise me is that Hazel apparently still hasn't grasped that Tarik doesn't really want her to have a girlfriend at all unless he's involved. It's obviously a sticky situation, but Tarik should certainly honor the agreement he made, considering all that Hazel gave up for him.
Andrew Kenton
Andrew Kenton has clearly proven online that he's not in favor of how 90 Day Fiancé has portrayed his relationship with Amira Lollysa, and that's understandable. It's definitely not a good look when a dude learns their significant other has been detained by Mexican authorities, and that same dude eventually decides to enjoy the remainder of their resort vacation by himself. Not that he could've done a lot about the detainment, but Andrew has dismissed the notion Amira is nervous about their upcoming trip to Serbia, despite it requiring her to quarantine for weeks without him. Regardless of her intentions, it could be a traumatic experience given what she went through in Mexico, but he doesn't seem all that worried about it.
Brandon Gibbs
When Season 8 started, Brandon Gibbs was one of the most sympathetic cast members in 90 Day Fiancé. However, he's really done Julia Trubkina and his parents dirty in recent weeks. Yes, I'm sympathizing with his parents here, because both parties are frequently butting heads and arguing when the core of the problem is simply Brandon playing them against each other by not wanting to get involved. Additionally, when Julia or his parents confront him, Brandon doesn't attempt to have honest discussions about the things he wants, and instead tries to get out of those conversations as quickly as possible. It's a great way for him to avoid conflict, but it's only creating more unnecessary problems for people he cares about, as well as for viewers.
Ryan Carr & Harris
Ryan Carr has been living pretty well in Belize, and he apparently wasn't about to let Stephanie Davison sleeping with his cousin Harris jeopardize that cushy situation. The way he so casually dismissed her infidelity was a definite red flag, especially since he later left the resort after some minor argument involving condoms. Weirdly enough, 90 Day Fiancé previewed Stephanie making the offer to take Harris back with her to America, which is just all kinds of messed up. I'm not sure what kind of life either of these men is envisioning they would have with Stephanie, or if it's the lack of a presumed future that makes Ryan and Harris comfortable with being subbed out for one another.
All these guys could stand to learn a thing or two from Zied, who has become 90 Day Fiancé's darling meme that makes Season 8 all worthwhile. Granted, he and Rebecca do have their problems, but nothing so big that they can't talk out without controversy. I also just want to point out that it's not at all strange or uncommon to obtain a marriage license in a courthouse before having a religious ceremony, so I'm not sure why Rebecca is so upset about honoring the request for the sake of Ramadan. Hopefully, cooler heads prevail there, because it would be a shame to see an otherwise happy couple fall apart when all the dumpster-fire couples are having such a rough time.
90 Day Fiancé airs on TLC Sundays at 8:00 p.m. ET. Season 8 is still going, and for anyone hoping a reunion is on the table, check out the latest on that front right here.
Mick likes good television, but also reality television. He grew up on Star Wars, DC, Marvel, and pro wrestling and loves to discuss and dissect most of it. He's been writing online for over a decade and never dreamed he'd be in the position he is today.
Your Daily Blend of Entertainment News
Thank you for signing up to CinemaBlend. You will receive a verification email shortly.
There was a problem. Please refresh the page and try again.