90 Day Fiance Just Premiered, And One Couple Is Already Making All The Mistakes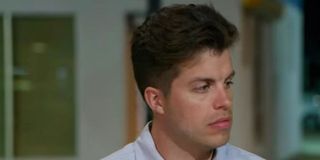 Warning! The following contains spoilers for the 90 Day Fiancé episode "I Think You're My Future Wife." Read at your own risk!
90 Day Fiancé Season 8 only just kicked off, and already there are problems surfacing with some of the couples. Color me "not the most shocked person in the world," since these couples wouldn't be featured in this franchise if their respective situations weren't a bit messy. Even knowing that, one pairing in particular – Jovi Dufren and Yara Zaya– is already sending up red flags and other warning signs of a 90 Day couple that may not make it to the end of this season.
Jovi Dufren and Yara Zaya are on the road to getting married, but the premiere presented many early signs that their road may be too pothole-ridden for those wedding bells to chime in tune. Below are some of Jovi ad Yara's biggest hang-ups so far, which sound like similar issues that plagued past couples in this franchise.
Jovi Doesn't Actually Know If He Wants To Commit To Yara
Jovi Dufren's introduction presented him as a free-wheeling bachelor who has spent the past decade working hard in the oil industry, using his off months for globetrotting vacations. He gave me the vibe that he would go with the flow in a way that doesn't involve being tied down, and after he flat-out admitted he's not sure he's ready to commit to Yara Zaya – this was before she even arrived in Louisiana – I was definitely sensing how this could be a mistake.
Jovi's friends seemed to feel the same way during the 90 Day Fiancé Season 8 premiere, and they questioned if Jovi was truly ready to settle down with Yara. Their story may have potentially been different if Yara was still pregnant with their child, but with her U.S. trip coming after she suffered a miscarriage, it seems like he could be a bit more on the fence about the current seriousness of their relationship.
Jovi's Going To Be Gone A Solid Chunk Of The 90 Days
If Jovi Dufren's uncertainty about his desire to be in a long-term relationship with Yara Zaya wasn't bad enough, worse was the reveal that he won't actually be around for the full 90 days allocated to the K-1 visa in order to make his decision. As it was explained on the 90 Day Fiancé Season 8 premiere, Jovi will spend two weeks with Yara and then go off to work for a month. After that, he'll have roughly 2 weeks or so to marry Yara before she has to go back to Kiev and he returns to work.
Basically, Jovi is doing the same thing Tania Maduro did to Syngin Colchester, and 90 Day Fiancé viewers have likely seen the struggles those two have gone through. Hell, even Tania and Syngin aren't all that sure whether or not they'll survive as a couple in their interviews, but I will say that they are still together. Still, to call their relationship a healthy one might be a stretch, and if that's the best Jovi and Yara can hope for in this situation, they aren't off to a good start.
Jovi Tried To Make Yara Party In NOLA After Her 30-Hour Flight
One of the most shocking moments of the 90 Day Fiancé premiere was when Jovi Dufren met Yara Zaya after her 30-hour flight and told her they needed to hurry back to the hotel so she could get ready to hit the town to party in New Orleans. Yara said she was tired and really wanted to go back to their hotel so that she could sleep.
90 Day Fiancé still has yet to show the follow-up as to how that conversation will play out, but it was clear Jovi was not happy to hear Yara was tired. Personally, I think fatigue is normal after a 30-hour international flight with layovers, so if the line in the sand is getting drawn with Jovi here, I can only imagine fights could surface with many other low-flammability topics. I'm rooting for this couple to find true love and happiness, but right now, it's not looking good.
90 Day Fiancé airs on TLC Sundays at 8:00 p.m. ET. Continue to stick with CinemaBlend for all the latest happening in the franchise, and for the latest in television and movie news.
Mick likes good television, but also reality television. He grew up on Star Wars, DC, Marvel, and pro wrestling and loves to discuss and dissect most of it. He's been writing online for over a decade and never dreamed he'd be in the position he is today.
Your Daily Blend of Entertainment News
Thank you for signing up to CinemaBlend. You will receive a verification email shortly.
There was a problem. Please refresh the page and try again.